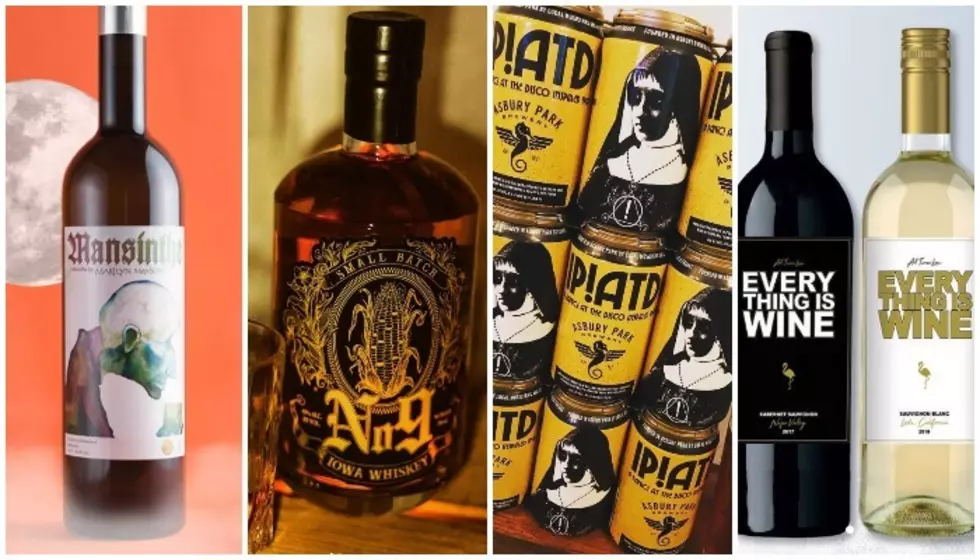 10 band-related booze collabs you can toast with on New Year's Eve
[Photos via Instagram]
As the decade comes to an end, people are starting to think about New Year's Eve plans, and along with that usually comes a decision of which alcohol you're celebrating with. If you're planning to drink on the last night of the decade but want to show your music taste off at the same time, there's a seemingly never-ending list of bands and artists with their own alcohol to help you out. Take a look below for 10 band-related alcohol you can ring in the new decade with.
1. All Time Low wine
If you want to flex your love for All Time Low this holiday, the band have you covered with a sweet bottle of California wine. In July, they revealed their "Everything Is Wine," a Cabernet Sauvignon made exclusively for ATL fans that also comes with a certificate signed by the band. They followed it up with a Sauvignon Blanc in November, selling them as a special Black Friday bundle that's still available here.
2. Slipknot whiskey
The Iowa nine have come out with their very own corn-brewed whiskey made right in their home state. With a band as hard and heavy as Slipknot, it makes sense that they would pair up with a hard drink such as whiskey, and it's a fantastic way to ring in a solid year for music, as well as an incredible year for the masked metal maniacs.
3. Deftones beer
Deftones have teamed up with Belching Beaver for a few different beer collabs now and still have cans available for sale across the U.S. Whether you're celebrating somewhere warm or fighting off the cold with Deftones' California vibes this year, their craft beer selection is as amazing as their music, making for a perfect way to cap off the decade.

4. Panic! At The Disco beer
The only thing better than a solid IPA for both a craft beer fan and music lover is an IP!ATD. Panic! At The Disco partnered up with Asbury Park Brewery earlier this year for a sweet tour-exclusive beer, and while it's sure to be difficult to find cans still, some heavy searching could turn up some results so you can enjoy one of the earthy brews this New Year's Eve. 
5. Third Eye Blind tequila
'90s rockers Third Eye Blind ooze with party vibes, so it only makes sense that frontman Stephan Jenkins has crafted his own tequila brand, Summergods. Manufactured in Jalisco, Mexico, the tequila is delicately selected by Jenkins as a drink he can casually have with friends instead of the harsh bite many tequila brands are known for.
6. Every Time I Die beer
No hardcore band emit as heavy of party vibes as Every Time I Die, and they have two beers you can quench your thirst with. They'll take a bit of searching for, but you can get cans of their Hop Damn! IPA at select retailers, and you can find out where they are here. 
7. Motörhead whiskey
Lemmy was well known for his love of Jack Daniels, so what better way to celebrate the legendary musician and the end of the year than with a glass of whiskey? Motörhead have different bottles to choose from, so you can ring in the new decade in the loudest and best-tasting way possible. 
8. Alice In Chains bourbon
If you're feeling down about 2019, pick yourself up with Alice In Chains' very own bourbon. The band partnered with Few Spirits to create "All Secrets Known," a bourbon named after their hit track, which is finished in tequila barrels to give it a unique flavor. 
9. Marilyn Manson absinthe
Get your goth vibes on this New Year's Eve with Marilyn Manson's own absinthe. The liquor is an acquired taste, but if you've never tried it before, there's no better artist to listen to while doing so than Manson. You can complete the experience with Mansinthe, which offers a liquorice taste without being overwhelmed. 
10. Rammstein tequila
Drinking tequila often leads to weird nights and so does listening to Rammstein, so it makes complete sense that the band have their own bottle of the spirit. The Rammstein tequila comes with a stunning bottle sporting their logo, with notes of vanilla and caramel offering both a smooth and sweet aftertaste.