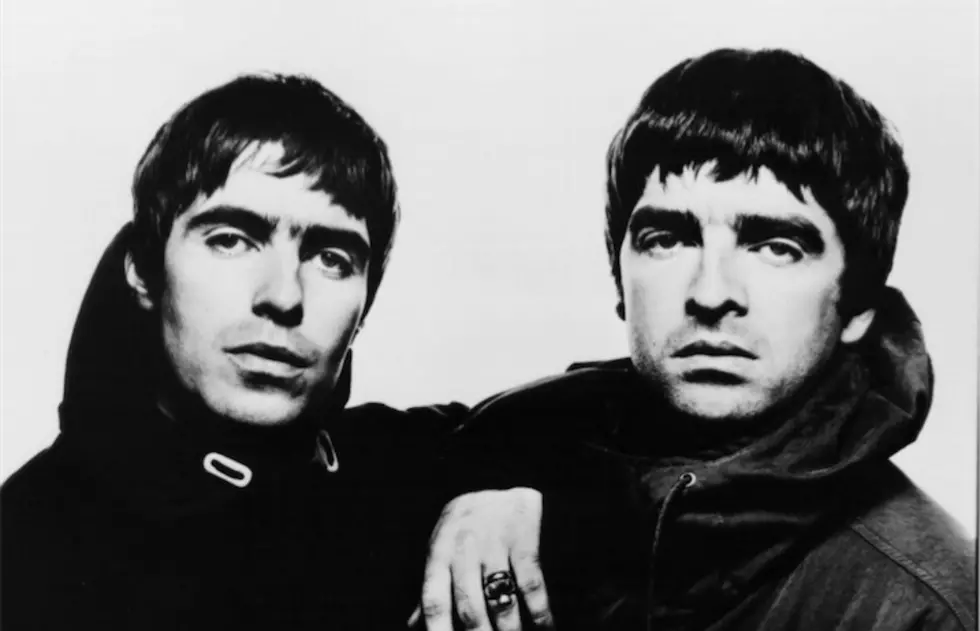 10 reasons why Oasis are the most influential Britpop band of all time
Britpop was the sound of England taking back rock 'n' roll after American grunge and alt rock had annexed the world's airwaves and charts for the first half of the '90s. Vox amps, Union Jacks, 1964 Paul McCartney haircuts, Ben Sherman shirts and Chelsea boots became all the rage, as bands plundered their British Invasion, David Bowie and early punk records for ideas.
If you played your cards right, you could get photographed shaking hands with new Labour Party Prime Minister Tony Blair or getting embraced by either Hugh Grant or Elizabeth Hurley at a Camden boozer. These were heady, glamorous days, indeed.
Top of the Blur/Pulp/Suede/Supergrass/Verve pile was Oasis. Which was difficult for American sensibilities to discern when the Mancunians first appeared on U.S. television, playing debut album Definitely Maybe's lead-off track "Rock 'n' Roll Star" on MTV's 120 Minutes in 1994. The song had plenty of Sex Pistols-meets-Beatles power, but singer Liam Gallagher's arrogant refusal to entertain—leaning into the mic, standing stock still, his hands behind his back, wearing a blank expression—was off-putting. Songwriter/lead guitarist Noel Gallagher—yes, the singer's older brother—exerted strict command over the band's musical direction, emphasizing simplicity and power: Bassist Paul McGuigan was to stick to root notes; guitarist Paul "Bonehead" Arthurs got restricted to barre chords; Tony McCarroll kept basic rhythm patterns; all amplifier dials were set to 10, for maximum distortion.
The following year, the chart battle between Blur's "Country House" and Oasis' "Roll With It" netted headlines worldwide. When Noel's penchant for grandiose ballads a la "Wonderwall" and "Champagne Supernova" catapulted second LP (What's The Story) Morning Glory? to worldwide success, America finally understood Oasis. Everything they did from that point was epic, from their snide, boastful interviews (Noel being particularly, entertainingly unfiltered) to the nonstop battles between the brothers. It was stadiums, movie star girlfriends and grand-scale living for them from that point on.
Oasis finally called it quits in 2009, after 18 years and seven full-lengths. After three festival dates were canceled due to Liam complaining of laryngitis, Noel issued a statement via the band's website: "It is with some sadness and great relief...I quit Oasis tonight. People will write and say what they like, but I simply could not go on working with Liam a day longer." Most of the breakup-era Oasis lineup went with Liam to record two albums as Beady Eye, while Noel Gallagher's High Flying Birds have been active since. And Noel still delivers the most hilariously unedited interviews in all of rock 'n' roll.
By the time of their breakup, Oasis' influence had spread across rock's length and breadth, and not just among British musicians. Basically, any band playing monumental music with lots of guitars likely owns at least Morning Glory. Those they affected may surprise you. Here are 10 bands inspired by Oasis.
The Libertines
This one may seem a tad off the bullseye. After all, we are talking about Oasis, who did everything in 70mm Panavision, versus the Libertines, who were a YouTube video filmed on a cellphone by comparison. Pete Doherty, Carl Barât, John Hassall and Gary Powell were the epitome of raw, garage-y, punky, skiffle-esque music full of references to the British literary canon. Yet for all of their love of the Kinks, the Jam, the Clash, Chas & Dave and '50s British comic Tony Hancock, Doherty in particular was a huge fan of Britpop, especially Oasis.
In fact, as a teen, he was interviewed on MTV queuing up outside a record shop to purchase Be Here Now the day it dropped: "I subscribe to the Umberto Eco view that Noel Gallagher is a poet and Liam's a town crier," he said, tongue poking through cheek, "and that's always, for me, the perfect combination."
"I bought the Libertines albums, and I thought they were a good band," Noel told The Guardian in 2005, "but not one of the new crop have made a bona fide great fucking record. Razorlight, Franz Ferdinand... I've seen them all, and they blow me away, but not one of them has made a record that not only gets the cool kids in Camden going but also the fucking squares in Ipswich." Noel later declined a 2015 Barât request to produce a new Libertines record, due to his tour schedule. He told the NME, "As long as they don't overthink it, they'll be all right."
The Killers
"[Oasis have] left their mark on music," Las Vegas mega-rockers the Killers informed the NME at the time they covered "Don't Look Back in Anger" when they headlined the prestigious V Festival. (They also covered "Wonderwall" at Lollapalooza Chile in 2018, as seen above.)
They certainly made their mark on leader Brandon Flowers—a 2001 Oasis gig at Las Vegas' Hard Rock Hotel convinced him he needed to lead a rock band, rather than his previous synth-pop outfit Blush Response. Though debut album Hot Fuss was loaded down with Strokes-meet-New Order rockers such as "Somebody Told Me," follow-up Sam's Town seemed produced in the same VistaVision as vintage Oasis, especially "When You Were Young."
But every chorus on that record was Noel Gallagher huge. For his part, Noel didn't seem to appreciate his influence on the Killers when having to share the festival circuit with them one year: "The Killers headline every festival. They even headline two festivals all at the same time," he ranted to Absolute Radio. "I did a European tour last year, and I did every festival known to man, and the Killers or the Foo Fighters or the Red Hot Chili Peppers were on all at the same time. If it's not them, it's the fucking Kings Of Leon. I don't know what's wrong with British music these days, but fucking Yanks! It's all with the pyrotechnics and shit patter in between songs and fucking hydraulic drum risers." Liam, seemingly ever-ready to prick his older brother, joined the Killers onstage in 2018.
The Strokes
"I thought, that night, [they were] the most exciting thing I'd seen since the Stone Roses," Noel said of millennial garage-rock revivalists the Strokes, in a rare burst of fanboy worship, to a TV reporter at the 2001 T In The Park festival. "I think that they're the most important band right now in the world for what they may inspire other people to do." Such as inspire the sale of thousands of electric guitars and formation of as many basic, punk-inspired rock 'n' roll bands? The Strokes sound on some of their debut LP Is This It, particularly "The Modern Age," as if Morning Glory's more rock-based tracks spun on repeat in their rooms. And Julian Casablancas exhibited the same stoned indifference masking shyness and awkwardness that Liam perfected.
The Pretty Reckless
The NYC band fronted by Gossip Girl actor Taylor Momsen pulverized the charts with such bombastic rockers as "Make Me Wanna Die" and "Heaven Knows." Though you'd think at first blush that Momsen's record collection might consist entirely of 10 partied-out copies of Appetite For Destruction, she told AV Club that her biggest influences were Nirvana, the Beatles and Oasis. Not much else would indicate their impact on the Pretty Reckless, aside from covering "Champagne Supernova" and "Wonderwall." Oh, and Momsen calling Liam "wicked cool." Then again, there is the Cinemascope feel of "Just Tonight."
Arctic Monkeys
True, the pithy, punk-infested pop that's Arctic Monkeys' stock-in-trade proves how influential the Libertines were more than anything else. But it's hard not to hear the Liam sneer in Alex Turner's vocal delivery, nor the Morning Glory? smarm infesting the title of 2006 debut album Whatever People Say I Am, That's What I'm Not. Turner also told Pitchfork, "With Oasis, it's just that attitude, like it's resistant against everything else that's going on in music. I don't know if you can fully understand that. It's like an impulse, isn't it? Especially at that age, you don't rationalize. You're just like, 'That looks cool.'" Furthermore, he and bandmate Matt Helders impersonated Oasis in a school talent show. Liam, at least, remained unimpressed, as seen in the clip above.
The View
As with other scruffy, punky young U.K. guitar groups of the mid-'00s, Dundee, Scotland's the View most overtly prove how many electric guitars the Libertines sold. But the fact that original Oasis producer Owen Morris helmed their first album, 2007's Hats Off To The Buskers, should say something: There were at least copies of Definitely Maybe lurking among their CDs. "Superstar Tradesman" certainly bore the air of one of Noel's football terrace anthems, while such later tracks as "Living" and "Talk About Two" from 2015's Ropewalk had plenty of Oasis' trademark bombast in its choruses. Plus, vocalist/guitarist Kyle Falconer's been known to whip out Oasis songs such as "Don't Look Back In Anger," "Morning Glory" and "Supersonic" during solo appearances.
Snow Patrol
It becomes apparent that if you are an English band with electric guitars formed after 1997, you are gonna be Oasis fans. Scottish-Northern Irish rock band Snow Patrol are interesting in that they formed in 1994, essentially making them the Gallaghers' peers. Yet, they didn't hit until the '00s, thanks to stadium-shaking, cod-Noel ballads such as "Chasing Cars" and "Open Your Eyes." Now factor in their live cover of "Champagne Supernova." Think that CDs of Morning Glory or Be Here Now were getting blasted, pre- or post-show, in singer/guitarist Gary Lightbody's dressing room?
Keane
Honestly, Keane are so Oasis, you expect singer Tom Chaplin to grow a moptop and a monobrow and get into a fistfight with Noel. Except he croons sweetly rather than indulges in a Liam-esque melodic snarl. But every last Keane song, from "Somewhere Only We Know" to "Everybody's Changing" to "Nothing In My Way," is a coliseum-rocking ballad with a descending chord progression, sung and played with heart-rending sincerity. Everything about Keane is as big as Oasis. On tracks such as "Is It Any Wonder?," they even seemed to have dug out Bonehead's old wah-wah pedal. They've also been known to cover "Cast No Shadow."
Jet
When Jet, Australia's answer to the Strokes, poked their head out from behind one of Angus Young's old Marshall cabinets in 2003 with Get Born, lazy rock journalists were tempted to Liam-and-Noel-ify brothers Nic and Chris Cester's relationship. They insisted they got along splendidly, unlike the ever-battling Gallaghers. While Jet's fame was owed to AC/DC-meets-the-Rolling-Stones rockers a la "Are You Gonna Be My Girl," such widescreen ballads as "Timothy" and "Sgt. Major" sounded as if they were fished outta Noel's wastepaper basket. Nic's vocal cords sounded particularly Liam-like on those tracks. They eventually became Oasis tourmates.
Maroon 5
"We love Oasis," The Voice judge/Maroon 5 singer Adam Levine told U.K. newspaper The Telegraph in 2007. "One of the best bands ever. The simplicity of it all is just so perfect. The melodies. That's my biggest thing: melodies." This hardly pleased Noel, who said of the pop-soul superstars to Vogue magazine: "If your songs are OK, then your songs will seem better if you look good—like those fuckwits from Maroon 5. The tattoos take your mind off the fact that they're shit." Wonder if Noel's wrath was enough for M5 to drop their cover of "Champagne Supernova"?