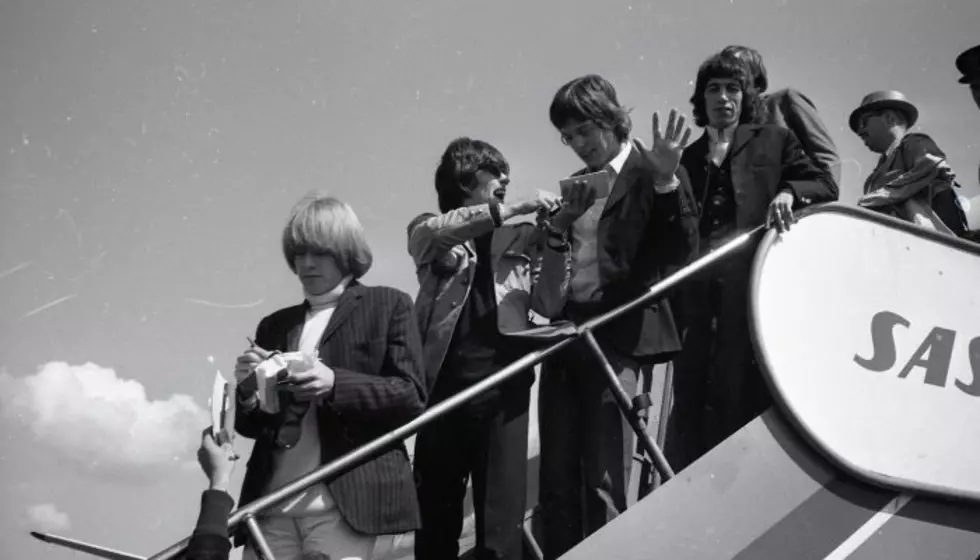 11 bands that prove the Rolling Stones' influence on punk was enormous
The Rolling Stones invented the very notion of the modern rock 'n' roll band. Which means, in turn, their impact on punk rock and alternative music was total.
This is the point where there'll be a loud and noisy exit from our tale. "Aw, c'mon maaaan! No way! The Stones have had it!"
True. They have arguably not released a solid album of originals since 1981's Tattoo You. (Others will point to 1972's Exile On Main Street.) They well and truly have been on autopilot in the studio for ages. The problem is no one producing them ever tells singer Mick Jagger that he hasn't written a good lyric at least since "Gimme Shelter." Similarly, whoever is manning the mixing board doesn't tap guitarist Keith Richards on the shoulder and say, "Um Guv'nor? When are you gonna stop recycling the 'Brown Sugar' chord progression and deliver the goods, riff-wise?"
Thing is, they have never stopped being everything that you love about the Rolling Stones onstage. They're still the best at supercharging blues, R&B and country basics with ragged garage band abandon. Which are all the ingredients that make up rock 'n' roll to begin with. Let's not forget that in 1963, a year after the Stones began, rock had forgotten the key ingredient: attitude. Pure middle finger drive. Elvis, Chuck Berry, Little Richard — none of them gave a fuck for propriety. Jagger, Richards, co-guitarist Brian Jones, bassist Bill Wyman and genius jazz drummer Charlie Watts returned that snot-nosed aggression to the music at a time when "rock 'n' roll" was represented by Frankie Avalon and Bobby Rydell.
They looked surly and unkempt on The Ed Sullivan Show, unlike those nice, clean-cut Beatles. Their longer-than-Paul McCartney's hair so threatened Hollywood Palace guest host Dean Martin, he felt compelled to make insulting jokes about them the rest of the telecast. Newspaper editors wondered in headlines if you would let your daughter date a Rolling Stone. By the time Richards informed an English magistrate presiding over 1967 drug charges against himself and Jagger that they were not old, and therefore unconcerned with "your petty morals?" It was settled: The Rolling Stones had outlaw cachet to burn. This would be punk's attitude forevermore. 
Punk, upon its mid-'70s birth, was unconcerned with the Stones' place in its lineage. They snarled to the day's press about their having nothing to do with the modern sounds/aesthetic, then went home and played December's Children and Aftermath to death. 1978 saw the Stones' answer: Some Girls, which might as well have been titled We Taught You How To Play This Shit, You Ungrateful Whelps! In the 21st century, they now are old.
But they still rock, despite Watts passing away Aug. 24 at age 80, Steve Jordan ably deputizing on their current tour. Even if Jagger/Richards never write another song of the caliber of, say, "Jumpin' Jack Flash," they have a rich catalog they animate every night they continue playing live. They remain, if not  — as per their decades-long self-declaration — the World's Greatest Rock 'n' Roll Band, the definitive one. Here are 11 of the Rolling Stones' punk and alt descendants. Please enjoy our custom playlist as you read.
David Bowie
The Thin White Duke amply demonstrates the Stones' impact on their contemporaries. David Bowie began in Stones-influenced R&B outfits such as the Manish Boys and the Lower Third in the mid-'60s, as Mick/Keith/Brian/Bill/Charlie were cutting a swath through London, alarming editorial writers by peeing on gas station walls. Once he helped invent glam rock in the early '70s under his Ziggy Stardust persona, he continually paid homage to them. He covered their rendition of Berry's "Round And Round," then adapted 1967's "Let's Spend The Night Together" into a paean to gay love.
Bowie was also present (uncredited) for the writing and recording of "It's Only Rock 'n' Roll (But I Like It)." This never stopped Jagger from developing a friendly rivalry with Bowie, leading to some of Mick's most ill-advised career moves in "competition" with David. Their odd 1985 duet on Martha And The Vandellas' Motown nugget "Dancing In The Street" did nothing to calm the tension.
Iggy And The Stooges
It was established in Alternative Press' recent brief history of garage punk that the core sound was modeled almost entirely on the Stones and the Yardbirds. The article equally established that the Stooges and New York Dolls were likely the last proper '60s garage bands. The Iggy Pop-led Ann Arbor demons traded in a sound that might best be described as "the Rolling Stones in hell," especially on 1973's ugly glam opus Raw Power, in their Iggy And The Stooges guise. Metallic R&B ragers such as the title track and "Your Pretty Face Is Going To Hell" had Richards' riff science all over them, like particularly sticky, funky perspiration. And let's face it: Pop's stage act has always been Jagger trapped inside Linda Blair's body in The Exorcist.
New York Dolls
Meanwhile, glam rock's most direct link to punk rock couldn't have been more Stones-oid had they been born in a quarry. The New York Dolls' career, their aesthetic, their everything rang of a band basing their sound on "19th Nervous Breakdown" and "Jumpin' Jack Flash," and their look on the latter's video. Dolls guitarist Johnny Thunders even made a brief appearance in the crowd during the Madison Square Garden footage shot for Stones documentary Gimme Shelter. Thunders and frontman David Johansen cut a very Mick-n-Keef profile onstage, and raunchy Dolls standards such as "Personality Crisis" could've been Exile outtakes, indeed.
Ramones
As blues-drenched as Jagger and Richards and company are, you'd think the Ramones might not have much in common with them. Johnny Ramone, after all, famously spoke of disliking the blues and wanting to play "pure, white rock 'n' roll, with no blues influence." Which, considering rock 'n' roll's lineage, seems a rather contradictory idea. Of course, Johnny was a Stones fan in spite of his odd notions: "I like the Stones," he told me in 1991 for Guitar World. "I like Keith Richards." The Ramones made their debt explicit with a cranked-up rendition of "Street Fighting Man" cut for a B-side in 1985, featuring Heartbreakers guitarist Walter Lure on lead. (An outtake, in fact, features Lure's scratch vocal.)
The Clash
"No Elvis, Beatles or the Rolling Stones in 1977!" Joe Strummer shouted on the Clash's debut single's B-side, "1977."  Such was the mood at punk rock's dawn: "Our heroes got fat and old — they sold out! They don't write songs germaine to our lives any longer! Let's reject the old order and establish our own groove!" But again, like every other punk band, the Clash honestly loved the Stones. Strummer remarked about hearing the Stones' rendition of Buddy Holly's "Not Fade Away" in boarding school and being blown away. It's hard to see an early photo of lead guitarist Mick Jones and not see how much he groomed himself as a Keef clone. Then there's 1978 B-side "Jail Guitar Doors," in which Jones laments in part about Richards' Toronto heroin bust two years earlier.
Social Distortion
Unlike every other punk rocker around, Mike Ness never once denied his love of the Stones. From the beginning, he has woven their DNA through the fabric of Social Distortion, the fundamentalist punk outfit he has led since 1978. Perhaps filtered a bit through the Dolls, it's still the pulsebeat of his every original song, his distinctively raucous guitar work, and S.D.'s rock 'n' roll purism. He's been upfront about the influence in the band's periodic Stones covers, including "Under My Thumb" (which they've studio recorded twice) and "Backstreet Girl." 
The Gun Club
Led by bottle-blonde shaman poet Jeffrey Lee Pierce, beginning as the Creeping Ritual in 1979, the Gun Club's express goal was to restore the blues to punk rock. They also concurrently desired to take the blues from the hands of white bar band hacks and make it dangerous again. They succeeded, at least within their own sphere. Punk got bleached repeatedly during the hardcore era until probably becoming as white as Johnny Ramone desired. But across hellafied LPs such as Fire Of Love and lyrical ravers such as "Sex Beat," they created a mystic amphetamine blues style that's proven more influential in death than in life. Pierce and crew would have never arrived there without the Rolling Stones, especially the narcotized noise of Exile.
Pussy Galore
Led by a pre-Blues Explosion Jon Spencer, Pussy Galore arrived on NYC's Lower East Side noise scene from Washington, D.C. in the mid-'80s. They had a nastier attitude than anyone and created a bigger din, equal parts Einsturzende Neubauten industrial fuckery and the ultra-garage obscurities collected for the Back From The Grave compilation series. The resultant clang scanned far rootsier than other L.E.S. noiseniks of the day. And if anyone questions from where a large part of their seedy funk descended? Consider that they released a cassette-only, full-length cover of Exile, which was essentially Pussy Galore playing atop the original album spinning on vinyl in the same room.
Primal Scream
Scottish punk 'n' roll unit Primal Scream, fronted by former Jesus And Mary Chain drummer Bobby Gillespie, essentially pivoted between two disparate musical modes following their debut as typical mid-'80s Byrds/Velvets-loving indie-ites. One is the ecstasy-fueled psychedelic dance music of 1991's Screamadelica or 2000's XTRMNTR. The other is Stones-oid grunt fueling such Exile and Sticky Fingers stand-ins as 1994's Give Out But Don't Give Up or 2006's Riot City Blues. The divided musical approach seems to work, especially when the Scream turns their attention to Mick-n-Keef-esque rockers such as "Country Girl" or "Rocks." Only the Stones are better at it.
The White Stripes
Swaggering, blues-driven garage-punk full of grinding guitars, intelligent songwriting and some righteous attitude? Are we talking about the Stones? Or the White Stripes? True, raunch this articulately sloppy couldn't have happened without the Stones paving the path first. And we're talking both for their bluesiness and their position as garage rock's primary influence not named the Yardbirds. It's certainly audible on ravers such as "Let's Shake Hands." The Stones saw the connection, inviting the band to open some shows on their 2002 tour, then having Jack White join them for a spirited rendition of "Loving Cup" for 2008's Martin Scorsese-directed documentary Shine A Light.
The Strypes
The international garage sensations of 2013 with their debut album Snapshot, Irish teen rockers the Strypes stunned 30- to 40- to 50-year older musicians such as Paul Weller and Jeff Beck. Their specialty was vintage R&B shot through with teenage punk attitude, like some odd melding of the Ramones with Dr. Feelgood. Which meant, of course, they played many of the blues/R&B standards that fueled early Stones sets, such as "You Can't Judge A Book By The Cover" or "Rollin' And Tumblin'." Yet their originals such as "Blue Collar Jane" could have been blues/R&B standards covered by the early Stones. Absolutely brilliant, but they burned out fast.