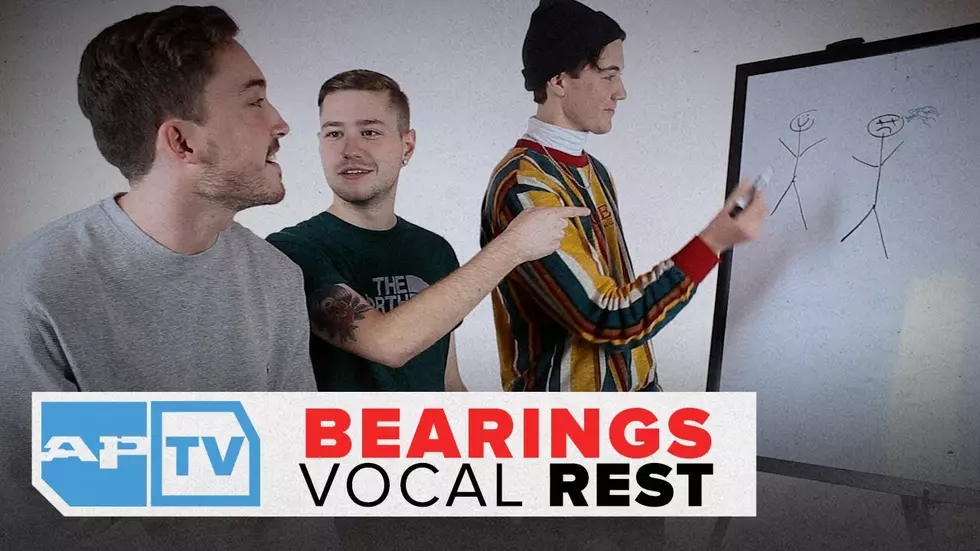 Bearings frontman illustrates three records he can't live without
Doug Cousins is known for belting out pop punk sing along anthems fronting the band Bearings, but in this APTV exclusive, we put the frontman on vocal rest, asked some questions and left his bandmates to figure out the answers he drew out.
Watch Doug illustrate the Bearings lyric he's most proud of, his favorite blink-182 song, the three records he can't live without and more on APTV's original gameshow, VOCAL REST.
Bearings recently took to Twitter to ask their fans to submit band-inspired tattoos for a mysterious project.
Blue In The Dark
via Pure Noise now
here
They're set to join Set It Off on the second leg of the Midnight tour next month. The band will also be hitting the Groezrock festival while in Europe. They'll play among a two-day lineup consisting of Jawbreaker, Coheed & Cambria, Dropkick Murphys, Bowling For Soup, Sharptooth, The Word Alive and more.
Tickets for the shows can be found here and be sure to check out where they're headed below!
Dates:
04/10 – Dublin, IE @ Workman's Club
04/12 – Glasgow, UK @ G2
04/13 – Leeds, UK @ The Key Club
04/14 – Newcastle, UK @ O2 Academy 2
04/16 – Manchester, UK @ Academy 3
04/17 – Birmingham, UK @ O2 Institute 2
04/18 – London, UK @ The Garage
04/20 – Paris, FR @ Backstage by the Mill
04/21 – Antwerp, BE @ Kavka Oudaan
04/23 – Amsterdam, NL @ Melweg
04/25 – Cologne, DE @ MTC
04/26 – Hamburg, DE @ headCRASH
04/27 – Meerhout, Belgium @ Groezrock