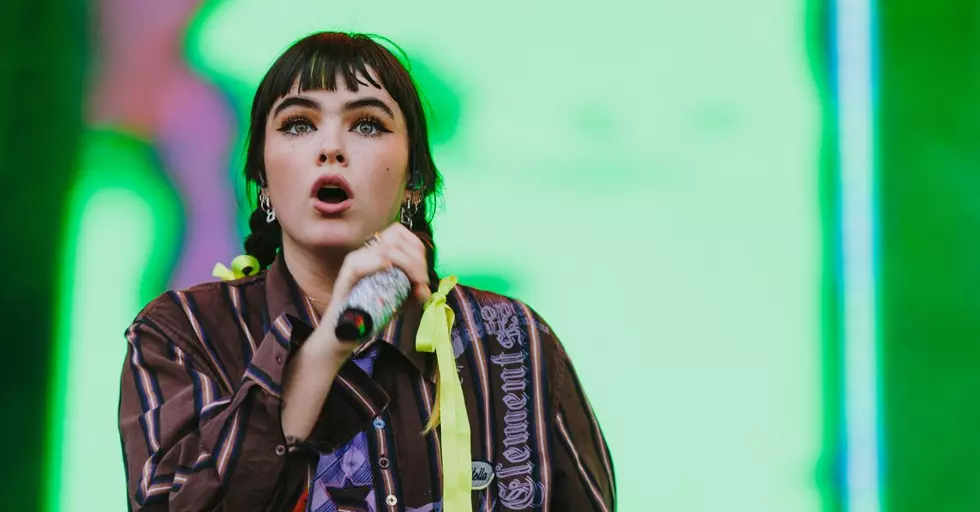 BENEE teases new music at ACL, reflects on "one-hit wonder" fears
[Photo by Brittany Hallberg]
In 2020, a song about loneliness struck a chord while the world shut down and people were isolating at home glued to TikTok. The perfect storm of talent and circumstance turned a song from a relatively unknown artist from New Zealand into an international Top 40 hit. 
The aforementioned track was BENEE and Gus Dapperton's 2019 track "Supalonely," a groovy off-beat dance track about, well, being a loser. Slamming together lyrics like "I'm a sad girl/in this big world/It's a mad world" with a bouncy drum beat, a few "la la la las," and some funky guitar riffs, it's easy to see how the song's absurdity attracted TikTok listeners. Juxtaposing feeling like shit with easy-to-replicate dance moves, this sad bop captured the palpable loneliness people felt and became a pandemic anthem.
Read more: Phangs makes '90s-inspired music made for a coming-of-age movie soundtrack
Two years and over a billion streams later, BENEE was one of the buzziest acts at ACL this year. On stage, she bops around in a gray Catholic school skirt, with tattoos lining her legs, giant sunglasses, and a contagious smile. Her sweet but strong voice wasps lyrics about "wanting to see your soft side" then erupts into high-pitched squeals between tracks, much to the crowd's delighted confusion. Excitement interlaces with zaniness, and she carries that same chaotic quirkiness into the conversation.
In an exclusive interview with Alternative Press, the 22-year-old opened up about her tattoos, collaborations, anxieties on being labeled a one-hit wonder, her evolving songwriting methods and a brand-new album coming early next year. 
This is your last stop on your North American tour. Is this your first festival? 
Gov Ball was our first festival. That was this year. Pre-COVID, we've played here a couple of times. It was very lowkey. My first gig was School Night in LAin 2018. That was really cool. 
How does it feel to be ending this tour? 
It's quite sad. We have a couple shows in between, we're going to support the Marías in Houston. Never been to Houston either. 
I'm from Houston! So are Beyonce, Lizzo, and Megan Thee Stallion.
Really? I love Megan Thee Stallion. Plan B?
Make sure you try the food while you're there. Barbecue, Tex-Mex, ugh. 
America has such good food. A lot of shit food but a lot of good food. Sometimes it's right. You gotta feed the soul. 
You have a new collaboration with Jeremy Zucker called "I'm So Happy." How did that come about?
We had talked a little on Instagram, [and] we're also both with Republic, so our teams are the same team. They're always talking about him to me, and I love finding other artists. He just basically reached out and was like, "I have this song. I'd love for you to try something on it." I recorded some stuff at home and on tour, I brought my mic, recorded a verse, and sent it back, and he was like "Oh, my gosh. Yay!" I ended up going to his studio again in LA to finish it up. Then we got to make a video together. He's the sweetest thing ever. 
He's the king of songs that sound happy but are really a fuck you to an ex. Did that resonate with you? 
I love this kind of stuff. It's just smart and cheeky. He's got such a pretty, gentle voice. It was so funny when I heard how bitchy the lyrics are. 
You've done a bunch of other collabs this year. Is there a particular reason why you're leaning toward them?
It was definitely a lowkey releasing year for me. I've done a ton of features with different kinds of artists, and I love what they're doing. I don't know, they stacked up. I didn't realize how many I was doing and how many would be released. It was six of them or something.. Sometimes with my own music, I can be very perfectionist. I'll sit on a song for a year because there's something wrong but I can't figure it out yet. With a feature,  they've done most of the work. There's something about it not being all yours that makes it feel a little bit more fun.
Your last EP Lychee is fire, and I'm obsessed with "Soft Side." What's your favorite song from it?
I like "Make You Sick." I knew it wouldn't be for everyone but I had so much fun making it. It was originally meant to be for a runway fashion show. It was 13 minutes and we chopped it down. It was really experimental, I had a lot of fun making it, the whole sound. The whole project is just a stamp for what my life was like at that time, which I think is nice. I didn't want to go out with a huge bang. It's like a diary entry, keeping my listeners updated, but not being like, "Guys I've got this song!" 
What's your songwriting process like? 
I always start with lyrics, whether it's just a paragraph of words or a melody. Mind you, recently in a couple sessions the lyrics have kinda confused me. It's weird, I've been trying out singing like Similish, then just figuring out the lyrics after. 
Getting the vibe and melody? 
Exactly. I was thinking I didn't like that but sometimes it's a little more free. You're not trying to fit words or syllables, you're just singing. I don't know. Maybe it's because I'm dyslexic. It really just goes song by song. I'll do it differently at the time if that's just how it's rolling. 
Today on stage, you performed two unreleased songs. The first was titled "Green Honda." What's the story behind it? 
It's about my Honda Integra, that's what inspired the song. I worked with two producers in LA. It was all women in the studio which was really cool, I've never had that before. The session literally started with, "I pull up in my green Honda to tell ya that I don't want ya." And I was like, wait, we have to record that." We made a song around that. I heard that and I was like "Oh, that is a hook. I just love it." It wasn't really about anything in particular, I just sang it and it feels so correct—telling someone, "Fuck you, you're a waste of time." It's pretty bitchy. 
One of the lyrics is, "Your friends are boring and too straight."
Yep. They're all too boring and too straight. 
I feel that. You also performed "Morning Routine." One of the lyrics in it is "Maybe I'm a one-hit wonder." Is that a real fear of yours? 
When I wrote the song last year, [I'd]been sitting on it for a long time. It's only recently being played. It's brought this whole new life to it that we really love. During the time that I wrote it, which was after the peak of "Supalonely," I had all these new fans. When it settled down, a lot of them would leave and be like, "You're a one-hit wonder." I had a really strong base of people who were listening pre-that so I know that that's not the case because I know I'll always have them listening. But that always fucked me up because I don't want to do anything else with my life. I can't be a one-hit wonder. I'm going to do this forever, even if no one listens. 
It's been over two years since your song blew up on TikTok and you were really thrust into the international spotlight. What have you learned in the time since? 
You need to listen to people who care about you—that's who your music is for. I've read hundreds and hundreds of hate comments, and they hurt every time, but you have to just realize that you're out here. And I'm out here because of the people. I have more people that love each other than haters. And the haters are still giving me attention and views, so thank you. Keep commenting, babes. I'm not reading them anymore. 
Period. Anything else you can tease about new music? 
It's coming next year! Top of next year. It's going to be fucking cool.