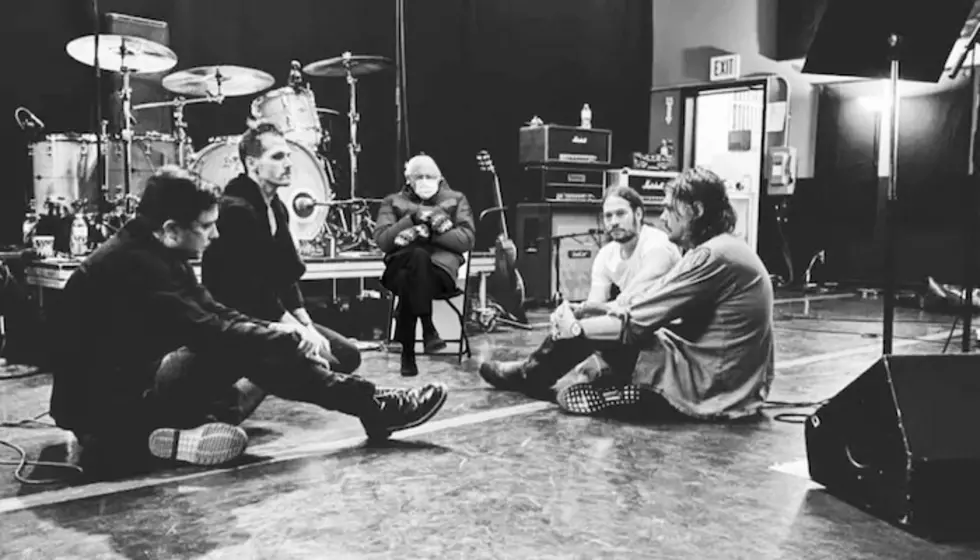 10 music-inspired Bernie Sanders memes that you need to see
[Photo via Frank Iero/Instagram]
As always, Sen. Bernie Sanders has become yet another beloved and overused meme, thanks to an iconic photo of him sitting and wearing mittens during President Joe Biden's inauguration ceremony.
All Sanders had to do was show up and sit down, and the internet did the rest, making thousands of memes and putting him in every situation possible.
There has been no shortage of edits that feature him on iconic album covers, but we decided to find 10 of the best Bernie Sanders memes that aren't all artwork because the fun is never-ending. You can check those out below.
Bernie at a merch table
Honestly, Sanders could double as someone manning the merch table at a gig in a shitty venue with no heat, pissed off at the world and everyone in it. He looks natural selling CDs and shirts, almost like we've seen him there before.
Bernie at a punk show
Riot Fest
Bernie as the sole supporter
TikTok user @frawwwg hilariously used the meme to show what it feels like to play a show to a small, apathetic crowd at a bar. But at least Sanders was showing his support for small musicians.
Drummer Bernie
This edit is over the top, putting drumsticks in Sanders' mittens and perfectly placing him behind a kit. But props to whoever made this because, at first glance, it almost looks real.
Bernie as the main performer
This meme puts Sanders in place of Taylor Swift, being lifted by several dancers onstage during a performance. And even though he's sitting stone-cold still, he's working it.
Bernie in a Set It Off music video
One Set It Off fan ingeniously edited Sanders into their "Dancing With The Devil" music video that truly makes it look like he was on set.
Bernie with taste
This meme features Sanders holding several albums, including some by YUNGBLUD, Machine Gun Kelly, MOD SUN and more, to prove that the politician has great taste, at least according to Twitter.
Bernie as the eighth BTS member
This meme features Sanders onstage performing "Dionysus" with K-pop group BTS, making him the eighth member. It's no surprise that the K-pop stans on Twitter had to get ahold of this meme in their own way.
Bernie looking at a Phoebe Bridgers music video
While the photo of Sanders sitting with his arms crossed has been the most popular meme, there was no shortage of jokes people made using other photos of him at the event, including when he's looking at his phone. This person decided to act as though mid-inauguration, Sanders had to look up the video for "I Know The End" by Phoebe Bridgers. The man has taste.
Bernie feat. My Chemical Romance
 

View this post on Instagram

 
Frank Iero reposted @cararar's edit of Sanders joining My Chemical Romance in their first photo after announcing their return. This is truly A+ work.