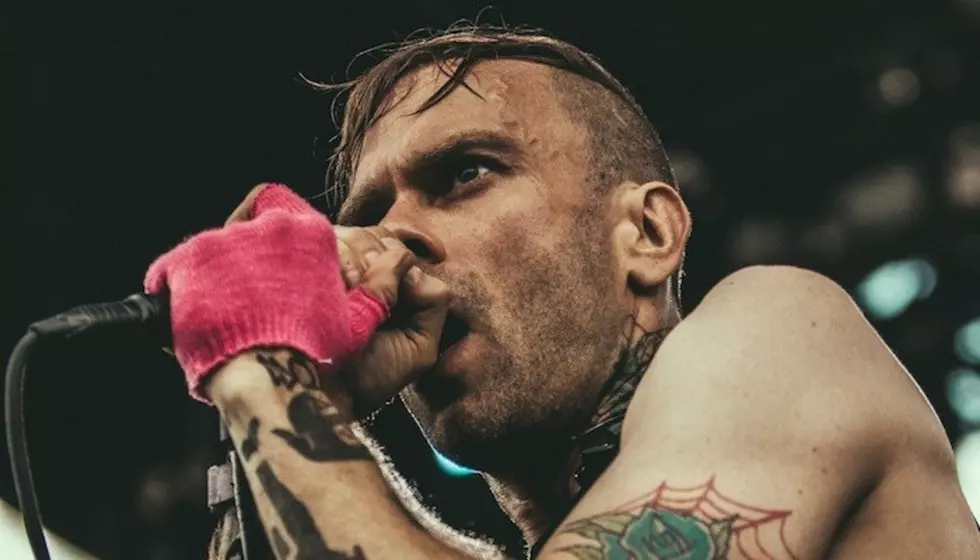 Bert McCracken's new cannabis product has a perfect throwback reference
[Photo by: Nick Prezioso]
The Used frontman Bert McCracken has always been candid about the benefits of cannabis. An advocate for the legalization of weed, the singer has spoken out against the stigma surrounding its use. 
Now, McCracken has taken his advocacy further by teaming up with Five Star Extracts. On Wednesday, The Used announced the launch of a line of products with the company. The first to drop is a tincture called "The Taste Of Peach," a take on the band's hit song, "The Taste Of Ink." 
Back in 2016, McCracken spoke about his thoughts on weed in an interview with Fuse.  
"I think there's been a stigma surrounding marijuana that has to end and will end with the obvious information," McCracken said. "The things that medical marijuana has achieved so far is incredible and we should really take a look at the evidence."
Now, in a promotional video for the partnership, McCracken talks about how losing his former girlfriend while making the album In Love and Death led to alcohol abuse. 
"This was my very first experience with death. Obviously, my way out of the feelings was with alcohol," McCraken says. He credits cannabis for helping him get sober. 
"In the simplest and most complex way, weed has literally saved my life just like music," McCracken says. 
Five Star Extracts was founded in 2016 by brothers Eric and Jason Winkler. They noticed the benefits of cannabis when it helped their grandfather recover from a fall and prevent reliance on painkillers. 
"[I'm] so excited to be teaming up with Five Star Extracts to try to help people in need with an exciting and delicious array of cannabis products," McCracken says. "Five Star is committed to compassion and their story shows that." 
"I feel that we are extremely lucky to be working with someone like Bert, who's authenticity is unmatched and who is an artist with a story that will resonate with so many through his journey with cannabis," Jason says.
The line of products will soon be available to residents of California. You can view delivery options here. 
In addition to the Five Star Extracts partnership, the Used will release their eighth studio album, Heartwork, on April 24. The album includes features from Beartooth, FEVER 333 and blink-182.
You can preorder it here and check out the latest single "Paradise Lost, a poem by John Milton" below.
Are you ready to get your hands on The Taste of Peach?  Let us know in the comments below.