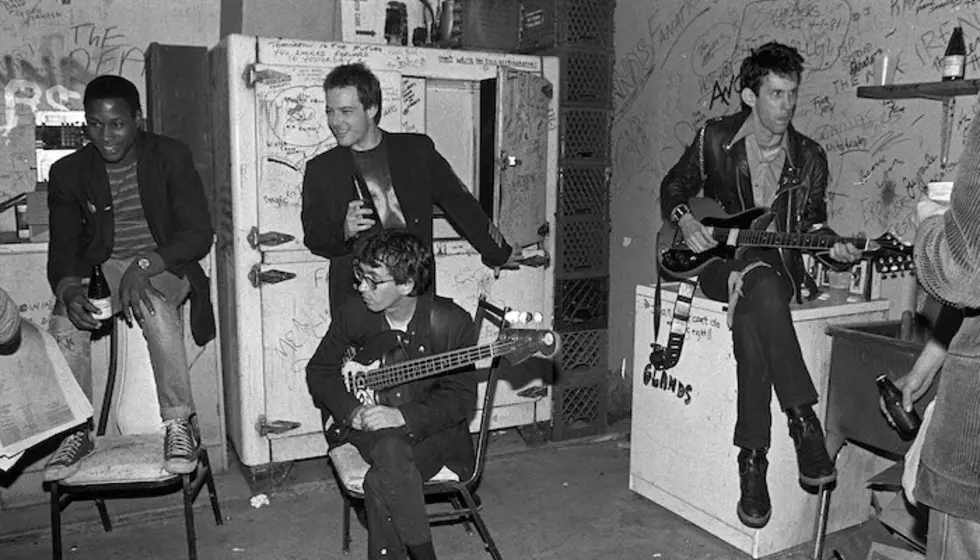 These 15 punk records from 1980 were complete game-changers
[Photo by: Sue Brisk]
By 1980, U.S. major labels abandoned punk with Sid Vicious' corpse. The American underground reacted, hard: "Don't want us? Fuck you, we'll do it ourselves!" The independent record distribution and touring network kicked off in earnest, as the harder/faster/louder hardcore punk sound started revving up, initially in Los Angeles before spreading across America through the year.
Meanwhile, the Clash's London Calling is released at the tail end of 1979, and they get a hit single with hidden track "Train In Vain," Mick Jones' ode to his ex, the Slits' Viv Albertine. Some of the most potent music of punk's first wave gets issued, as the new hardcore ethic finds its core hardened further with the election of ultra-conservative Ronald Reagan to the U.S. presidency in November. Would George Orwell's 1984 go from dystopian fiction to prophecy? Many thought so. And it was becoming felt in the music. Below are 15 records that define 1980.
Read more: 15 punk-rock albums of 1979 that still rule four decades late
1. X – Los Angeles
X had been honing their take on classic punk since 1977: John Doe and Exene Cervenka's gritty street poetry and Gregorian chant harmonies, Billy Zoom's loud 'n' fast punkabilly guitar distillation of Johnny Ramone and Carl Perkins and DJ Bonebrake's orchestral drums. It was a punk aesthetic at once more literary, bohemian and rootsy than most, one that became highly influential. Produced by the Doors' Ray Manzarek, Los Angeles became X's manifesto.
2. Dead Kennedys – Fresh Fruit For Rotting Vegetables
American punk rock rarely got political before 1980. Sure, the Dils echoed the Clash's leftist rage, but the general tone of U.S. punk had been a more apolitical nihilist numb-out. Until SF's Dead Kennedys. Singing spectacle Jello Biafra holds that he took Alice Cooper's sick B-movie horror humor and applied it to topics yanked from the newspaper. Wed to East Bay Ray's psychedelic/surf guitar and the nimble Klaus Fluoride (bass)/Ted (drums) rhythm section, tracks such as "Kill The Poor" and "California Über Alles" showed the burbling hardcore movement a philosophical path, pre-Reagan presidency.
3. Circle Jerks – Group Sex

Keith Morris partied too hard and laughed too much to remain in the more po-faced Black Flag. When he teamed with ex-Redd Kross guitarist Greg Hetson, drummer Lucky Lehrer and bassist Roger Rogerson to form Circle Jerks, the result was punk's rowdiest party band this side of the New York Dolls. Their Generation-X-on-biker-crank speedrock equaled a debut album that hurled 14 songs at you in 15 minutes. Group Sex became an instant hardcore primer. Melody was not sacrificed for velocity, and instrumental chops were high. There were politics but also beer-bust anthems.
4. The Cramps – Songs The Lord Taught Us
The Cramps emigrated from Cleveland, seeking punk glory in NYC. What singer Lux Interior, guitarist Poison Ivy Rorschach, guitarist Bryan Gregory and ultimate drummer Nick Knox forged was an alternate-universe, rockabilly damaged take on the New York Dolls. Their cult-like aesthetic absorbed such arcane Americana as '60s garage rock, EC horror comics, B-movies, deviant sexuality and Mad magazine humor. Through interesting mutations such as wedding the lyric to rockabilly obscurity "Sunglasses After Dark" to Link Wray's instrumental "Fatback," they spawned psychobilly and a million trashy garage bands warping punk into something cooler and flashier.
5. The Damned – The Black Album
Or, as this writer alternatively titled it then: The Damned Take Acid And Dig Up Even More Of Their Old Prog Records Than They Did On Machine Gun Etiquette. No, there were as many old-school Damned slammers as you could eat, such as the opener "Wait For The Blackout," "Hit Or Miss" and "Sick Of This And That." Keyboards abounded on somewhat mellower selections such as "Drinking About My Baby." Thomas Dolby programmed synths for tracks such as "The History Of The World, Pt. 1." Then there's Dave Vanian's 17-minute mini-opera, "Curtain Call," one of goth's springboards.
6. D.O.A. – Something Better Change
Meanwhile, a new legend emerged from Vancouver's hard-as-nails punk scene. Future Burnaby city councilor Joe Keithley (then Joey Shithead) created, alongside bassist Randy Rampage and teenage-Keith-Moon drummer Chuck Biscuits, a rowdy political punk that featured more resonance from '70s hard rock and the Damned than the Clash. Thus, D.O.A. always felt more like brutal, sped-up rock 'n' roll than, say, the anarchist caterwauling of Crass. There was also a ferocity and conviction to anthemic bombshells such as "The Enemy" and "World War 3" marking D.O.A. to this day, weathering Keithley through many lineup changes.
7. The Jam – Sound Affects
England received indication the Jam were growing with instant No. 1 single, "Going Underground." Their mod/punk fusion was still intact but enlivened with dub production elements and Paul Weller's social realist lyrics about political corruption, voter apathy and Thatcherism's immediate deep freeze. These elements spilled into November's Sound Affects LP, accompanied by a "Going Underground" bonus 45 Stateside. The sounds seemingly affecting them were the Beatles' Revolver—down to the blatant "Taxman" homage on "Start!"—Michael Jackson's Off The Wall and Gang Of Four-ish post-punk. Ultimately, this was the Jam's creative apex.
8. Pretenders – Pretenders
Chrissie Hynde had been kicking around London since 1973—writing record reviews for NME, dating their star writer Nick Kent, working in Malcolm McLaren and Vivienne Westwood's shop Sex, giving Johnny Rotten guitar lessons and drifting in and out of short-lived bands with the cream of London's punk crop. She finally got it together with three punk-minded Northern lads with old-school rock chops. The Pretenders brought to life Hynde's aggressive songs with '60s pop resonance, touching on touchy subjects such as rape in "Up The Neck," leavened by her honeyed croon.
9. Stiff Little Fingers – Nobody's Heroes
Signed to Chrysalis, SLF followed up indie debut LP Inflammable Material with songs as explosive and rockin' as ever but with a fuller, clearer production. Jake Burns still had a sandpaper rasp as he barked out his anthems of small town displacement and alienation such as "Gotta Gettaway" and "At The Edge." Doug Bennett's steady hand at the mixing desk ensured every ounce of melody was prominent, even as the guitars buzzsawed away, albeit occasionally drenched in the chorus effect that dates every record produced in the early '80s. No sophomore slump here.
10. The Undertones – Hypnotised
Certain quarters deemed the Undertones too "lightweight" for creating perfect chainsaw pop about "Teenage Kicks" and "Mars Bars." How do the cheeky Irish chappies respond? By opening their second LP singing, "It's never too late to enjoy dumb entertainment" on "More Songs About Chocolate And Girls." Sure, it sounds like The First Album, Part 2. But does anyone mind when you get singalong twin guitar aggression this great? Or lyrics as funny as "My Perfect Cousin": "His mother bought him a synthesizer/Got the Human League into advise her!" That takes talent!
11. Cockney Rejects – Greatest Hits, Vol. 1
Here's what Sham 69 hath wrought: Four East End lads hear the Sex Pistols and decide they want some of that. So Micky Geggus goes for Steve Jones' huge guitar sound. But teenage boxer Jeff "Stinky Turner" Geggus, Micky's brother, didn't want to be bothered with politics. So he bawled lyrics about street fighting and football hooliganism. Still, tunes such as "Bad Man" had a touch of the social realism of the age: "You treat your mother as bad as bad could be/You even pay your deadly debts out of the gas money."
12. Cockney Rejects – Greatest Hits, Vol. 2
You might notice a theme in the cheeky album titles. Yes, the third LP was Vol. 3. Meanwhile, how do unabashed Westham supporters Cockney Rejects respond to every tour date they played evolving into full-scale football riots—literal brawls involving them and their road crew versus the entire audience? With 14 more battle cries such as "War On The Terraces" and "Hate Of The City" Sweet's glam-stomper "Blockbuster" also gets trounced. In "Oi! Oi! Oi!," the skinhead punk sound Cockney Rejects and Sham 69 inspired gained both a name and an anthem.
13. The Birthday Party – The Birthday Party, aka as Hee Haw
On Door, Door, their debut album as previous incarnation Boys Next Door, the world was introduced to the twin geniuses of Nick Cave and the thinking man's Johnny Thunders, Rowland S. Howard, as well as the latter's gorgeous teenage romantic angst/suicide classic, "Shivers." That outing saw the Australian teens reimagine Roxy Music as a punk band. Now renamed for a Harold Pinter play, they were dead set on deconstructing the entirety of rock 'n' roll history and reassembling it as something more absurd and dangerous. Tracks such as "Mr. Clarinet" scream mission accomplished.
14. The Flesh Eaters – No Questions Asked
Chris Desjardins, aka Chris D., was a hellfire gonzo record reviewer for acclaimed L.A. punk zine Slash, spawning ground for the record label. In 1977, he began decrying his Rimbaud-esque poetry atop vicious punk rock played by a loose collective he dubbed the Flesh Eaters, named for 1964's low-budget horror film. With what critic Byron Coley dubbed D's "wonderful bleeding collages of B-movie dementia, street crime, Mexican Catholicism and Dionysian punk spurt poetics," he stood alongside X in creating L.A.'s bohemian punk songcraft. Chris D. is everything Richard Hell wishes he was.
15. Public Image Ltd. – Metal Box (Second Edition)
The once-Johnny-Rotten-now-John-Lydon's post-Sex Pistols combo had advanced far beyond the "anti-rock" of debut single "Public Image." Initially a series of auditions in a recording studio to fill the drumkit vacated by Jim Walker, with Martin Atkins winning, the tapes came out in England in 1979 as three 12-inch 45s in a film can called Metal Box. The 2xLP U.S. Second Edition still contained Jah Wobble's deep dub bass and Keith Levene's ringing guitar U2 stole wholesale and Lydon's increasingly abrasive vocal whine. If any 1980 release indicated the future, it was this one.