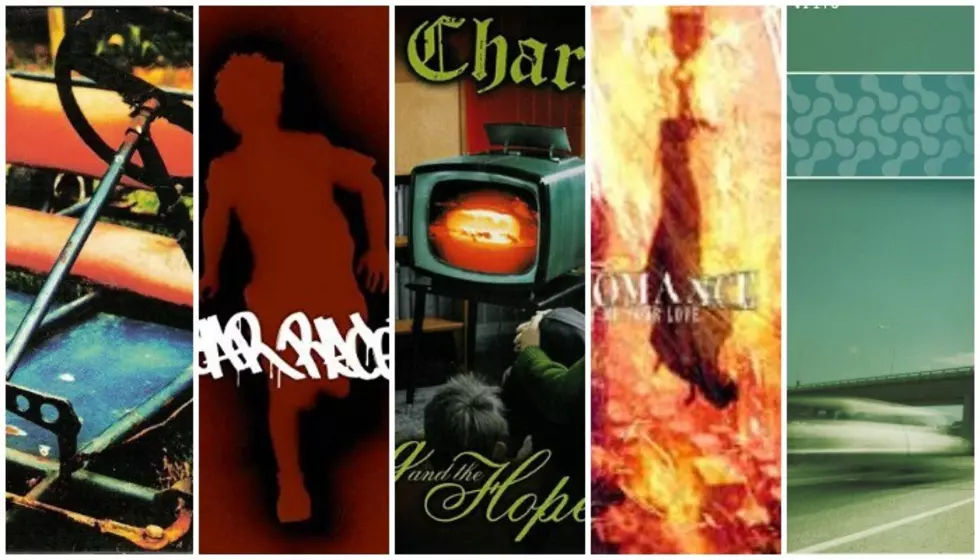 20 scene albums from 2002 that you probably still have in your car
When the new millennium broke, the alternative music community was heavily saturated with popular genres such as punk, pop punk and emo. Lying dormant, a new alternative music sound and scene was awaiting its time to shine. In 2002, it absolutely exploded. It was virtually impossible to go a day without hearing Simple Plan's latest single or turning on MTV without seeing a Sum 41 music video. 
But what exactly is "scene"? The moniker appears as a more stylistic choice meaning emo style mixed with punk and a hint of vibrant colors. The longer it stuck around, the more scene bands and albums began to emerge. No matter how many arguments happened over AIM between emos and scenesters, it was here to stay.
In the wake of a resurgence of scene fashion, music and design, the Rawring '20s is as great a time as any to look back on one of the defining years of scene music. Check out 20 of the best albums from 2002 below.
Alexisonfire – Alexisonfire 
Finding success through word of mouth, Alexisonfire's first album gained immense success in both the post-hardcore and emo underground. The self-titled album features two school girls about to engage in a knife fight, which Alexisonfire have openly claimed that that's what they sound like—in 2002, that is. While their success was primarily in Canada, their home country, it certainly didn't stop them from gaining notoriety in the United States. 
The All-American Rejects – The All-American Rejects 
It's hard to believe that nearly 20 years ago, the All-American Rejects debuted their first album. Even if this record is lost in a stack of old CDs, "Swing, Swing" and "My Paper Heart" still reign supreme. Catchy lyrics mixed with Tyson Ritter's hopeful and pleading vocals skyrocketed this album to fame. Undoubtedly, it's at the top of the list for popular songs played at Emo Nights across the country. 
Avril Lavigne – Let Go
At only 17 years old, Avril Lavigne became a household name with her hits "Complicated" and "Sk8er Boi" off her debut Let Go, but can we make it anymore obvious? She received accolades for her record, winning four Junos and being awarded Best New Artist status at MTV's Video Music Awards. Absolutely no one can let this album go. 
Bowling For Soup – Drunk Enough To Dance
Bowling For Soup's second album, Drunk Enough To Dance, debuted in the summer of 2002. Featuring the hit single "Girl All The Bad Guys Want," they went on to get nominated for a Grammy for the song. The album's name summarizes the band's sound—Drunk Enough To Dance tackles wanting, feeling sorry for yourself, misplacing anger and blame and, mostly, being drunk. With plenty of power pop, alternative and pop punk, they were able to offer a variety of sounds to their listeners and give them a fairly broad fanbase. 
Box Car Racer – Box Car Racer
Formed in 2001 by blink-182's Tom DeLonge, Box Car Racer have a DIY pop-punk sound that set them apart. Their self-titled debut album features some of DeLonge's more melancholic lyrics, great drumming by his blink bandmate Travis Barker and became an outlet for DeLonge to express himself outside of the largely successful blink-182. Nearly 18 years have passed since its release, and fans (and Anthony Green) are still holding out for a follow up. 
The Early November – For All Of This
Signed to Drive-Thru Records in 2002, the Early November debuted their first EP, For All Of This, later that year. It's equal parts emo and indie rock, making songs such as "I Want to Hear You Sad" just the right tune to listen to when you're feeling down. While they didn't make quite the splash as others on this list initially, they toured with other successful bands such as Brand New shortly after the release of For All Of This. In doing so, their presence in the scene strengthened, and they were offered to play Warped Tour.
Good Charlotte – The Young And The Hopeless 
Before they were known for Gothic imagery, Good Charlotte entered the scene with punk stylings and a screw-the-system mentality. The Young And The Hopeless was the album that took them out of the underground and brought them into the mainstream with songs such as "Girls & Boys," "The Anthem," "Lifestyles Of The Rich & Famous" and "Hold On." Their image was so powerful in scene culture that people adopted their spiked hair and eyeliner that resembles the popular "e-girl" makeup of today—think more Benji and less Joel. 
Midtown – Living Well Is The Best Revenge 
Formed by former Rutgers University students, Midtown are a pop-punk and rock-infused powerhouse. Releasing their sophomore album, Living Well Is The Best Revenge, two years after their debut, the album centers around the essentials—sleeping in, wishing someone liked you back and being with your friends. 
My Chemical Romance – I Brought You My Bullets, You Brought Me Your Love
What else can be said about My Chemical Romance that hasn't already been said? The New Jersey band offer their audience creative album storylines, original artwork from frontman Gerard Way and songs that always pack a memorable punch. Their debut album, I Brought You My Bullets, You Brought Me Your Love, is full of raw guitar riffs and screaming. Half concept album, half personal experiences, MCR made sure no one would forget about this iconic album despite not breaking into the mainstream until 2004. Dawning red rings of eyeshadow, black circles around their eyes and all-black suits, anyone who was anyone in the scene took on the look of Gerard, Mikey Way, Ray Toro and Frank Iero. 
New Found Glory – Sticks And Stones
New Found Glory's third album, Sticks And Stones, was loved by almost every age group, with the five-piece playing songs that resembled emo, skate punk and pop punk. Sticks And Stones' is carefully constructed to go from a song about the power of friendship over romance (My Friends Over You") to apologetic lines about loss and letting go ("Sonny"). Obviously, this band know exactly what to do and how to do it. Nearly 25 years after their formation, both New Found Glory and Sticks And Stones are still a staple. 
Northstar – Is This Thing Loaded? 
Alabama's Northstar released their debut album, Is This Thing Loaded?, through Triple Crown Records. The album features indie- and emo-influenced songs such as "Rigged & Ready" and "Taker Not A Giver." To promote the album, they toured extensively throughout North America with bands such as Taking Back Sunday, Say Anything and Hot Rod Circuit, among others. 
Simple Plan – No Pads, No Helmets...Just Balls
Simple Plan became a household name in next to no time. When they released their first album, No Pads, No Helmets...Just Balls, everyone was singing "I'm Just A Kid" and "Grow Up" at the top of their lungs. Not to mention, no one will ever forget the moment Simple Plan released "Addicted," one of the most clever word choices a band have ever used to get a swear word on the radio. 
Something Corporate – Leaving Through The Window
Something Corporate are an emo and pop-punk band who incorporated piano and rhythm guitar to achieve their unique sound. With tracks such as "Punk Rock Princess" and "I Woke Up In A Car" driving their major-label debut album, Leaving Through The Window, Something Corporate secured their place in the scene in no time with an upbeat sound that's just as iconic today as it was in 2002..
The Starting Line – Say It Like You Mean It 
When Pennsylvania-based band the Starting Line dropped their first full-length, Say It Like You Mean It, lead vocalist/bassist Kenny Vasoli was only 18 years old. It was quite the triumph for such a young artist and band. Their album showcased the melancholy that came with being young and emotional, with poppy beats made for dancing in your room alone with the stereo blasting. "The Best Of Me" remains one of the band's most-played songs of all time, and for good reason. 
Sum 41 – Does This Look Infected?
While Sum 41 grew in popularity with pop-punk bands of the time, Does This Look Infected? brought out a much harder and edgier sound. The feel is both pop mixed with a healthy dose of punk. Sum 41 have never strayed from experimenting with their sound, and this album is no exception, as Infected offers a tracklist that has an abundance of variety—one might sound punk, while another comes off more hardcore and emotional. 
Taking Back Sunday – Tell All Your Friends
For any heartbroken, frustrated and betrayed youth in the alternative crowd, Tell All Your Friends was an album that added fuel to that fire. Taking Back Sunday crafted mixed hopes of revenge with complete disdain and heartbreak so well, you can almost physically feel the band's own emotions when listening. Let's not forget this album came at the peak of one of the worst alternative band disputes of all time. Here's a hint: "There's No 'I' In Team" and the line "Is that what you call tact? I swear you're as subtle as a brick in the small of my back." Overall, Tell All Your Friends validated the anger of youth and gave them an outlet through both their lyrics and performances. 
Thirty Seconds To Mars – Thirty Seconds To Mars 
Thirty Seconds To Mars recorded their debut album with recording legend Bob Ezrin in Wyoming. The album is described by frontman Jared Leto as a concept album on the human condition and self-determination. The self-titled record features intergalactic sounds and otherworldly elements, making it one of the most unique alternative albums to come out of 2002. 
Thrice - The Illusion Of Safety
After forming in 1998, Thrice recorded their second album, The Illusion Of Safety, with producer Brian McTernan. The album was released through Sub City Records, and portions of the sales were donated to A Place Called Home, a nonprofit charity organization for at-risk youth. With polished melodies and familiar hardcore sounds, their use of various elements taken from different areas of punk and hardcore made The Illusion Of Safety the album that put them on the alternative map. 
Underoath – The Changing Of Times
Only a band like Underoath could put out an album like The Changing Of Times. The album consists of themes based on bitterness and broken trust between two individuals who care for one another. "When The Sun Sleeps" features both drummer Aaron Gillespie and ex-frontman Dallas Taylor passionately screaming that "The romance has been dead, the romance is dead." Talk about heartbreak. 
The Used – The Used 
The Used have every right to flex with their debut self-titled album. Releasing to immediate critical acclaim, "The Taste Of Ink," "Buried Myself Alive" and "Blue And Yellow" still define the album over a decade later. After its release, they toured major music circuits such as Ozzfest and Warped Tour, landing them a permanent spot in the hearts of scenesters everywhere. Their emo-esque lyrics, post-hardcore sound and emotive screams made for one unforgettable record.
What is your favorite scene album from 2002? Let is know in the comments below.