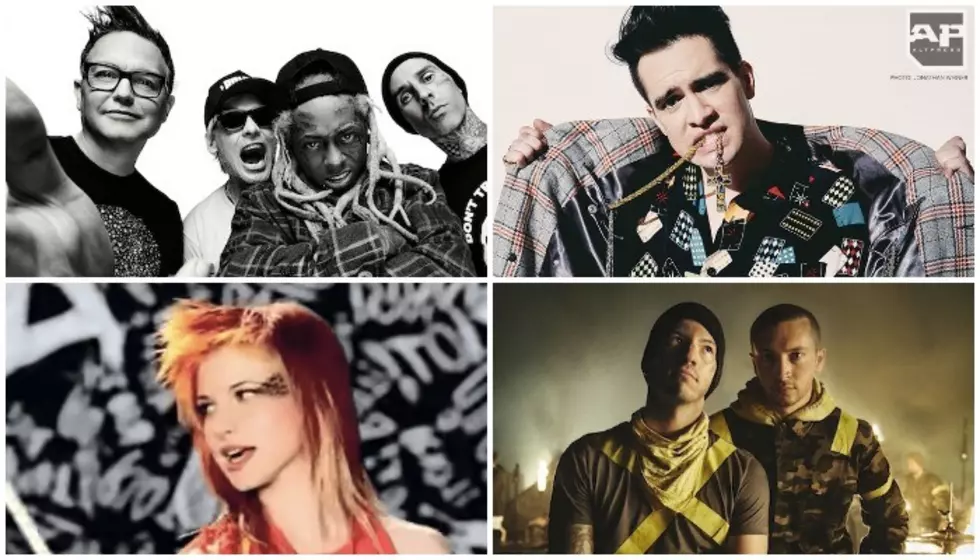 24 music moments that made us thankful 2019 turned into 20ninescene
[Photos via blink-182 and Lil Wayne/Randall Slavin, Panic! At The Disco/Jonanthan Weiner, Paramore/YouTube, twenty one pilots]
A lot has happened in 2019. From having nostalgia thrown at us left and right with the rise of Disney + to artists such as Bring Me The Horizon and Palaye Royale shifting into their respective new eras, it's been a wild ride. Before moving forward, sometimes we have to look back on all the good things that have happened. As we slowly make our way into the RAWRing '20s, here's some of our favorite moments from 20ninescene.
1. Wendy's National Roast Day
We wish we knew who ran the
Wendy's
Twitter account because there's no mistaking it: They're emo to the core. On Jan. 4, the
fast-food company tore into some of our scene faves
on the self-created National Roast Day and left burns so bad, everyone is still recovering.
2. Senses Fail try to win over Demi Lovato
Senses Fail have an undying love for Demi Lovato, and they weren't afraid to show it in their video for "Elevator To The Gallows." Much to their delight, the emo queen took notice and tweeted the band, saying, "Also I love you Senses Fail. Your video is everything." 
3. Mark Hoppus schools us on song lyrics
In February,
Mark Hoppus
told us we've been singing
blink-182
's
"What's My Age Again?" wrong
. After the initial freakout, the singer later tweeted, "Science fact: if you thought the lyrics were 'I WALK ALONE to get the feeling right,' you are a Fake Fan." Sorry Mr. Hoppus, but old habits die hard.
4. Rami Malek wins an Oscar in honor of Freddie Mercury
Rami Malek
won the award for Best Actor In A Leading Role
for his portrayal of
Queen
vocalist
Freddie Mercury
. Thanking the band, Malek shared that he's "forever in [their] debt" for allowing him to portray the frontman onscreen. "We made a film about a gay man, an immigrant who lived his life just unapologetically himself," Malek said of the role. It was a touching tribute to an amazing rock legend.
5. Hayley Williams temporarily goes back to Riot!-era hair color
[Photo via Instagram][/caption] 
When Hayley Williams showed off the return of her orange Riot!-era hair color, she practically broke the internet. Good Dye Young revealed on Twitter that the look isn't just the Riot-branded color like we thought but rather the famous orange hue mixed with Ex-Girl, the brand's version of pink.
6. Angels & Airwaves announce first tour in seven years
Angels & Airwaves announced their return to touring with a new song, "Rebel Girl," and an accompanying music video. The song is the lead track on the band's first full-length release since 2014's The Dream Walker.
7. A couple get engaged at an Andy Black concert
Andy Black
helped a
couple's dream proposal
come true at one of his concerts in May while out in support of his sophomore album
The Ghost Of Ohio
. According to Twitter, a note was being passed through the crowd and made its way to a manager. It eventually got to Black, who brought the person onstage and handed over the mic. Once there, her girlfriend was called onstage, and after telling Black how much he meant to them, she got down on one knee and asked her to marry her, which was met with screams from the crowd and a "yes."
8. Palaye Royale use music to shine a light on the nation's gun violence epidemic
Palaye Royale are fully engrossed in The Bastards era as they gear up to release their third LP via Sumerian Records early next year. The trio released three songs thus far,  their tracks "Hang Onto Yourself," "Nervous Breakdown" and "Fucking With My Head," with a fourth debuting today. Guitarist Sebastian Danzig previosuly revealed the name of the new track, "Massacre, The New American Dream," in an interview with AltPress. Using their collective voice, the band is shining a light on the nation's gun violence epidemic and raising funds for  March of Our Lives and Giffords: Courage To Fight Gun Violence.
9. MGK, YUNGBLUD and Travis Barker collab
Machine Gun Kelly, YUNGBLUD and Travis Barker put their single "I Think I'm OKAY" together rather quickly, but that didn't take away from the final cut. After the release, the rapper and singer later took the track to Warped Tour where they crowdsurfed and played through the song twice, and used it to honor the Dayton, Ohio, and El Paso, Texas, shooting victims. It even inspired TikTok creators to make their own hilarious takes on the lyrics.
10. Warped Tour ends with a bang
Warped Tour is no more, but it will forever stay alive in our hearts. At the final show in Mountain View, California, main stage headliners NOFX were extremely late, but that didn't stop everyone from having a good time. Artists from YUNGBLUD to Sum 41 kept the energy up, banding together to become last-minute cover bands, and it was totally epic.
11. Billie Eilish stands up for an entire generation
In an industry that's primarily male-dominated, women continue to come together to support each other. Even though she's about to turn 18, Billie Eilish has become a strong voice against women being objectified in music and entertainment, even speaking out against those who tried doing it when she was photographed wearing a tank top and a magazine that edited her to appear topless. The young artist has continued to set records, including most recently with her first-time Grammy nominations, and use her platform to project a generation's voice and inspir them to stand up for themselves.
12. A Day To Remember drop two new tracks
A Day To Remember shared their collaboration track with Marshmello in June, "Rescue Me," followed by a standalone single , "Degenerates." Lead singer Jeremy McKinnon later revealed he took inspiration from Kacey Musgraves when writing the song. "[She] has got this song called 'Space Cowboy,'" he says. "I love how you've seen the title of the song, [and] you think you know what she's talking about. Then that chorus hits, and it's a completely different subject and meaning than what you thought the song was going to be about. I thought that was just the coolest thing, and that really inspired me lyrically to ask, 'How can I take this subject and just flip it on its head?' If you really listen to the lyrics in 'Degenerates,' it completely flips the meaning of the song."
13. blink-182 and Lil Wayne's mashup
As a teaser for their co-headlining run, blink-182 and Lil Wayne dropped a "What's My Age Again?" and "A Milli" mashup no one saw coming. The song, "Wayne's My Age Again," was officially released in August, paired with limited-edition merchandise, including a t-shirt with the classic blink logo with a touch of Lil Wayne's aesthetic.
14. 5 Seconds Of Summer #TEETHChallenge
When 5 Seconds Of Summer debuted "Teeth," which was used on the soundtrack for the latest season of
Netflix
's
13 Reasons Why
, fans around the world started to take part in what they called the
#TEETHChallenge
. To do the challenge, one would film themselves singing the closing line of the chorus with their best falsetto-sounding scream as the song plays out.
15. Tyler Joseph announces he's going to be a dad
In September, twenty one pilot's Tyler Joseph announced tha he would be a dad to a Lollapalooza crowd in Berlin. Joseph brought his wife, Jenna, onstage during the band's set to say the couple are expecting their first child. "I know I said I'm bringing a couple of people onstage…and that's true," Joseph revealed to the crowd. Excuse us while we grab a few tissues.
16. Post Malone drops Hollywood's Bleeding
Post Malone recruited Ozzy Osbourne and Travis Scott to create an incredible single featured on the rapper's latest release, Hollywood's Bleeding. Posty and alt-pop singer Halsey also collaborated for a track on Malone's third LP with "Die For Me," which also featured Future.
17. Hella Mega tour announcement
Green Day, Weezer and Fall Out Boy announced their massive Hella Mega tour, which coincides with new releases from all three acts. The tour was initially teased by sending fans mismatched merch items with different combinations of the bands, and Pete Wentz even enlisted WWE legend Ric Flair to join in on the announcement, revealing to Billie Joe Armstrong and Rivers Cuomo that he "basically spent the whole marketing budget" to hire him for the promo clip. It was well worth it.
18. iDKHOW perform an unreleased track at Riot Fest
I DONT KNOW HOW BUT THEY FOUND ME played a new track "Lights Go Down" at Riot Fest in September, giving festival-goers just a taste of the duo's upcoming debut full-length. The song has yet to be released officially, but we're anxiously awaiting its arrival.
19. Melanie Martinez guest edits AP's October issue
For the first time in AP history, Melanie Martinez was dubbed the guest editor of her own issue. In celebration of her latest release and film, K-12, Martinez took on the role of journalist, photographer and creative director for the October issue.
20. Poppy teases new metal album
Did you ever think Poppy would go full-on metal? In October, the singer announced she'll be dropping her new record, I Disagree, Jan. 10, but she's already released the title track, "Concrete" and "BLOODMONEY" as singles. If they give any indication to how the rest of the album is going to sound, it's going to be intense. To further solidify her place in the scene, she also went on tour with Bring Me The Horizon and Sleeping With Sirens.
21. Avril Lavigne and Halsey collab onstage
Avril Lavigne
and Halsey
banded together onstage at the latter's annual Halloween party
to sing "Girlfriend." With Halsey dressed as goth icon Marilyn Manson, the two gave a nostalgic performance we all needed. Lavigne was also making hits throughout the year, dropping a dark new single, "
I Fell In Love With The Devil
."
22. My Chemical Romance return
My Chemical Romance sent the internet into a frenzy on Halloween when they began posting cryptic images on their Instagram story. After about an hour of anticipation, the emo kings announced they were back and would perform their first show together in over seven years on Dec. 20.
23. Waterparks re-record their music so they can own it
After the release of FANDOM, Waterparks' next mission was to "take back" ownership of their 2018 release, Entertainment. The trio self-released a medley of their debut album featuring elements from all tracks but putting emphasis on "Tantrum," "Crybaby" and "Peach (Lobotomy)." "WHAT COMES NEXT IS FOR US," the band tweeted. "TO FEEL LIKE WE ACTUALLY OWN OUR OWN OLD MUSIC. BECAUSE WE DON'T. SOMEONE ELSE DOES."
24. Brendon Urie drops new metal track on charity livestream
Is there any genre of music that Brendon Urie can't absolutely nail? During a Twitch stream where the singer was raising money for his charity Highest Hopes, Urie proposed that if they hit the goal of $75,000, he would drop a new metal track. Thanks to all the donations, the goal was met, and the Panic! At The Disco frontman premiered the song on the stream.
What were some of your favorite moments this year? Let us know in the comments below!