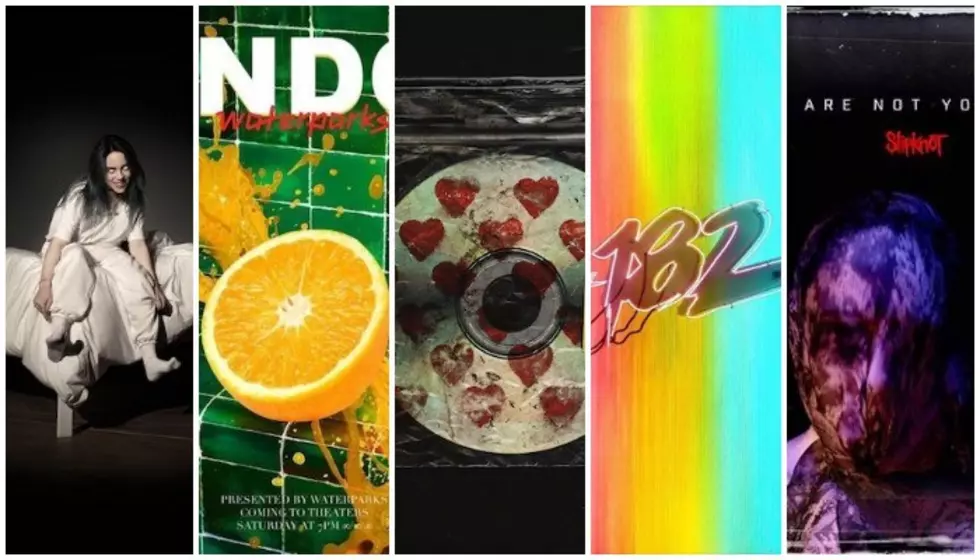 The 50 best albums of 2019 in alternative, punk, alt-pop and beyond
The time has come for the collective internet to narrow down their favorite albums of 2019. With more releases than we can count dropping in any given year, from DIY garage bands to the biggest of pop artists, the task is large.
This year kept our attention with a slew of choices, so here's what stood out. Check out our favorite albums from 2019 below.
Afterlife – Breaking Point
It's clear that Afterlife's debut album, Breaking Point, was meant to explode with tenacity and aggression. From start to finish, Afterlife achieve implementing the most iconic elements of nü metal and ranking their sound among the likes of early Linkin Park and Korn. The record effortlessly bursts with a self-reflectiveness yet explores human struggle in an angry but eloquent way.—Paige Owens
FEVER 333 – STRENGTH IN NUMB333RS
Aside from creating a genre-blending album, FEVER 333's debut, STRENGTH IN NUMB333RS, punches with the group's political and personal manifesto. FEVER 333 demonstrate their message of "community, charity, change" in a way that not only demands your attention, but receives it. The group leave no topics untouched. From police brutality to inequality, FEVER 333 will be heard.—Paige Owens
Bring Me The Horizon – amo
Bring Me The Horizon have been walking a fine line between their deathcore roots for several years, but amo demonstrated that the group can pull off any sound they aim for. Bring Me unapologetically fused their lyrical melancholia with a hefty electronic base for an album that abundantly flourishes with diversity. Bring Me The Horizon are about as far away from their roots as they could be, but their sound is as impeccable as ever.—Paige Owens
Say Anything – Oliver Appropriate
On their eighth album, Oliver Appropriate, Say Anything cycle back to their famed debut, ...Is A Real Boy, to conclude the story as vocalist Max Bemis makes his exit from performing. Following Oliver, the grown-up version of the narrator from IARB, the record takes place over the course of two days, centering on his affection for the first boy he loves unironically. While Oliver Appropriate acts as the band's shortest album, it certainly doesn't lack any of the heart. There's both druggy confessionals ("Pink Snot") and searing jealousy ("It's A Process") that make it a compelling sequel, but perhaps most importantly, Oliver Appropriate causes one to discern exactly how much has changed since 2004: Bemis is happily married, fathering three children, and he's finally ready to close this chapter.—Neville Hardman
SWMRS – Berkeley's On Fire
If Drive North expanded SWMRS' outer boundaries, Berkeley's On Fire wipes them off the map entirely. Produced by Rich Costey (Muse, Death Cab For Cutie), the record ping-pongs wildly across, through and in between genres—from a tetchy, hyperkinetic rant about the state of news media from a gassed-up Cole Becker (the title track) to the warm synths of bare-bones lament "IKEA Date" from the bouncy new-wave bummer-jam "Too Much Coffee" to the twenty one pilots-esque "April In Houston," the band's first track to hit Billboard's Alternative Songs chart. Despite the wildly divergent sounds Berkeley's On Fire cobbles together, each track feels big and inviting, and the album hangs together as a body of work on the strength of its songcraft.—Jesse Richman
Badflower – OK, I'M SICK
Relatively new to the scene in their current incarnation, Badflower released their first single in 2015, followed by their Temper EP in 2016. Three years later, the band delivered their debut full-length in OK, I'M SICK, finding their footing as they navigate pill dependency ("x ANA x"), feeling lost ("The Jester") and fears of getting old ("Promise Me"). Also featuring breakout tracks "Ghost" and "Heroin," Badflower give rock a fresh approach by capturing the pain and passion of daily life, with expansive instrumentation lead by frontman Josh Katz's expressive vocals.—Rachel Campbell
Youth Fountain – Letters To Our Former Selves
Vancouver's Youth Fountain are the perfect blend of emo-tinged punk to soundtrack reflecting on every single life decision you've ever made. The duo embrace a harmonious call-and-response approach that captures the internal conversations we have with ourselves on the daily, in turn offering up a plethora of brutally honest and totally relatable lyrics. Coupled with driving punk beats, their Pure Noise debut hits the best of both genres, highlighted by lead single "Deadlocked."—Rachel Campbell
The Dose – Saline
The Dose are single-handedly leading the grunge revival. While many of your favorite genre acts might still be releasing music, the duo—vocalist/guitarist Indio Downey and drummer Ralph Alexander—are giving it a much-needed facelift. Following the release of an EP and then several singles throughout 2018, the Dose dropped their debut full-length, Saline, at the start of the year. With electro-charged riffs ("Thrill Of It") sweet vocal melodies ("Escape") and expansive instrumentation ("Saline"), the Dose balance emotional catharsis with energetic, hook-filled verses for an impressive debut.—Rachel Campbell
Angel Du$t – Pretty Buff
Much of Angel Du$t's stans still deem them hardcore because of their lineage (Turnstile, Trapped Under Ice), yet the stuff coming out of the speakers isn't hardcore in the slightest. There's a joyous, melodic sensibility here that's unabashedly pop but owes more to such late '80s/early '90s college-rock staples as the Clean and the Feelies. (Two bands the Du$t brothers' fans probably aren't familiar with. Get your Google on, fam.) Shout-outs to frontman Justice Tripp for his abject sunniness and to mighty drummer Daniel Fang, who not only makes these tracks swing but can go from 70 mph to full-stop faster than it takes you to die in a text-and-drive car crash. We don't care if you're a 16-year-old pit starter or if you stopped reading AP in '95: If you can't get revved up by "Biggest Girl" and "Big Ass Love," you need to rethink your life while there's still time.—Jason Pettigrew
La Dispute – Panorama
La Dispute are pioneers of grief, loss and melancholia, and their latest record, Panorama, is no exception. The post-hardcore quintet have built their foundation on creating an emotionally charged, poetic and provacative sound that wields their intensity and somberness. Panorama homes in on their aggressive, spoken-word poetry-esque approach to music to explore the simple setbacks of everyday life.—Paige Owens
American Football – American Football
American Football first captured our emo hearts in the late '90s with the release of their first self-titled album before vanishing from the scene for well over a decade. That output has since been labeled one of the greatest emo records of all time. After reuniting, the band released a second self-titled album in 2016 before releasing American Football (LP3) earlier this year. LP3 hears a familiar mixture of entangled instrumentals, perfectly molded around the echo of Mike Kinsella's self-analyzing lyrics. The album as a whole hears growth and maturity in songs such as "Uncomfortably Numb" and "Silhouettes." The eight-track record also sees appearances from Paramore's Hayley Williams and Land Of Talk's Elizabeth Powell, gracing you with a beauty that you didn't know you were missing.—Mackenzie Templeton
The Maine – You Are OK
Seven albums deep into an ever-thriving career, the Maine are still pushing pop-rock boundaries. On You Are OK, the Maine worked with producer Matt Squire, who also helmed the group's beloved 2008 LP, Can't Stop Won't Stop. The aggressive direction of You Are OK's first single, "Numb Without You," was no accident. In fact, the Maine deliberately teased the record with a song that sounded different than previous lead-off singles, as the track's most notable for its runs of dramatic strings—one sonic element the band were happy to introduce into their music. If that doesn't scare you away, frontman John O'Callaghan promises you're "going to dig the rest of the album."—Annie Zaleski
Free Throw – What's Past Is Prologue
Free Throw's third full-length, What's Past Is Prologue, recounts vocalist Cory Castro's experiences with self-medication as he heads toward a healthier, self-actualized life. Throughout the album, Castro vollies scathing, introspective lyrics at his battered state—the one that makes him less considerate ("The Fix Is In"), socially anxious ("The Corner's Dilemma") and dependent on bad habits ("Today Is Especially Delicious"). The real power of this record, however, unfolds on the final eponymous track. Castro has finally gained enough strength to sever himself from the debilitating ways he uses to cope, tendencies that have been prevalent across their past two albums. "I could feel my lungs rejoice/I'm finally breathing again," he concludes, signifying his transition from past into prologue.—Neville Hardman
Billie Eilish – WHEN WE ALL FALL ASLEEP, WHERE DO WE GO?
17-year-old Billie Eilish took the music world by storm when she released her chart-topping debut album, WHEN WE ALL FALL ASLEEP, WHERE DO WE GO? Her stunning vocals are only amplified on genre-bending tracks that balance dark elements with playful ones that established her signature sound. A perfect example presents itself in her No. 1 song "bad guy," where she inserts herself saying "duh" over a synth-heavy riff while also singing lyrics that sound like they come straight out of a nightmare. The world fully embraced all of Eilish's weirdness on the debut, and it should only make us all excited for what's to come from her next.—Alex Darus
I Prevail – TRAUMA
Unfortunately, many bands fall victim to the dreaded "sophomore slump" when releasing their second album. Metalcore monsters I Prevail seemingly missed that memo or simply gave it one look before shredding it to pieces and tossing it in the trash. From frontman Brian Burkheiser overcoming a polyp on his vocal cord to the band's battles with depression, TRAUMA places an emphasis on mental health by drawing inspiration from their struggles and the never-ending debate over their quick rise to fame. Mosh-worthy breakdowns and melodic ballads that could make your mom cry are proof that each track is capable of standing on its own, coming together to form a record that sticks to the band's familiar roots while giving a fresh sound to rock. I Prevail are proof that pushing boundaries pays off, with TRAUMA scoring two Grammy nominations for Best Rock Album and Best Metal Performance, placing them alongside heavyweights such as Tool, Bring Me The Horizon, Killswitch Engage and more.—Whitney Shoemaker
PUP – Morbid Stuff
Morbid Stuff found PUP moving in a poppier direction, but it boasts their best songwriting ("Free At Last," the title track), heaviest song ("Full Blown Meltdown") and most evocative moment ("Scorpion Hill") to date. Plunging into the darkest cavities of frontman Stefan Babcock's mind, the record contemplates how one can embrace life at its bleakest (loss, self-hate, depression, etc.) while employing the same twisted humor that's been inherent to the band since their debut. In an age where mental health is finally prioritized, Morbid Stuff feels timelier than ever—reminding us that our most relatable qualities aren't necessarily our most redeemable. Life's pretty fucked up right now, but we can certainly learn to take ourselves less seriously while shuffling through the motions.—Neville Hardman
Andy Black – The Ghost Of Ohio
Andy Biersack's second solo album under the Andy Black moniker marks a significant growth from 2016's The Shadow Side. While the previous record had the input from all kinds of guest stars (from Gerard Way to JR Wasilewski and members of 5 Seconds Of Summer), Ghost finds Biersack trying on the personas of everyone from Duran Duran to Bruce Springsteen. It doesn't sound like the guy who sang "Faithless" on Black Veil Brides' fourth album. But that's the whole point: Sometimes you want to wear a battle jacket and thrash in the pit. Other times, you want to wear a nice suit and kiss the lips of life. What's not to get?—Jason Pettigrew
DREAMERS – LAUNCH FLY LAND
Dripping with sultry lyrics and sophisticated instrumentation, DREAMERS create a luxurious palette on LAUNCH FLY LAND. The trio flawlessly distribute the epitome of dream pop across their second album. Focusing their intentions on positivity, LAUNCH FLY LAND melds hopefulness with strands of loneliness and longing that are sewn into several tracks. This record is simultaneously constructed of pop anthems that demand your speakers to go louder with self-discovery and individualism.—Paige Owens
New Years Day – Unbreakable
Four albums in, New Years Day keep up with their gothic roots on Unbreakable, including horror-like synths and passion from a broken heart. Songs such as "Shut Up" and "MissUnderstood" show off deep-cutting lyrics and vocalist Ash Costello's resiliency to prevent life from destroying her spirit. Backed by a mix of punk, rock and metal, the album is a reinvention of the outfit's discography—still in your face but with more pop grit.—Alyssa Quiles
Bad Religion – Age Of Unreason
Bad Religion pull no punches on their first LP in six years. Fans wondered whether the ferocity and bite would still be there after the lengthy gap between records. However, Bad Religion returned with vengeance on Age Of Unreason. Spitting venom and gnashing of teeth, the band cough up biting social and political commentary with their most political record in years. Still apparent is their classic sonic style, which hasn't lost a step. From three-part harmonies to aggressive yet measured instrumentals, Bad Religion show that punk rock might just save us all.—Koltan Greenwood
Defeater – Defeater
Defeater are consistently showing why they're a band who won't stop hitting hard. With over a decade under their belt, it's easy to distinguish a Defeater song, and their self-titled shows that. Their familiar sound verberates throughout the album, accompanied by splintered riffs and pulsating drums, with each song seamlessly flowing into one another. What's more impressive than their sound, however, has always been their lyricism. Defeater have created their own world over the course of five studio albums, following a working-class New Jersey family during the post-World War II era. This album continues that narrative, but for the first time, it contains multiple characters whose stories are spiderwebbed together. Defeater may be their most complicated narrative to date, but the punishing emotion will keep you listening from beginning to end.—Adrian Leuthauser
Frank Iero And The Future Violents – Barriers
It took three records and a near-death experience to get Frank Iero where he wanted to be artistically. On Barriers, the guitarist let his songwriting go wherever it wanted to take him, from pedal-to-the-metal rockers, dark confessionals, tinges of Brit-pop and even gospel. The renewed consciousness he's achieved since the record's release has put him on track to go in potentially any direction he chooses. And our music libraries are all the richer for it.—Jason Pettigrew
Carousel Kings – Plus Ultra
Lancaster, Pennsylvania's Carousel Kings got their start at the burgeoning local label CI Records (former home of such units as Sadaharu and the Pink Spiders) before heading to the kingdom of Victory Records. The jump made sense: Plus Ultra finds them honing their skills and achieving that sweet spot of melodic acceleration and energy-drink-inspired tempos. The record achieves best-of status thanks to an enviable combination of frontman/founder Dave Alexander's winning vocals and some killer arrangements ("Code Breaker (Smile)") Pop punk didn't end with Warped Tour, and Carousel Kings are here to remind us of what's possible.—Jason Pettigrew
Motionless In White – Disguise
Motionless In White's fifth album, Disguise, threw it back to their metalcore roots, with tons of similarities to their debut album, Creatures. "Undead Ahead 2: The Tale Of The Midnight Ride" showcases the familiar heaviness and melodic progressions that we know and love. While Disguise still clearly exhibits the heftier sides of MIW, there are more radio-ready songs, proving that the band have no qualms leaning into the more industrial-metal elements of their sound.—Danie Watson-Goetz
Doll Skin – Love Is Dead And We Killed Her
Six years ago, Doll Skin rolled out of the Phoenix, Arizona, desert with the aim of splitting the difference between punk, rock, pop and even a touch of metal into their fast-paced, emotive music. Although they've been called "the millennial second coming of the Runaways," Doll Skin refuse to be placed into any kind of tidy box, continuing to create music that is uniquely their own with Love Is Dead And We Killed Her. Tracks such as "Empty House" and "When They Show Their Teeth" encourage fans to find their worth, reminding them that they have a place where they belong. Meanwhile, "Mark My Words" and "Nasty Man" dive into the band's more sonically relentless side and focus on abuse, with the former taking the approach of gaining your power back, while the latter calls out celebrities who misuse their power. Doll Skin unapologetically continue to destroy expectations on their latest album, providing further evidence that pure rock fury has no age requirement.—Alessandra Rincón
The Driver Era – X
Combining funk, rock and pop, the Driver Era culminate multiple genres into the sleek piece that is their debut album. Rocky and Ross Lynch welcome listeners to the end of their lives with their opening track before jumping into a bright dance track, "Nobody Knows." Strong basslines are present throughout the album, which helps keep a steady pulse on more relaxed tracks such as "Low" and "Natural." With X, the brothers kick genres to the curb and challenge the way people listen to music.—Alyssa Quiles
Machine Gun Kelly – Hotel Diablo
About a year ago, Machine Gun Kelly scrapped an entire album, paving the way for what would become this year's career-defining Hotel Diablo. Setting the scene like a cinematic production, MGK gears up with "Sex Drive," taking listeners through the lowest of lows ("Glass House" feat. Naomi Wild), a Linkin Park-inspired response to the industry ("Hollywood Whore"), grappling with addiction ("Candy" feat. Trippie Redd) and coming to terms ("I Think I'm OKAY" with YUNGBLUD and Travis Barker). Yes, the rapper also shakes off that famous kill shot attempt ("FLOOR 13"), but Hotel Diablo is about something much bigger than the response to a headline-making beef. MGK opens up even more than emotional sophomore album General Admission, showing the full picture of what goes on in his mind by balancing the record with humorous interludes (Pete Davidson-starring "A Message From The Count" and bassist/producer Stephen "Baze" Basil-inspired "Truck Norris Interlude"). Hotel Diablo is clearly a landmark release for the musician as he spilled his guts in the studio, and all you need is the best headphones you can find (not a shiny accolades nod) to inspire you to check in for yourself.—Rachel Campbell
K.Flay – Solutions
K.Flay entered a new era and left the literal "Bad Vibes" at the door. Embracing a more vulnerable side through her music, the musician took the darkness and gave it an uptempo spin. From challenging social media perceptions ("I Like Myself (Most Of The Time)") to addressing climate change ("Not In California"), K.Flay captured both the state of the world and her personal life in one cohesive release.—Rachel Campbell
Bones UK – Bones UK
If you saw Palaye Royale on their tour this past fall, then you may have caught the energetic set by openers Bones UK. Set against an electro-punk backdrop, the duo express that you can be whoever you want to be with their first single, "Pretty Waste." The track earned them a Grammy nomination for Best Rock Performance, and it's just the start of a promising career and impressive debut.—Rachel Campbell
Sum 41 – Order In Decline
Order In Decline continues Sum 41's career-spanning dismantling of pop punk, punk rock, heavy metal and hardcore, once again finding the band deconstructing their influences and saudering their favorite pieces of each together in a way only they can. Whether they're locked into the groove of a blues-inspired riff ("Heads Will Roll") or embracing elements of skate-punk ferocity ("A Death In The Family"), this record is Sum 41 pissed off with precision and purpose and fully utilizing the greatest weapon in their arsenal—anticipation. Like a panther locked in the pounce position, chief songwriter and producer Deryck Whibley knows exactly when to be urgent and when to be quiet, always fully in command of the rabid dynamics of each track. The record's lead single, "Out For Blood," boldly defines this incarnation of the band, with guitar team Dave "Brownsound" Baksh and Tom Thacker shredding away riffs soaked in adrenaline and gasoline, all delivered with "Still Waiting" levels of energy and backed by a double-bass drum attack that may leave exit wounds in your AirPods.—Bobby Makar
NF – The Search
Debuting his fourth album, The Search, atop the Billboard 200, NF cemented himself into the rap world by beating out Chance The Rapper's The Big Day to snag his second No. 1 album. Looking at success as both suffocating and disorienting, NF uses rapid-fire, tongue-twisting verses to openly discuss his struggle with mental health. His dark artistry places him alongside acts such as Mac Miller, drawing from trauma and his own inner demons to create an Eminem-esque album that's both brooding and twisted. His refusal to look at mental health through rose-colored glasses is what makes The Search brutally honest, opening the door to discuss the darker aspects that are so often brushed under the rug.—Whitney Shoemaker
Have Mercy – The Love Life
Have Mercy's The Love Life is as intimate as it gets when it comes to heartbreak and disappointment. Boasting an uncomplicated somberness and uplifting tracks ("Dressed Down") glistening with a haunting glow, Brian Swindle's lyricism and visceral vocals are a prime example of sweet melancholia and longing that you can't shake from your bones.—Paige Owens
Slipknot – We Are Not Your Kind
From the introductory bad-dream soundscape ("Insert Coin") to the final crashing chord, Slipknot aren't growing old gracefully, but neither are they acting like they're going to get paid in lottery scratch-offs and bottom-shelf whiskey. Truth is, Slipknot are very much our kind, still trying to make sense of a fucked-up world that either eats its young or anaesthetizes them so we don't have to engage with them. They realize the potential for the enemy within us all to rise (Holy shit, "Birth Of The Cruel"? ) in the hopes that we can achieve the kind of catharsis they're trying to deliver. Slipknot matter because most of their colleagues have taken to phoning it in. Existentialism just got uglier—and a lot more honest.—Jason Pettigrew
Knocked Loose – A Different Shade Of Blue
Knocked Loose's 2016 hardcore debut, Laugh Tracks, was a kill-'em-all blast aimed at the genre's conventions. But with the release of their new album, they've focused their drive with laser accuracy. They didn't refine, tone down or smooth out anything in the name of accessibility. What they did do was take their time and let the power rise. There are 12 tracks on A Different Shade Of Blue, from straight-up rippers to migraine-inducing slow burns. Assisting in the Knocked Loose maelstrom are also some wondrous guest appearances from Every Time I Die mouthpiece Keith Buckley ("Forget Your Name") and Emma Boster from Portalnd hardcore unit Dying Wish ("A Serpent's Touch"). With A Different Shade Of Blue, Knocked Loose aren't using "blue" as a symbol of sadness. They're obviously using it to describe a bruise. Let that hurt make you feel alive.—Jason Pettigrew
93PUNX – 93PUNX
Vic Mensa gained traction in hip-hop with the release of a few EPs and one full-length, but the rapper is breaking the confines of genre barriers and any preconceived notions on what to expect with his punk project 93PUNX. Teaming up with producer Travis Barker, 93PUNX calls upon Good Charlotte's Joel Madden ("it's a bad dream"), Tom Morello ("United States Of Evil"), Bad Brains' H.R. ("bad brain [interlude]") and more for a cohesive melding of sounds. While the scene-studded features might hook you, it's the album content that will get you to stay. Mensa challenges everything from misogyny (pop-punk-inspired "definition of a fuck-boi") to the current state of the government ("Camp America") for a politically fueled wake-up call we should all be answering.—Rachel Campbell
Tool – Fear Inoculum
Tool's first album in 13 years is completely deserving of your undivided attention, the clearest route from your head to your heart. Tool are past the idea of consciously making grand statements with their music; they merely present their voice. In the process of being heard, however, they've been able to give a precordial thump to the pallid carcass of progressive rock and abstain from the typical trappings that got them tagged with terms such as "art metal." Sure, signifiers of their previous records remain, but that is certainly not to say that Tool have gotten "light." With complete nihilism toward rock cliches (no "harder, faster, louder" tropes here), much of Fear Inoculum conveys tension built on careful dynamics acting as whispers than feral screaming. Don't bet on it: Fear Inoculum is enough evidence that anything steeped in convention (Come on, what genre isn't?) can always be taken down a peg, exalted several parsecs or have something irreparably etched into its veneer to change the form forever. Tool waited long enough for someone else to do it, only to find no takers. If you want something done, period, do it yourself.—Jason Pettigrew
Grayscale – Nella Vita
Grayscale are continuing to make bold and adventurous moves in the music world. Even through dealing with topics such as addiction or losing a family member to suicide, their ability to continue to create while capturing candid vulnerability is what enabled the music to become so raw. The effortless power to create stirring tracks is evident in such songs as "Baby Blue," where haunting lyrics are paired with both a pop track and a funk breakdown. As vocalist Collin Walsh states, it's certainly "a record that is gonna make you wanna dance. It's gonna make you want to cry…You're gonna feel a lot from it."—Liz Holland
Sleeping With Sirens – How It Feels To Be Lost
Six records in, Sleeping With Sirens have done on How It Feels To Be Lost what many thought was impossible—the ability to both survive and stay relevant. "Leave It All Behind" and "Agree To Disagree" supply the evidence that SWS can still throw down with some urgency. On "Another Nightmare," pop choruses with stuttering, time-stretched vocal production swirl around Jack Fowler and Nick Martin's guitar majesty. "Medicine (Devil In My Head)," Kellin Quinn's acknowledgment of his problems with alcohol, is heightened by that mean bastard/victim dichotomy. Moving past departed members, a major-label deal and Quinn's substance misuse travails, the latest release finds them back on track to not only capture the fans who couldn't remember their previous album but to actually evolve in the process.—Jason Pettigrew
Melanie Martinez – K-12
With K-12, Melanie Martinez picks up where debut LP Cry Baby left off for an even grander life lesson on the world beyond your front door in a perfectly pastel-pop package. Martinez tackles the real-life problems students face in her own vibrant way. Ridding herself of jealous lovers and bullies in one fell punch ("Class Fight"), an unfair power shift ("The Principal," "Teacher's Pet") and themes of struggling with body acceptance ("Show & Tell," "Strawberry Shortcake," "Orange Juice") highlight the release. Martinez manages to do the near impossible by delivering an even more impressive effort than her previous. The vocalist presents a literal lesson on life, which for some may be a hard pill to swallow. But with Martinez, it comes in pastel pink and disguised by a bubble gum flavor, making it easy enough to accept while still getting the same expected results.—Rachel Campbell
Microwave – Death Is A Warm Blanket
Sauntering somewhere between Citizen and Brand New, Microwave's latest album, Death Is A Warm Blanket, showcases the group's maturity without losing touch with their foundationed sound. Utilizing a combination of mesmerizing acoustics and sporadic screams throughout the record, the group capitalize on internalized hopelessness while offering a breath of fresh air and longing for escape.—Paige Owens
Sleep On It – Pride & Disaster
In a world where fans crave a brand-new sound with each release yet ultimately want you to remain the same, Sleep On It created an album that proves what every band should strive for—growth. Addressing both the ups and downs of life, Pride & Disaster takes on a life of its own while providing a more realistic viewpoint on it. The album doesn't shy away from discussing the hard topics and problems we all face in our lives, but there's a silver lining etched throughout its entirety. Meanwhile, "Take Me Back" and "The Cycle Of Always Leaving" will have you reminiscing about a long-lost love, whereas "Logan Square" marks the quintessential pop-punk love letter to your hometown. Over the course of 10 incredible tracks, Sleep On It revive the sorely missed nostalgia of the genre while bringing forth the vulnerability of the human spirit on their most mature output yet. So while you finish that last bite of pepperoni pizza, be sure to savor Pride & Disaster for everything that it is—a much-needed reset button on a genre that was long overdue for a growth spurt.—Whitney Shoemaker
The Faim – State Of Mind
Experimentation with sound, along with life experiences, played an active part in the creation of the Faim's new full-length. Containing a diverse yet cohesive tracklisting, each song has its own unique meaning. From the soulful "Beautiful Drama" to the ever-relatable "Humans," the band make sure listeners can take away something from each track. While everyone has different ways of maintaining their own mental health, it's clear music is vocalist Josh Raven's release. That message is reflected in the slowest track on the album, "Where The River Runs." With Raven singing alongside a lone piano, it's a stark but welcome difference than what's expected from their usual tunes.—Alyssa Quiles
blink-182 – NINE
If 2016's California is pop-punk greatness all grown up, NINE is the blink-182 members reflecting on the days that made them famous. blink could have bought into nostalgia for NINE, and perhaps it would have pleased their old-school fanbase, but today's music scene is anything but predictable. At times, survival requires adaptation, and the synth-heavy, alt-pop-inspired record is proof the band comply with that school of thought. Just catch the first few seconds of tracks such as "Ransom" and lead single "Blame It On My Youth," with its echoing intros fit for radio play. Any fan, even surface level, could tell you this is far from the same band who soared up music charts and were instrumental in bringing the entire genre of pop punk into the mainstream, but the trio have done their due diligence. In turn, it seems they made a pop-punk record for the next generation.—Collin Goeman
SeeYouSpaceCowboy – The Correlation Between Entrance and Exit Wounds
Everything about The Correlation Between Entrance And Exit Wounds, the proper Pure Noise debut album from SeeYouSpaceCowboy, is built to challenge, confuse and assault the listener. The record starts with "Armed With Their Teeth," with cutting harmonics seemingly divined from the early days of Godflesh. Vocalist Connie Sgarbossa spits venom like she was dropping boxes of roofing nails from tall buildings on top of unsuspecting pedestrians' head, while "Put On A Show, Don't Let Them See You Fall" ramps all of their favorite vibes into a highway jam that's positively empowering. The album makes you reconsider what kind of music you like in the most exhaustive way, like you've ran a one-minute mile and someone gave you a cold glass of water with an inch of powdered glass at the bottom of the cup. SeeYouSpaceCowboy remind all of us that there's not supposed to be any rules to this culture. May they fuck with our expectations and heads (and hearing) for years to come.—Jason Pettigrew
Dayseeker – Sleeptalk
Drenched in neon-pink-and-purple strobe lights and tinged with a pastel post-hardcore vibe that will sit somberly in your gut, the fourth full-length from Dayseeker, Sleeptalk, will undoubtedly make it on to a number of AOTY lists. Following 2017's Dreaming Is Sinking /// Waking Is Rising and the subsequent post-hardcore formula that Dayseeker have consistently delivered, Sleeptalk is a warm and welcome release to higher ground. Shedding the monotonous skin of the standard post-hardcore structure, fans might be taken aback to discover the culmination of genres that act to balance the group's sound. Dayseeker are doing more than following along with the trend of blending genres. They've paved the way to something new and exciting that music has been craving for some time now. The vibrant vocal layering and soft instrumentation transcends the group's former releases, making Sleeptalk a sophisticated, cohesive listening experience.—Paige Owens
Waterparks – FANDOM
Knowing Waterparks frontman Awsten Knight, you have to expect the unexpected, which is exactly what made the group's third LP, FANDOM, so captivating and fascinating. Strung together by aggressive ballads on the toxicity of the music industry, heartbreak and all-too-involved fans, FANDOM is unapologetically honest as well as liberating. The color-coded record combines the greatest elements of pop, electronic and pop punk for a layered output that will offer listeners something new each time.—Paige Owens
The Devil Wears Prada – The Act
After announcing The Act, the Devil Wears Prada said the new album would be pushing the boundaries of their sound, and they've done exactly that. That doesn't mean they aren't heavy anymore. Right off the bat, opening track "Switchblade" hits as hard as anything they've done, but vocalist Mike Hranica goes for more of a sing-scream style rather than the harsh shrieks and gutturals he pulled off before. "The Thread" is the most overtly intense song, with deep guttural vocals and riffs similar to tracks from Zombie or Dead Throne, while "Spiderhead" sports a similarly old-school Prada vibe. Although a sharp directional shift can often be detrimental to a band at this point in their career, TDWP didn't want to make a safe record, and the experimentation has breathed new life into the quartet.—Joe Smith-Engelhardt
Jinjer – Macro
Be warned: The first time you listen to Macro, the latest release from Ukranian groove-metal sensation Jinjer, you probably won't fully get it. The record is so deeply layered with meticulously detailed counter-melodies and symphonic nuances that it makes The Matrix trilogy seem like the first draft of a freshman film major's screenplay in comparison. Jinjer are not simply making heavy music to bang your head to—they're rerouting the synapses of your cerebral cortex with methodically well-thought-out arrangements that bounce between elegant and explosive, like a neurosurgeon performing life-saving brain surgery with a jackhammer. Guitarist Roman Ibramkhalilov provides riffs that are so refined and relentless, they feel like being entranced in the infinite winding of a hypnosis spiral while vocalist Tatiana Shmayluk effortlessly alternates between growl-screaming like a wild animal who coated her vocal cords in hot glue and broken glass and soaring clean vocals that would make any top 40 pop star feel the pressure to step up their game. Macro is a masterclass in the boundless potential of what heavy metal is and what it can be—scraping every bone of the genre for the richest marrow.—Bobby Makar
The Menzingers – Hello Exile
Nostalgia feels like an overworked motif these days, but the Menzingers have always been able to navigate their sentimental disillusionment in a way that evokes that exact emotion so well—a desire for the simpler days. On Hello Exile, the Scranton punks perfectly articulate their reticence about settling into adulthood. "How do I steer my early 30s before I shipwreck before I'm 40?" frontman Greg Barnett professes on the album's opening track, "America (You're Freaking Me Out)." Transitioning into graceful maturity, however, raises some poignant questions: Am I still relevant? Why don't we talk anymore? Where did the good times go? Yet, as the band bid farewell to their wild youth on the record's final track, it conjures the realization that just as many good times lie ahead in feeling secure in what you're doing and being comfortable with yourself at last.—Neville Hardman
Bishop Briggs – CHAMPION
Bishop Briggs is putting herself first. Finally doing things her way, the vocalist's sophomore release, CHAMPION, is a concept album focusing on one distinct period of time. Briggs didn't hold back in any aspect by embracing the emotional toll, which was especially evident in the closing track, "I TRIED." Despite capturing the emotional catharsis post-breakup and lending a metaphorical shoulder for anyone who needs a good cry, Briggs sums it all up on a positive note with the word "champion" and its equally as inspiring title track.—Rachel Campbell
What was your favorite album in 2019? Let us know in the comments below.