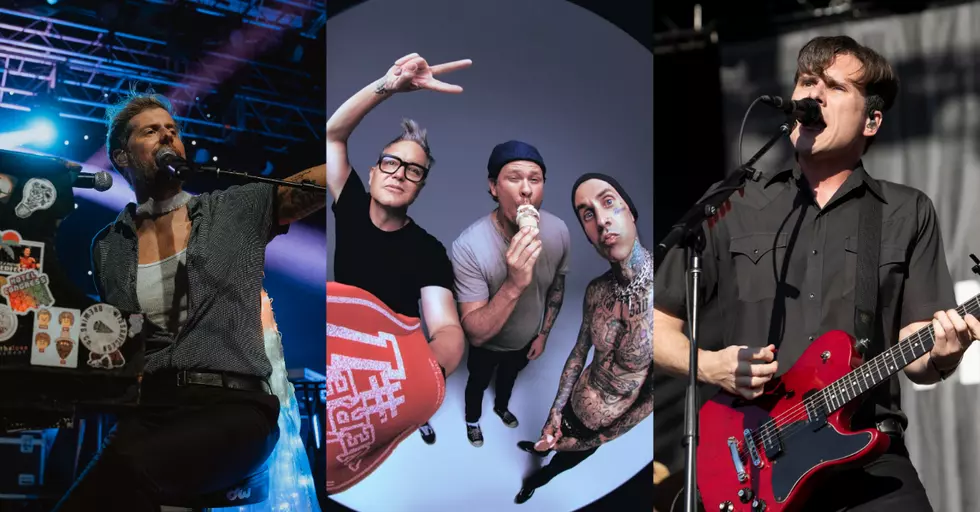 12 best alternative holiday songs to soundtrack your Christmas party
[Photos by Connor Lenihan, Jack Bridgland, Ryan Bakerink]
At last, the holiday season is upon us, and if you are looking to ring in the festivities with some merry tunes but are sick of the standard fare, then you've come to the right place. In honor of the 12 days of Christmas, we present 12 tracks of both compelling renditions of classic holiday hits from your favorite alternative artists as well as original songs for those who disagree that it's the "most wonderful time of the year." No matter where you stand, these songs will shake up any holiday party you find yourself at. 
Read more: Our favorite moments from When We Were Young Festival, the most emo event of the year

From Jimmy Eat World to Fall Out Boy, these are the 12 best alternative Christmas songs that you need to add to your playlist. 
blink-182 – "Boxing Day" 
blink-182 have always had a knack for writing hilarious holiday songs, but on their 2012 EP Dogs Eating Dogs, they penned one of their most heartfelt and touching songs with the Christmas-centric single "Boxing Day." On the song, vocalist/guitarist Tom DeLonge and bassist/vocalist Mark Hoppus complement each other harmoniously while trading off lyrics that touch on themes of emptiness, heartbreak and the all-too-familiar feelings of holiday malaise. "Boxing Day" also shows a more stripped-down sound for the band who have made a career out of high-energy and upbeat music — this time choosing to flex their strengths in artistic restraint, minimalism and subtle poeticism.
Tim Timebomb and Friends – "You're a Mean One Mr. Grinch" 
Tim Armstrong (Rancid) has one of the most distinct voices in punk, and his 2012 rendition of Dr. Seuss' classic "You're a Mean One Mr. Grinch" only further proves this point. Armstrong feels right at home singing the holiday classic and inserts a healthy dose of personality while retaining the classic elements of the source material. Featuring jazz guitar chords, horn sections and classical piano arrangements, Armstrong and co. provide a fun and jovial experience all the way through.
Senses Fail – "Donde Esta Santa Clause" 
When post-hardcore veterans Senses Fail emerged with their very own holiday music in late 2020, it was a welcome treat after a somber and devastating year. Out of the two stellar holiday singles they dropped, their rendition of Augie Rio's 1958 classic "Donde Esta Santa Clause" is by far their most catchy and ambitious. Sung in both Spanish and English, vocalist Buddy Nielsen performs every line with intention over distorted power-pop guitars and driving drum rhythms that are sure to amp anyone up at your next holiday function. 
Weezer – "We Wish You A Merry Christmas" 
Throughout their 30-year career, Weezer have proved one thing: If they stay true to their core sound, nothing can go wrong. With their 2008 rendition of "We Wish You A Merry Christmas," Weezer possess all of their most beloved traits, including lush vocal harmonies, chunky guitar tones and theatrical solos. Weezer take cover songs pretty seriously, and "We Wish You A Merry Christmas" is no exception. The song shows that anyone can capture the spirit of a classic while inserting a great deal of unique personality to make it entirely their own. 
Jimmy Eat World – "Last Christmas" 
Jimmy Eat World's rendition of Wham!'s 1984 hit "Last Christmas" is simply perfection. Vocalist/guitarist Jim Adkins provides his signature evocative vocals over a chorus of sleigh bells, dance drum parts and abstract guitar crescendos to create an arrangement that breathes new life into an already beloved song. Jimmy Eat World have remained one of the most consistent in the alternative scene for nearly 30 years, and their cover of "Last Christmas" will certainly fill you with a healthy dose of Christmas spirit.
The Almost – "Little Drummer Boy" 
It's only fitting that Aaron Gillespie, the powerhouse drummer of acclaimed post-hardcore act Underoath, would eventually cover every drummer's favorite holiday anthem, "Little Drummer Boy." However, for his cover of the classic holiday hit, Gillespie enlisted his alternative-rock side project the Almost to create an anthemic and chant-filled arrangement that shows off his impassioned vocals, which are sure to give you chills upon first listening. Make no mistake, though: Gillespie provides a series of drum rolls that retain the beloved rhythmic cadences of the original song we all know and love. 
Fall Out Boy – "Yule Shoot Your Eye Out" 
For those who aren't necessarily feeling the holiday cheer this season, Fall Out Boy have you covered with "Yule Shoot Your Eye Out" — a breakup song that spares no expense in lamenting a relationship that has gone awry just in time for Christmas. Fall Out Boy have always had a penchant for unique song titles, and with this track, they reference an iconic scene from the 1983 beloved film A Christmas Story. They also make sure to insert a well-placed pun or two. "Yule Shoot Your Eye Out" shows a stripped-down acoustic sound that suits frontman Patrick Stump's soulful vocals brilliantly, and with the incorporation of an impactful key change and charming sleigh bells, Fall Out Boy absolutely nailed this now-famous scene holiday classic.
Something Corporate – "Forget December" 
It's said that the month of December is the most common time for couples to break up, and for Something Corporate frontman Andrew McMahon, he too was caught up in the heartbreak of the holiday season. "Forget December" chronicles a relationship that fell apart during the "most wonderful time of the year," along with family drama and dreary weather, making this particular December a memory he'd rather not revisit. 
We Are The Union – "Yr Always Alone (On Christmas)"
We Are The Union are well aware that for some, the holidays aren't always the most wonderful time of the year. With "Yr Always Alone (On Christmas)," the band have crafted the perfect anti-Christmas song that fuses everything from upbeat ska-punk in the vein of Sublime to the contagious power pop of Weezer. If family gatherings begin to feel like too much this season, simply throw on this track and raise a middle finger to the sky.
Sam Tinnesz – "Turn Off All The Christmas Songs"
Continuing the trend of anti-Christmas tracks is none other than "Turn Off All The Christmas Songs" by Sam Tinnesz, a witty love letter to the holiday but also a scathing critique of the overplayed holiday hits that are ingrained in the heads of many. With "Turn Off All The Christmas Songs," Tinnesz shows his brilliance as a songwriter who can combine comedic and autobiographical lyrics that feel instantly relatable, coupled with earworm choruses. "Turn Off All The Christmas Songs" is sure to be your new favorite holiday track (unless your name is Michael Buble or Josh Groban), with Tinnesz demanding the two singers "go back to hibernation, right where [they] belong."
Taking Back Sunday – "12 Days of Christmas" 
Admittedly, Taking Back Sunday's rendition of "12 Days of Christmas" is a bit of a fever dream. However, that's what makes it so special. Largely a duet between frontman Adam Lazzara and former co-vocalist/guitarist Fred Mascherino, the two spiral into a hilarious back-and-forth banter fest, dissecting every line from the classic holiday song while providing comedic commentary on everything from lactation and Danny Bonaduce from The Partridge Family. While the song ends up running for an impressive eight minutes, you can't help but feel the holiday cheer and candid fun that was captured during its creation.
August Burns Red – "Carol of the Bells" 
We can all agree that "Carol of the Bells" is one the most unintentionally epic holiday songs ever. But when you pair it with technical metal, it takes on an entirely new form. In 2012, metalcore titans August Burns Red did just that with their instrumental, holiday-centric Sleddin' Hill, A Holiday Album. Without a doubt, "Carol of the Bells" is the song where August Burns Red truly come into their own as a full-fledged heavy-metal holiday band, with shredding riffs courtesy of guitarists JB Brubaker and Brent Rambler as well as the inhuman and technical drum skills of Matt Greiner.