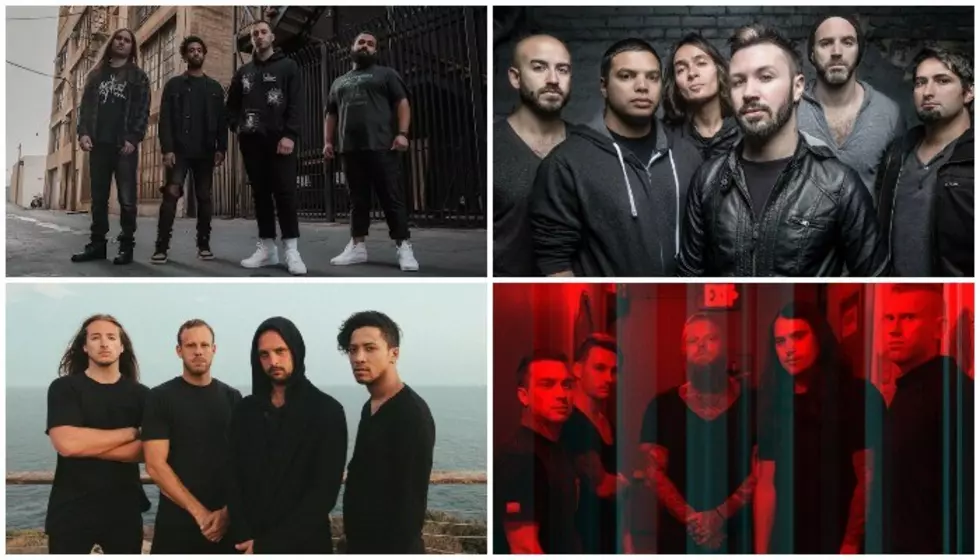 Here are the 10 djent bands who gave the genre its start
[Photos via Volumes, Periphery, Veil Of Maya/Spotify, Born Of Osiris/Spotify]
Djent is a relatively new genre built by many incredible bands. While it's become a standard part of metal now, it wouldn't be as common without a handful of acts who pushed it to the mainstream. Sure, the earliest djent bands cite Meshuggah as inspiration for its formation, but without Volumes, Periphery, SikTh and others, it wouldn't have made its way to becoming one of the most talked about subgenres in metal across the past decade. 
Take a look below for 10 bands who gave djent its start.
Volumes
Through nü-metal-leaning tendencies for bouncy groove riffs and rapped vocals, Volumes secured their place as a pioneer of djent. Although former guitarist Diego Farias passed shortly after leaving the band, their legacy ensures they'll live on in metal history. 
Born Of Osiris
Born Of Osiris bring together progressive metal and deathcore for a deadly package with robotic tones and machine gun-like riffs. They possess a high level of technicality along with simple punchy grooves that up-and-coming djent acts have used as a blueprint for their material since the band's inception. 
Periphery
Periphery are arguably one of the first djent bands. Even if you dispute that fact, they managed to push the genre to new heights like no one else. Their debut album made them leaders within the prog-metal movement through tight, catchy riffing along with Spencer Sotelo's soaring melodies.
Veil Of Maya
Veil Of Maya brought a slightly more extreme take through their influence from melodic death-metal acts that carried over from several members' previous band Insurrection. Their earliest release still has elements of the genre, including off-kilter rhythms and palm-muted, groovy breakdowns. However, as they aged, they pushed further into the djent sound and became one of the leaders in the movement. 
After The Burial
After The Burial have been leaders in djent since the mid-2000s. Their metalcore-leaning approach to the genre has netted them a ton of traction. The band's dense groove riffs and down-low guitar tones lead to extreme breakdowns, while their technicality and sense of melody are never forgotten along the way.  
The Contortionist
The Contortionist bring a spacey vibe matched for djent through influences such as Between The Buried And Me and Deftones. They introduce a good amount of atmospheric melodies in their sound without dropping any of the brutality brought forth through dense, jarring breakdowns and shredding technicality.
Vildhjarta 
Vildhjarta build on fellow Swedes Meshuggah's stabbing brutality with crushing down-low grooves built to rattle sound systems with bass-heavy tones. While they've been relatively silent since their momentous beginnings, the band are back at it. Any fan of the genre should be beyond excited to see these pioneers make their comeback.  
SikTh
Along with Meshuggah, SikTh were initial influences on djent with their tight, plucky mathcore sound. This was picked up on by the majority of early genre acts during the band's hiatus from 2008 to 2013. Listening to their releases from either their first or second era, it's evident where many of the standard elements of djent started off, from the wild one moment, structured the next guitar solos to the strange vocal delivery and, of course, the drop-tuned groove-laden instrumentation. 
TesseracT
British prog act TesseracT masterfully bring together tight-knit groove elements with a soft, atmospheric metalcore approach. Their bass stand above anyone else's, even within a bass-driven genre like djent, with these tones popping off underneath everything else, pushing them to a truly unique sound. 
Monuments
Monuments take stabbing off-kilter technicality to new heights with their ridiculously abrasive sound. The band pack in a massive punch coupled with powerful, soaring melodies that quickly earned them recognition, helping push djent further into metal's collective consciousness at the turn of the 2010s.