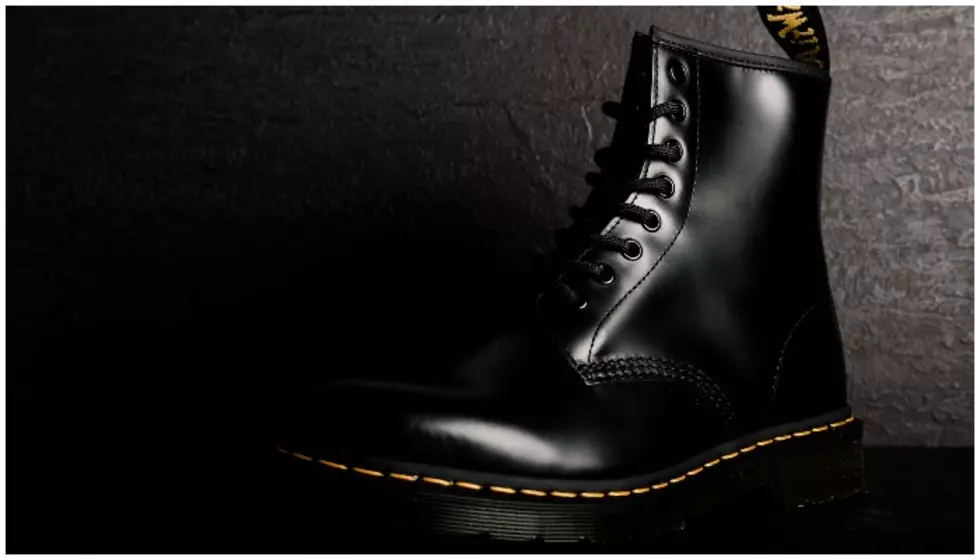 5 Dr. Martens collabs that have embraced every alternative subculture
[Photo by: Kilian Seiler on Unsplash]
At this point, Dr. Martens—Docs, DMs, whatever you want to call them—have been around for 74 years. And, for almost all of that time, in one way or another, they've been inextricably entwined with alternative music—and, of course, the subcultures which that music has spawned.
Transcending their origins as factory-safe work boots, over the course of a near-century, Dr. Martens have been synonymous with skinheads, a must-have punk staple, a constant companion to goths and metalheads trudging somberly through London's Camden Lock Market, cushioned the soles of a moody generation of grunge fans and adorned the feet of black-clad witch house kids and art-school students, which, realistically, are more or less the same thing.  
Find the right pair and they can even be glam. Shit, even Machine Gun Kelly thinks musicians should be wearing them. 
Docs have made their way across the world—from the industrial estates of Northamptonshire, England to the crowded and colorful streets of Harajuku in Tokyo—and staked out their claim on both high fashion and streetwear. 
Rather than rallying against their reappropriation, though, Dr. Martens have spent almost 75 years leaning into the various cultures which have chosen to embrace them, working on collaborations with artists, designers, bands, brands and even cartoon characters. There's been Dr. Martens x Keith Haring, Dr. Martens x Comme Des Garçons, Dr. Martens x Sex Pistols, Dr. Martens x NEIGHBORHOOD and Dr. Martens x Hello Kitty And Friends, to name but one from each of those categories. 
It is, safe to say, a long, diverse and illustrious list. 
And it's with all this in mind that, having just released their latest collaboration—a pretty much instantly sold-out joint with high fashion's leading misanthrope and silken-haired specter Rick Owens—that we've decided to round up what we think are the best Docs collaborations out there.
Dr. Martens x Black Sabbath (2020)
 

View this post on Instagram

 
 If we're talking heavy music credentials—which, let's face it, we often are—then they don't come much more certified than Black Sabbath.
Birmingham's premier heavy-metal band, pioneers of the genre, Sabbath lent the cover art of their 1970 self-titled debut album to the exterior of Dr. Martens' iconic 1460 Boot, which celebrated its 60th year in 2020. 
As an added bonus, the low-top 1461 silhouette also had its chance to dance with the devil from Aston as part of the same collaboration. With Paranoid impressively released the same year as the band's debut, celebrating its own half-century anniversary, graphics from the album's cover were digitally printed to the heel and the band's name emblazoned on the toe cap. 
Real, as they say, recognizes real.  
Dr. Martens x Rick Owens (2021)
 

View this post on Instagram

 
The king of high-fashion goth, American designer Rick Owens may be a serial collaborator. He's worked with Champion, Converse, adidas and even Birkenstock, to name a handful. But few of his creative partnerships have been so anticipated as his most recent linkup with Dr. Martens. And even fewer have been quite so well matched. 
Released March 20 and, predictably, sold out in minutes at essentially every outlet deemed worthy enough to carry them, the collaboration pays tribute to the brand and designer's shared roots in goth culture, an aesthetic Owens has worked to pioneer in mainstream fashion through the intricacies of his designs over the last 27 years. Something that manifests here in a unique, contrast-color pentagram lacing system and side-zip feature. 
In essence, it's a win-win collaboration. For those true believers who think Owens has spent a lifetime of work co-opting an aesthetic that doesn't really belong to him—although, at which point, after how many decades exactly, do you just have to give up an argument like this?—this is a stamp of subcultural authenticity. For Dr. Martens, this is a full-scale embrace from the world of high fashion. 
Dr. Martens x Joy Division + New Order (2018)
[Photos by Dr. Martens][/caption]Combining arguably one of the most recognizable silhouettes in footwear history, the Dr. Martens 1460 boot, with inarguably the most recognizable piece of art in modern music history, the cover for Joy Division's Unknown Pleasures, this one just had to happen. 
One piece of a three-part collaboration that also featured artwork from New Order albums Power Corruption & Lies and Technique, each element of the triptych is a standout piece of footwear history.
Nonetheless, it's the Joy Division collaboration that's the most striking, precisely because it's so clearly Joy Division. Its distinctly melancholy, black-on-black embossed leather—which steals the show here—captures the same kind of downbeat, unassuming brilliance that defined their sound.
Dr. Martens x X-GIRL (2020)
 

View this post on Instagram

 
In a way, X-GIRL is already kind of a collaboration: a partnership between iconic streetwear brand X-LARGE, Sonic Youth's Kim Gordon, and her friend, designer Daisy Von Furth. 
More than this, though, founded in 1994, X-GIRL is very much an emergent force in a scene dominated by male artists, designers, skaters and fans. It represents a sartorial voice for women in a sphere where they had been made to feel less than welcome and less than equal.
With an aesthetic that riffs on streetwear, extreme sports, military details and hardwearing materials, X-GIRL makes for an obvious partner to Docs. Both brands revolve around a similar set of concepts, and both have deliberately eschewed gender stereotypes in either direction.
As with X-GIRL's own offering, this collaboration is all in the details: embossed, green camouflage-patterned leather and branded laces sit comfortably alongside DMs' usual black colorway and its trademark sole, neither one detracting from the other. This one's all about a shared attitude to life, and it shows. 
Dr. Martens x Supreme x UNDERCOVER x Public Enemy (2018)
[Photo via Dr. Martens][/caption]While Dr. Martens isn't exactly responsible for the actions of people who wear them, there's nothing quite like just coming out and saying it with your chest. 
Just as the overwhelmingly anti-racist majority of '60s skinheads decried the deplorable words and deeds of the white nationalist factions in their midst, the company has also done a pretty solid job of distancing themselves from those cancerous elements in the intervening years since. 
Still: In case you, or anyone, were still wondering, this four-way collaboration is a statement of intent. Nothing quite says "those are not our values" like stamping the words "FEAR OF A BLACK PLANET" across a pair of your most iconic shoes in collaboration with a famously outspoken Black hip-hop collective. 
The collaboration also artfully nods to two other niche cultural spheres where DMs have made their influence known over the years—New York skate culture, courtesy of box logo pioneers Supreme, and high-end Japanese streetwear, with UNDERCOVER also putting their stamp on this particular design.
It's a neat encapsulation of everything that Dr. Martens stands for and what it doesn't. In many ways, it's the perfect collaboration.