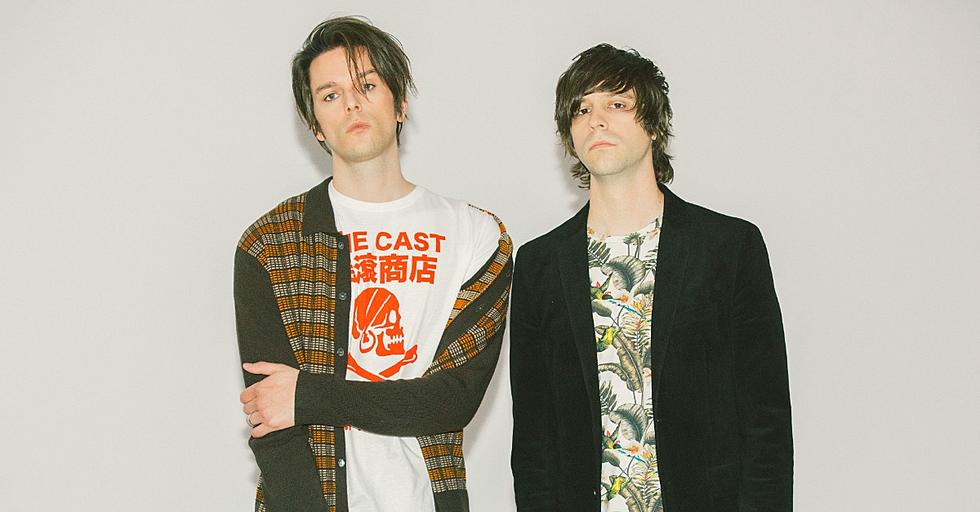 20 greatest Fearless Records bands, from Underoath to iDKHOW
Established in 1994, Fearless Records has progressed into a label renowned for its influence, innovation and Punk Goes… cover compilations. Kick-starting the careers of Mayday Parade, Motionless In White and As It Is, the label soon became synonymous with launching successful scene-setters and bolstering the progression of established bands, including the reunion of Underoath and the reinvention of Ice Nine Kills.
From the label's brief dalliance with At The Drive-In to its long-standing relationship with Chunk! No, Captain Chunk!, these are the 20 greatest signings to grace the Fearless Records roster. Twenty-eight years at the forefront of the alternative scene and counting...
August Burns Red
After signing to Fearless in 2014, August Burns Red's seventh album, Found In Far Away Places, the following year would prove to be a monumental release for the metalcore chameleons. In fact, it earned the prolific outfit their first Grammy nomination for "Identity." The band earned long-deserved recognition after a decade-plus of setting the metalcore bar high with their relentless release schedule (including a number of unforgettable Christmas offerings and an epic Britney Spears cover for Punk Goes Pop, Vol. 2). August Burns Red have since enjoyed the success of two more albums under Fearless and cemented their legacy.
Chunk! No, Captain Chunk!
The strong artist-label relationship enjoyed by Fearless and singalong-meets-breakdown masters Chunk! No, Captain Chunk! over the last 11 years is something of a dream in the industry. The band signed with the label in 2011 and re-released their debut, Something For Nothing, under their umbrella. The fateful connection has since fostered the growth of three more scene-defining records for the Paris band and raised a pop-punk household name in the process.
I DONT KNOW HOW BUT THEY FOUND ME
I DONT KNOW HOW BUT THEY FOUND ME, the duo of Dallon Weekes (Panic! At The Disco) and drummer Ryan Seaman (Falling In Reverse), have made huge waves in alternative music with only three EPs and one full-length to their name. Signing with Fearless in 2018, the outfit are largely inspired by elements of generations gone by, from '70s glam rock to '80s electronica. In turn, they have opened the present-day scene around them with their nostalgic 2020 album, Razzmatazz. 
Ice Nine Kills
After releasing their third album, The Predator Becomes The Prey, in 2014 via Fearless offshoot Outerloop Records, Ice Nine Kills established their horror-inspired template upon signing with Fearless for their next record the following year. Inspired by classic thriller novels and tragic tales, Every Trick In The Book laid the foundations for INK's now-trademark approach to informed lyricism and songs heavily based on existing horrors in all entertainment formats. With the support of Fearless ever since, the outfit have crafted iconic tracks paying homage to horror movies and games equally as sinister as their silver screen counterparts.
The Word Alive
The enviable connection between Fearless Records and metalcore maestros the Word Alive has remained steady since their formation in 2008. What began as the side project of Escape The Fate's Craig Mabbitt soon blossomed into something more, with Tyler Smith at the helm. They have enjoyed 14 years and six albums as a core member of the Fearless family, growing and adapting their infectious and emotionally devastating anthems to the changing scene around them over the years.
The Pretty Reckless
The Pretty Reckless only joined the Fearless fold in 2020, but they've already released one of their best records under its name. The consuming release that is 2021's Death By Rock And Roll demonstrates all the maturity, defiance and, at times, bitterness of a group that have lived through both triumph and tragedy. The promise of a future with Fearless suggests more career-defining records are waiting in the wings for a band that have many more stories to tell on track.
As It Is
Signing on the dotted line with Fearless Records a mere two years after formation is an achievement that many bands can only dream of. However, that became a reality in 2014 for As It Is. Seven months later, their storming debut, Never Happy, Ever After, displayed their potential as newcomers with a keen eye for the energetic nuances that pop punk had lost in recent years. Now with four albums under their Fearless belts, nothing's off the table for As It Is.
Mayday Parade
Storming debut albums like Mayday Parade's A Lesson In Romantics don't come along often. With Fearless Records' established reputation guiding the outfit's way into the industry, however, its success was inevitable. Full of earworm singalongs that haven't aged a day since its 2007 release, the start of an emo revolution rocketed Mayday Parade into the Warped Tour-soaked stratosphere. Their next four albums enjoyed chart success with the help of Fearless until 2018.
Alesana
Given their penchant for fable-inspired lyricism, Alesana had been a risky addition to the Fearless roster after a mixed response to their debut, On Frail Wings Of Vanity And Wax. The band screamed down the criticism in 2008 with the riff-laden Where Myth Fades To Legend and further with 2010's The Emptiness, charged with screamalongs and dark storytelling that solidified Alesana's place in screamo history.
blessthefall
blessthefall came into their own under the Fearless umbrella, signing just in time for their game-changing sophomore record, Witness, in 2009. The triple threat of Witness, Awakening and Hollow Bodies is the kind of maturing progression that most bands can only dream of, producing a number of anthems that defined a generation entrenched in the metalcore lifestyle. blessthefall enjoyed several years in the Fearless fold and created some of their best work in the process.
Breathe Carolina
After a risky move from Rise Records after their debut, Breathe Carolina's signing to Fearless in 2009 arrived just in time for their make-or-break sophomore album, Hello Fascination. Luckily for them, the move paid off at the height of the scene craze where the electronic outfit quickly became hot property. Armed with energized floor fillers and teeth-baring sentiments, Breathe Carolina settled into the Fearless fold for another two albums and a handful of Punk Goes Pop covers that won't be leaving our heads any time soon… Who could ever forget "Billie Jean"?
Tonight Alive
Sydney, Australia's catchy export Tonight Alive joined the Fearless family just in time for their debut outing, What Are You So Scared Of? in 2011. It gave the outfit a much-needed signal boost at the start of their pop-punk journey. With their anthemic approach and Jenna McDougall's captivating vocals, Tonight Alive's further Fearless outings of The Other Side and Limitless reached critical acclaim and global audiences looking for their signature brand of emotional singalongs.
Motionless In White
Catching the eye of Fearless Records just before the release of their 2009 EP, When Love Met Destruction, Motionless In White unleashed their now-legendary debut full-length, Creatures, under the label's wing. The rest is gothic history. Nurturing their signature brand of blackened metalcore, the rise of Motionless under Fearless brought about their first three career-defining albums, numerous anthems and the platform to grow the sinister vision of Scranton, Pennsylvania's darkest export.
Chase Atlantic
Until 2020, Chase Atlantic had drifted between labels while seeking out the definition of their unique sound. Upon signing with Fearless for the release of their third record, BEAUTY IN DEATH, the Australian trio have cemented their trademarks in smooth melodies, rock sensibilities and dark storytelling. Locking in their potential as scene-changers and gathering swathes of new listeners with the help of Fearless, anything's possible for Chase Atlantic.
Underoath
Underoath's complicated disbandment that began with the departure of founding member Aaron Gillespie in 2010 and culminated in a breakup three years later seemed to hammer the final nail into the coffin. However, 2018's Erase Me, overseen by their fresh signing to Fearless, raised the outfit from the grave in devastating fashion. Adding Voyeurist to the tally, Underoath's comeback collaboration with Fearless has breathed new life into a band that could so easily have been lost to the depths of music history.
Oceans Ate Alaska
Birmingham, U.K. — known in the metal world as the international furnace of heavy music — forged Oceans Ate Alaska in 2010. Signing with Fearless Records for their first album in 2015, Lost Isles, the quintet have since survived numerous member changes. Yet, their devastating sound has remained consistent, sticking with their Fearless collaboration and preparing to unleash more chaos in the years to come.
A Skylit Drive
Nobody does singalongs quite like A Skylit Drive. The post-hardcore mainstays meandered into the path of Fearless Records in 2009, just in time for their second and third albums, Adelphia and Identity On Fire. During their tenure with Fearless, A Skylit Drive demonstrated their natural ability for Punk Goes Pop covers, tackling Journey's "Separate Ways (Worlds Apart)" and Eminem/Rihanna's "Love The Way You Lie" in their own inimitable manner.
At The Drive-In
Fearless Records' earliest long-term success At The Drive-In signed by chance at a California show in 1998, an opportunity arising at a crucial point for the rising band as they struggled to find a label to release their next release. Despite only staying with the label for the release of their sophomore album, In/Casino/Out, and 1999 EP Vaya, Fearless pushed both the El Paso group and itself into new realms as the label opened up its doors to more post-hardcore outfits.
Real Friends
Signing to a label to distribute their brand of pop punk without losing their musical autonomy, Real Friends released a scene-defining album, Maybe This Place Is The Same And We're Just Changing, under Fearless. Armed with contagious melodies and sincere, heartfelt lyricism, Real Friends found themselves an outlet to share two more albums with a wider audience that felt the same — broken, beaten down but not alone.
The Color Morale
The Color Morale burst into the Fearless family with 2014's Hold On Pain Ends. The band set the ground rules for their next incarnation, which prescribed balls-to-the-wall screamalongs guided by melodicism yet always driven by the undercurrent of meaningful lyrics that reached out beyond the studio and supported listening audiences well through their follow-up Desolate Divine.