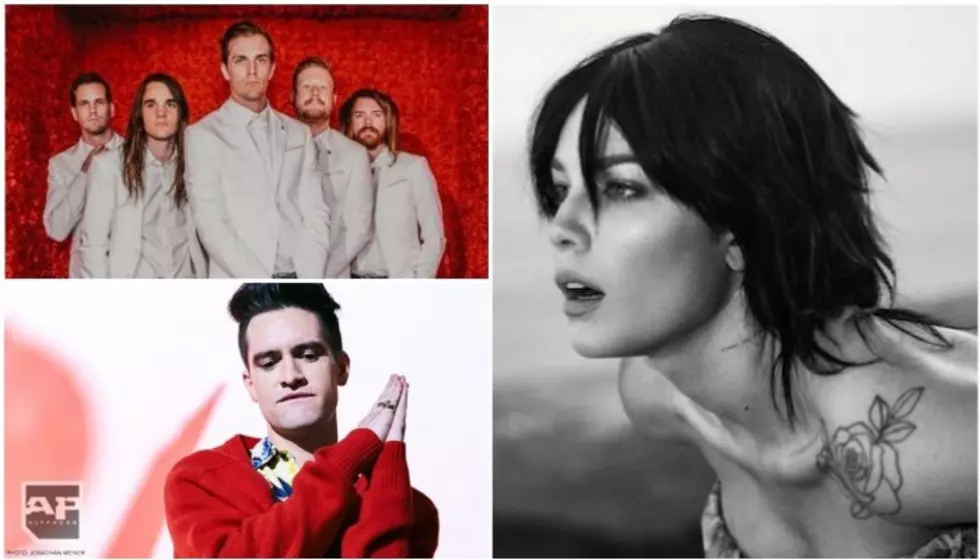 10 times the scene covered Halsey with their own spin
[Photos by: Halsey, the Maine, Panic! At The Disco/Jonathan Weiner]
Mesmerizing and motivating musician Halsey is no stranger to our scene, often citing the Maine, Bring Me The Horizon and Panic! At The Disco as some of her favorite bands. She's never been ashamed of her alternative roots, which makes her our favorite emo scene queen. 
The feelings are clearly mutual, as our scene continues to show love for the songstress with both impressive and iconic covers of her incredible tracks. From the Maine's emotional and touching interpretation of "Without Me" to Brendon Urie giving "New Americana" a Panic! At The Disco twist, here are some of our favorite Halsey covers from artists in our scene.
1. The Maine
In March 2019, the Maine debuted their emotional cover of "Without Me" after teasing it a full day before. The rendition received praise from Halsey, who geeked out on social media over "one of [her] favorite bands of all time" covering her iconic track.
2. Picturesque
Taking on the YUNGBLUD, Travis Barker and Halsey collab "11 Minutes," Picturesque put their own twist on the track in the very best way. The band revealed they were inspired to cover the song after sharing the same stage as YUNGBLUD on Warped Tour. 
3. RVNT
Halsey's "Without Me" gets a metalcore makeover thanks to Virginia-based band RVNT. Releasing the track earlier last year, RVNT also debuted a music video to accompany their cover.
4. Wind Walkers
Wind Walkers took on "Without Me" to create what one YouTuber called a "hecking awesome" cover. Giving off some serious We Came As Romans vibes, we dare you to try to listen to this rework just once.
5. Brendon Urie
Halsey has openly been a Panic! At The Disco superfan for most of her life, so Brendon Urie covering "New Americana" is the epitome of dreams coming true. In November 2018, things came full circle as Halsey and Urie teamed up for a performance of "I Write Sins Not Tragedies" at Corona Capital Festival.
6. NateWantsToBattle
NateWantsToBattle has created iconic performances of some of our favorite tracks over the years. Taking on Halsey's "Without Me," NateWantsToBattle brings both a rock and a metal element to the song that only he can pull off. 
7. Saxl Rose
For many years, Saxl Rose has been joining bands such as Neck Deep and Paramore onstage to add some additional flair to performances. Whether he's undertaking Halsey's "Without Me" or appearing on Issues' latest record, Beautiful Oblivion, Saxl Rose continues to give us that extra little something in each track that we never knew we needed.
8. The Animal In Me
Halsey, YUNGBLUD and Barker's collab "11 Minutes" gets a metal revamp with a rock twist courtesy of the Animal In Me. While the band are known for their many impressive covers, including Evanescence's "Going Under," this one just might top our list of favorites.
9. American Avenue
In 2015, Halsey released her debut album, BADLANDS. While "Gasoline" was only available on the deluxe edition, it still remains one of the most popular tracks from that album cycle. American Avenue, a band with a long list of killer covers, took the Halsey track and made it their own—and the results are incredible.
10. Living In Fiction
It's safe to say that "Colors" is one of the most famous Halsey tracks of all time. With that said, tackling the timeless track is no easy task. That didn't stop Living In Fiction from covering the song in 2016, which is still pulling in plenty of views to this day.