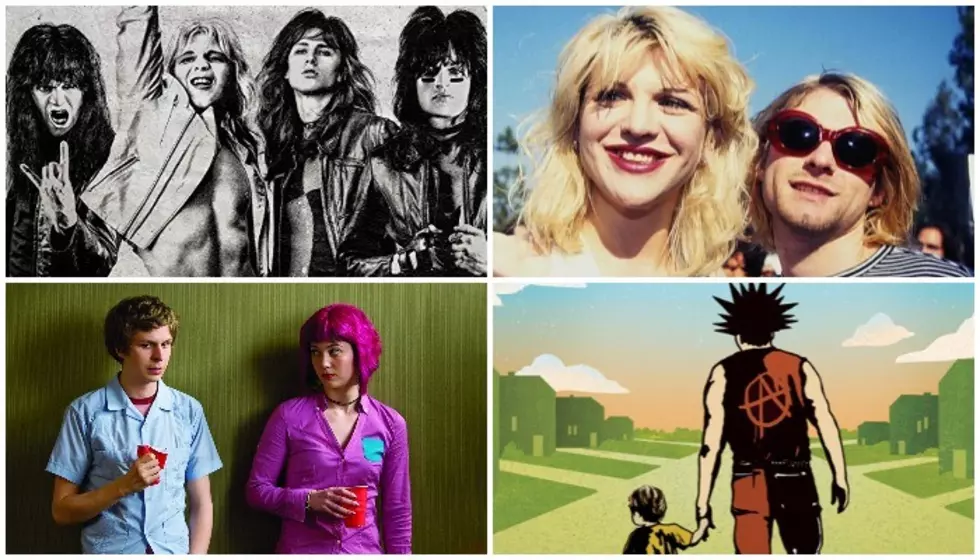 Top 10 movies about music that you can stream right now
[Photo via The Dirt/Netflix, Kurt & Courtney/Capitol Films, Scott Pilgrim vs. The World/Universal Pictures, The Other F Word/Oscilloscope Laboratories]
If you're anything like us, you're subscribed to an overflowing handful of streaming services and you love movies about music. Sure, you might not use them all very frequently, but canceling a service creates the risk of missing out on the next great Netflix original or an old favorite hitting Hulu.
One reason to keep the numerous services is to enjoy the slew of biopics, documentaries and imaginary bands that fall in line with our Spotify playlists. We'd hate for you to miss out on the overwhelming selection, so here are 10 of our favorite music-inspired films that you can go stream right now.
1. Scott Pilgrim Vs. The World – Netflix
Few movie soundtracks could stand on their own as compilation albums, but the music behind 2010 film adaptation of Scott Pilgrim Vs. The World is a premier example of music leading a movie. Even with notable names such as Beck, the Rolling Stones and Plumtree lending songs to the film, Pilgrim's fictional garage band Sex Bob-Omb steal the show not just on the screen, but with kickass fight songs as well. 
2. Kurt & Courtney – Netflix
What began as a biography piece in the years following the untimely passing of Kurt Cobain took a much different turn, instead showing the obstacles director Nick Broomfield and his team encounter while attempting to make their film. Conspiracy theories aside, the film showcases an abundance of Nirvana and Cobain footage as well as interviews with both people who were close to Cobain and those who continue to question his death. 
3. The Other F Word – Hulu, Prime Video
Everyone grows up, even our punk-rock heroes. Featuring an inside look at the family lives of anti-authority pillars such as Fat Mike, Mark Hoppus, Flea and more, the 2011 SXSW selection shows that even rock stars have responsibilities. Not so surprisingly, our favorite punks are just as good at parenthood as they are at rocking a set, even if they stumble or blow out an amp here or there. 
4. Dope – Prime Video
Featuring another group of fictional rockers, Dope accurately (and exaggeratedly) represents everyone's experience growing up and trying to fit in. Despite the lack of rock 'n' roll interest among their peers, the film's main characters form another example of a killer band who don't really exist, Awreeoh. With Pharrell behind the rap/punk original tracks and the acting debut of A$AP Rocky, Dope is worth the Prime membership almost single-handedly. 
5. Nick & Norah's Infinite Playlist – Netflix
Following Michael Cera through a late-night New York indie adventure shows that he really can't get the awkward early-20s starving musician role wrong. With a love story based on mixtapes and underground DIY rock shows, watching Nick & Norah is a safe bet, too. Although it's sometimes cheesy and sometimes wholesome, an always awesome soundtrack makes this a perfect date-night flick. 
6. Bohemian Rhapsody – HBO
It's hard to believe how quickly HBO nabbed last year's rocking Queen biopic, but maybe that's because we still watch it like it came out yesterday. Few films are more deserving of the big screen than Bohemian Rhapsody, but the booming biography of Freddie Mercury and his legendary company can make even your iPhone feel like an amphitheater. 
7. Fyre Fraud – Hulu
We'll save the argument of whether Netflix or Hulu's take on the doomed tropical Coachella impostor is superior for later, but the latter was first to the punch. Both streaming services provided a hard-hitting look at one of the biggest festival scandals of all time, creating a media phenomenon and breeding its fair share of viral memes. Luckily, with two films on the subject, you can finally figure out what went wrong with Fyre Fest or save your time and count what went right on your left hand.
8. Sound City – Prime Video
The Dave Grohl-lead dive into the legend of Sound City Studios is an unbelievable example of greatness hailing from the same humble beginnings. Home to iconic recording sessions from Nirvana, Slipknot, Rage Against The Machine and numerous others, Sound City represents the genesis for acts who continue to dominate popular culture. The production of new songs recorded on the studio's original console ties together an inquisitive and fascinating look at the origins of your favorite musicians. 
9. The Dirt – Netflix
Both Hulu and Netflix have been ramping up their originals over the past few years, but none of them quite match the off-the-wall craziness behind Mötley Crüe. The film boasts a packed cast with Machine Gun Kelly, Iwan Rheon (Game Of Thrones) and more. And although a few of these events could be chalked up to overexaggerated legends, they're outrageous as a concept. Dumb fun aside, the serious portions of drug addiction and the struggles of fame make The Dirt a well-rounded film worth checking out.
10. Who Killed Nancy? – Hulu, Prime Video
Sex Pistols bassist Sid Vicious was larger than life, and his personal life was just as off the rails as his onstage persona. Who Killed Nancy? takes viewers through the investigation of Vicious as the main suspect behind the death of his girlfriend Nancy Spungen. The deep dive into the hard-and-fast investigation and death of Vicious is sometimes disorienting, but the compelling presentation is an intriguing view of one of punk's premier godfathers.