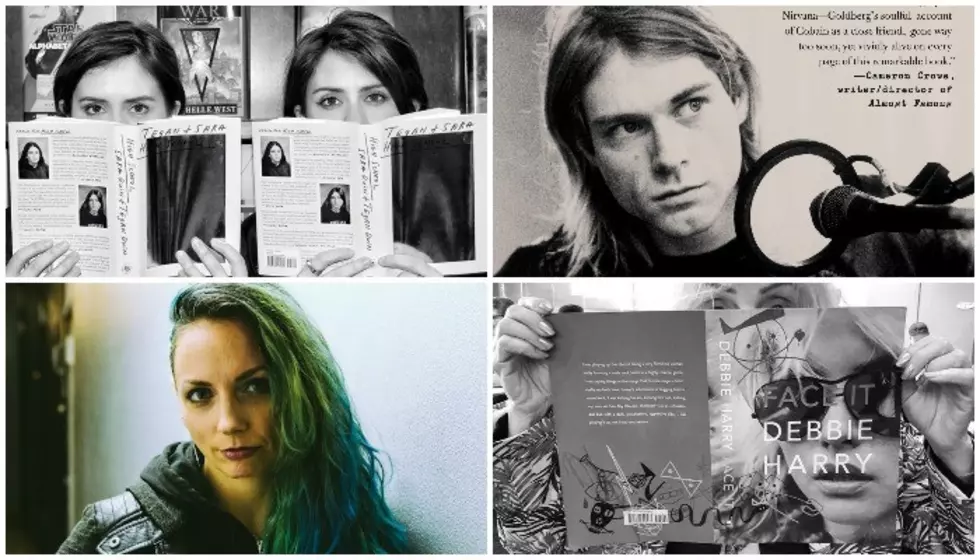 Top 10 music-related books of 2019 to read before the end of the year
[Photos by: Tegan And Sara/Shervin Lainez, Kurt Cobain/Ecco, War On Women/Chris Sikich, Debbie Harry/Instagram]
Considering the unpredictable times we're living in, one way to escape is by immersing yourself in a pool of great books. 2019 may have ushered in a My Chemical Romance reunion and a trifecta tour announcement comprising Fall Out Boy, Green Day and Weezer, but it also spawned a slew of titles that are perfect for your next musical deep dive. Some of these stories were documented by the artists themselves, while others serve as declarations of love to certain scenes or bands. From memoirs to photo compilations, many incredible music books came out this year. Below you'll find 10 selections that will give you a deeper appreciation for music.
1. Fangirls: Scenes From Modern Music Culture by Hannah Ewens
Author/journalist Hannah Ewens spoke to hundreds of women from across the world to deconstruct the label of "fangirl." Often used derogatorily to demean young women who are deeply passionate about music, Ewens explores a demographic that's never received proper merit while weaving in her own experiences as a fan within the narrative. From My Chemical Romance being relegated to a "suicide cult band" by a U.K. newspaper after a 13-year-old devotee took her life to Ariana Grande fans reflecting on the Manchester bombing, Fangirls provides a warmly crafted embodiment of fan culture that splinters its biggest stereotype.
2. Go Ahead In The Rain: Notes To A Tribe Called Quest by Hanif Abdurraqib
A Tribe Called Quest are a testament to the golden age of hip-hop's potency, and in Go Ahead In The Rain, Hanif Abdurraqib pronounces his unbridled love for the group he grew up with. Chronicling the career of the hip-hop innovators from their beginnings as a four-piece to their timely reunion in 2016 with a final studio album recorded just prior to Phife Dawg's death, the book reads like a well-researched journal entry meets hip-hop history lesson. Most vividly, Abdurraqib pens thoughtful letters to the group's members, including one proclaiming to Q-Tip how "you were all like family to me." If you want to see his range, the title of his latest poetry collection is a reference to Fall Out Boy's Infinity On High-era classic "Don't You Know Who I Think I Am?"
3. Making Spaces Safer by Shawna Potter
Between sweat-drenched sets spent railing against the vitriol encountered in everyday life and teaching harassment intervention workshops on Warped Tour, War On Women vocalist Shawna Potter was afraid she was going to lose her voice. Finding herself repeating the same subjects, Potter went home and started to write them down. What resulted was a book that falls in line with her band's subject matter. While the tactics covered in Potter's Making Spaces Safer can be applied to all areas of life, they're especially relevant in making venues more inclusive, positive and friendly spaces. "This book isn't a critique on my world or your world," Potter told AP in May. "It's a critique on the world. It's for people who still feel helpless realizing how much people can suffer at the hands of bullies and want to do something. This is to give them hope and to empower them."
4. Face It: A Memoir by Debbie Harry
In 1976, Blondie released their eponymous first album, and frontwoman Debbie Harry was a mere 31 years old. Now, at 74, Harry is finally ready to tell all. In her revealing memoir, she recalls navigating the New York City punk scene during a time where she fronted a rock band, one who opposed the ethos of being "highly macho." "I wasn't submissive or begging him to come back," she says of her lyrics. "I was kicking his ass, kicking him out, kicking my own ass, too." With unreleased photos and fan art breaking up the text, Harry shares memories of touring with David Bowie, guitarist Chris Stein's near death and Blondie's eventual dissolution in this commemoration of her long life.
5. Revenge Of The She-Punks: A Feminist Music History From Poly Styrene To Pussy Riot by Vivien Goldman
In Revenge Of The She-Punks, Vivien Goldman examines how punk rock evokes catharsis for women—and how that played a role in the genre's explosion. "In the case of punky females, revenge means getting the same access as your male peers, to make your own music, look and sound how you want and be able to draw enough people to ensure the continuation of the process," she clarifies early on. Rather than following a chronological timeline, each chapter is devoted to a specific theme—identity, money, love and protest—with a uniquely curated playlist counterpart.
6. High School by Tegan and Sara Quin
Coinciding with their ninth album, Hey, I'm Just Like You, Tegan and Sara Quin recount their formative firsts in their debut memoir. The sister duo alternate chapters to share their experiences growing up in Calgary, Alberta, right in the midst of grunge and rave culture, with the book acting as a '90s time capsule in its mentions of Hole and being "starstruck, overwhelmed, consumed" at the sight of Billie Joe Armstrong's stage presence. While there's plenty of self-discovery and teenage grief within these pages, High School captures the beginnings of their musical journey when they find their stepfather's guitar in storage and start practicing in secret—and what would eventually evolve into a partnership for the next 20 years as both queer and indie-rock pioneers.
7. Year Of The Monkey by Patti Smith
Unlike other memoirs, Patti Smith's Year Of The Monkey takes readers through a single year of her life—one of "solitary wandering" following a string of New Year's concerts at San Francisco's Fillmore. Instead of highlighting her music career, the book acts as an in-depth look into the musician's psyche. By simply flipping through the first few pages, one is reminded that Smith is equal parts deft, poetic writer and accomplished musician. At right about 170 pages, Year Of The Monkey is a quick, atmospheric read that will transport you to both California hotels and Arizona deserts, and you'll be better for it.
8. William S. Burroughs And The Cult Of Rock 'N' Roll by Casey Rae
Before his death in 1997, William S. Burroughs cultivated a career unlike any other, one that bridged literature and music. Casey Rae traces how Burroughs' influence ripples through how music is created and experienced, citing how his collage technique (quite literally splicing text and reassembling it at random) pioneered sampledelia in the realms of hip-hop and electronic music. Beyond that, Burroughs formed friendships with the likes of Lou Reed, David Bowie and Patti Smith. Later, he connected with the next wave of '90s forerunners, appearing in Ministry's music video for "Just One Fix" and collaborating with Kurt Cobain for a 10-inch, The "Priest" They Called Him. If anything, the book evidences why some call Burroughs the godfather of punk, right next to Iggy Pop.
9. Serving The Servant: Remembering Kurt Cobain by Danny Goldberg
Twenty-five years after the death of Kurt Cobain, Danny Goldberg reflects on his three-and-a-half years spent as Nirvana's co-manager. Plenty of books already exist about the band, but Serving The Servant offers a perspective directly from someone in Cobain's clique rather than a journalist or historian. Goldberg's forthright in admitting his unreliability as a narrator, writing, "The memory thing is an issue. I've forgotten a lot of details." (Don't worry: He inserts interviews with Courtney Love, bassist Krist Novoselic and others to corroborate his own memories.) Even so, the book recalls sublime moments in Cobain's career (coming onstage in a wheelchair wearing a blond wig at 1992's Reading Festival "to mock the rumors that he was at death's door") as well as harsh lows (an unsuccessful intervention a month prior to his death where Goldberg feels "impotent") fit for both die-hards and novices.
10. Jim Marshall: Show Me The Picture by Amelia Davis
Rock photographer Jim Marshall only had a few terms while shooting his subjects, but he was steadfast in committing to them—no lighting, no hair and makeup and no publicists. Upon looking at the photographs compiled in Show Me The Picture, it's easy to see how those conditions forged palpable trust with his subjects. Having served as Marshall's assistant before he passed away in 2010, Amelia Davis collected these photographs documenting his storied career. One famous photo sees Johnny Cash giving Marshall the finger, whereas another depicts Jimi Hendrix during an early morning sound check at Monterey Pop Festival in 1967 before he famously doused his Fender Stratocaster in lighter fluid after a fuzzed-out rendition of Chip Taylor's "Wild Thing," setting it in flames.