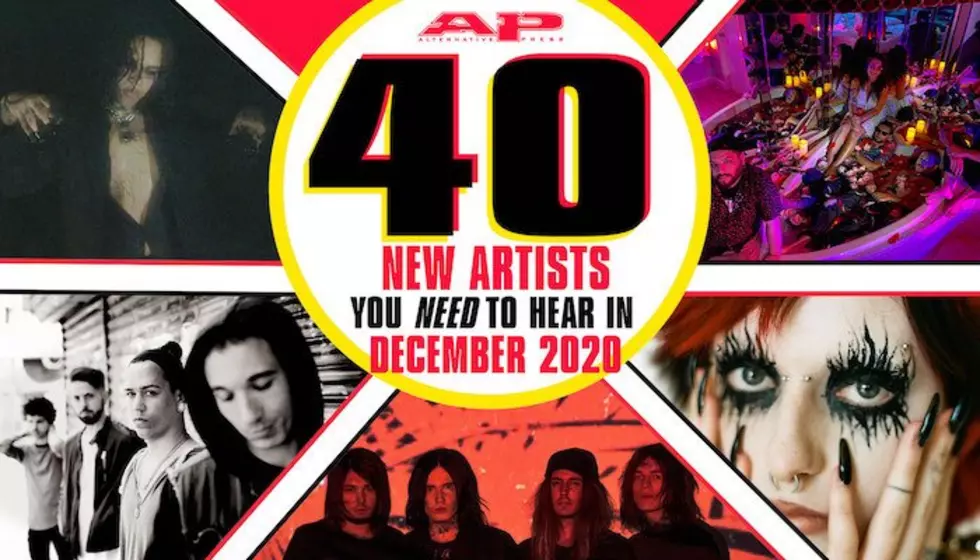 40 new artists you need to hear in December
[Photos by: POORSTACY, VRSTY/Spinefarm, Drag Me Out/Sumerian, carolesdaughter/Arista, Family Dinner/Christian Flashman]
Everyone loves to jam out to their favorite artists and classic hits, but let's not forget about all the fresh talent constantly popping up around the world. From pop and indie to punk and post-hardcore, there's always a new name in music waiting to be heard. 
We know there's a lot of faces to sift through, so we're here to help. Each month, we're gathering the best new releases within the past four weeks from artists you may not know and are putting them all in one place. Check out what music you might have missed in November below and follow the AltPress Discover playlist on Spotify to stay up to date on new music. Who knows? You just may find your next favorite band. 
09 – "Masquerade" (feat. Matty Mullins)
On a mission to explore different sounds and genres, 09 (drummer EJ Olsen, guitarist Chancelor Reeder) brought in Memphis May Fire frontman Matty Mullins to lend his vocals to "Masquerade." Gritty riffs paired with thick basslines and eclectic rhythms create dark melodies you can feel in your chest. Meanwhile, Mullins delivers vicious roars deep enough to make your body shake. 
44phantom – "all figured out"
44phantom's (Brayton Mathews) "all figured out" is an emotional track about moving on from someone else. In contrast to previous releases, where bright synths and guitars usually exist in the background, "all figured out" is only Mathews and a single guitar. The minimalism allows for the singer's airy vocals to shine through. "all figured out" is the singer's third single since the release of Bittersweet earlier this year.
A Few Too Many – "Someday"
Pop-punk quintet A Few Too Many deliver a hopeful track with the upbeat "Someday." Relatable lyrics about moving on from bad people and situations are surrounded by an optimistic backtrack of resounding guitar riffs and rhythms. "'Someday' represents our determination to continue to chase our dreams despite setbacks, disappointments and toxic relationships," the group say. "This song is our survival anthem." The track follows the band's cover of Post Malone's "Sunflower" and is the second original single since their 2018 EP, Solid Ground.
Arlissa – "Old Love"
Arlissa is reminding others that everyone is going through their own troubles in her dreamy single, "Old Love." Her powerful vocals are complemented by elegant riffs and steady beats. "When you hear a song about something similar to what you're going through, it helps you to feel less alone, but it might also lead you to check in with other people," Arlissa says. The track will be featured alongside previous single "Little Girl" on her upcoming EP, The Lovers, due out Feb. 12. 
As Everything Unfolds – "Take Me There"
Post-hardcore six-piece As Everything Unfolds' "Take Me There" is a journey through purgatory as they search for the gates of heaven. Questioning the definition of sin and what it really takes to get past the gates, singer Charlie Rolfe delivers raging screams. Dynamic guitar riffs accompany her every word. The track will be featured on the band's upcoming debut album, Within Each Lies The  Other, which drops March 26 via Long Branch Records and is available to preorder here.
carobae – "Colorado"
carobae illustrates what it's like to need to run away from your problems in the "Colorado" music video. Accompanied by her acoustic guitar for the majority of the track, the singer's voice rings with urgency, albeit with an air of gentleness. Lines are repeated and staggered, but the ending is still an effortless breath of harmonies. The track appears on her debut EP, The Longest Year: Part One, and Part Two is on the way.
carolesdaughter – "Violent"
carolesdaughter (Thea Taylor) gets extremely personal about a previous relationship with "Violent." Accompanied by simple beats and a single guitar, Taylor's voice echoes after each word. The track is a chill, lo-fi ode detailing the struggles of going through a bad situation. Having written it while being in a toxic relationship, Taylor says she was "fed up" and needed to release it. "Violent" is carolesdaughter's latest single following "BRAT," and the singer will be releasing her debut in 2021.
DeathbyRomy – "Come And Play With Me"
DeathbyRomy (Romy Flores) makes her motion picture soundtrack debut with "Come And Play With Me." Industrial synths grind away in the background as dark-pop beats evoke euphoric bliss. The track will be featured on the Promising Young Woman soundtrack, which will also feature artists such as Charli XCX, Paris Hilton, CYN and more. The album drops Dec. 4 and is available to preorder here.
The Dead Deads – "In For Blood"
The Dead Deads are "In For Blood" with their first single since 2019's "Deal With Me." Metal guitar riffs accompany pop vocals, giving the track a slick edge as the group mix genres seamlessly. In a music video inspired by '70s aesthetics, the trio are surrounded by colorful lights as they give an energetic performance of the song. "In For Blood" will be included on the band's upcoming full-length, Tell Your Girls It's Alright, due out in 2021. 
Designer Disguise – "Outta My Face" (feat. Dropout Kings)
Making their debut with Substream Records, Designer Disguise teamed up with Dropout Kings for "Outta My Face." Combining rap with hardcore progressions, pounding screams and electronic synths, the track serves as an amalgamation of different styles mixed into one eccentric piece. "We haven't expressed our anger in our music in some time," vocalist Jackson Bengtsson says. "With everything going on today, we thought it was time to let these feelings off our chests." 
Drag Me Out – "The Watch Of The Buried"
Melodic post-hardcore quartet Drag Me Out head in a heavier direction with the resonating single "The Watch Of The Buried." While keeping gentle melodies in front of intricate riffs, the addition of fierce screams offsets the track from 2019's Pressure. Reverberating breakdowns provide deep contrast to the song's airy choruses. "It felt like this song came straight from the torturous void from losing absolutely everything in my life, and it led me to the grand resurrection of my soul, spirit and feelings," vocalist Denis Stoff says. "This is nothing but our scathing effort to show our new sound that unveils the road to the paranormal and unseen."
DVDDY – "Goodbye" (feat. Aaron Gillespie)
Combining EDM and post-hardcore with a dash of pop punk, DVDDY is ready to let go of toxic people and say "Goodbye" alongside Aaron Gillespie (Underoath). Rock guitars blend with electric synths while each singer belts out the farewell anthem. The track is the latest in a string of singles released this year, including "Self Love / Self Harm" with Andrew Wells and "Better Than Tomorrow" featuring Shizaru and Devin Barrus. DVDDY is currently working on his next release featuring Sleeping With Sirens' Kellin Quinn and Caslow, which is due in 2021.
Family Dinner – "You're So Cool"
Inspired by True Romance and Natural Born Killers, Family Dinner's "You're So Cool" tells the story of a crime-committing couple on the run. Combining punk stylings with pop melodies, the track features intense reverb and dreamy vocals. Fuzzy riffs kick in the background and make for a song oozing in '90s rock grooves. "You're So Cool" is the title track off their upcoming debut EP, which was produced by Brett Romnes (The Movielife, I Am The Avalanche), and drops Feb. 12.
For The Best – "Space"
For The Best fuse together the positivity of pop punk and the grittiness of hardcore with "Space," their first release on Third String Records Quick and steady, the backtrack is made up of energetic riffs and vibrating basslines. Just as you think it's over, the track finishes with a heavy breakdown that will leave you reeling. 
Frontside – "Einstein Killed Me"
Progressive pop-punk trio Frontside face hard decisions when it comes to breaking up in "Einstein Killed Me." Drum hits accent each upbeat while various time changes embellish a winding break of detailed guitar progressions and rhythms. The track will be featured on the band's next EP, Closer To Closure, which will drop Feb. 5, 2021 via Revival Recordings. Preorders are available here.
girl in red – "two queens in a king sized bed"
We're in the midst of the holiday season, and what better way to really get into the spirit than with some Christmas music? girl in red (Marie Ulven) thinks back on one Christmas she enjoyed in "two queens in a king sized bed." Led by a soft piano, Ulven sings gently in front, later joined by a wisp of jingle bells and violins. "[I'm] reminiscing about a Christmas I had with a person I love," Ulven says. "When laying in bed glued to their body didn't feel close enough, when we wanted every second to last forever."  
guccihighwaters – "straight jacket"
For fans of: Lil Lotus
,
nothing,nowhere.
,
yunggoth
guccihighwaters (Morgan Murphy) shares slow beats behind vulnerable lyrics in "straight jacket." Beginning with a delicate piano, the track builds to climatic choruses filled with synths and hums. Blending hip-hop rhythms and emo vibes, the rapper delivers personal words lamenting on love. This is the latest single Murphy has released over the past few months since signing with Epitaph, including "expectations" and "candy."
JJ Wilde – "Mercy"
JJ Wilde decides to give some "Mercy" to the one who wronged her in the singer's ominous single. Inspired by her own experience of being stalked and harassed, the track is meant to take back her power. A dark Southern-rock groove, resonating choruses echo through lilting guitars and alluring vocals. "['Mercy'] about a man who tries to steal something from a woman," she says. "Her sense of self, safety, control. He tries, but he does not succeed. We have all wanted revenge at one moment in our lives, whether it's just a thought or we actually go through with it. In this case, it is taken to the extreme, and she is pushed to the absolute limits." 
Kali Masi – "The Stray"
Their first single since 2017, Kali Masi's "The Stray" takes the listener on a roller coaster of heavy dips and punk-rock highs. Intricate guitar riffs decorate each verse, supported by slamming drums. "The Stray" will be featured on the band's sophomore LP, [laughs], which drops March 26 via Take This To Heart Records. The album is available to preorder here. They plan to hit the road for a European tour beginning April 4. A full list of dates and tickets are available here.
Kharma – "Guilty By Association"
Kharma tear through breakdowns in their second release this year, "Guilty By Association." Featuring guest vocals from Davey Chaos (MH Chaos), each line is delivered with as much brutality as the backtrack. Thundering drums emphasize the pandemonium of guitar riffs with each hit. The track is featured on the band's EP, Most Dangerous Game, out now and available to order via Flatspot Records.
Lovebreakers – "Family Man"
Inspired by close friends starting their own families, Lovebreakers remark on what they believe being a "Family Man" is like with their latest single. Each verse reflects on the cons of parenthood, while the pre-chorus/choruses surround the positives. The track features energetic drums, faint trumpet blares and a guitar solo as slick as their hair in the music video. "Family Man" will be featured on the band's upcoming debut LP, Primary Colours, out next spring via Wiretap Records. 
Merci – "Foolish Me"
Not only is Merci's "Foolish Me" the band's debut single, but it also marks their first release with Rise Records. Directed by Lindsey Byrnes (Hayley Williams, Bleachers) and Aysia Marotta (Lewis Capaldi, the Candescents), the accompanying music video features the band washed in reds and oranges like a sunset. Inspired by long-distance relationships and the struggle that goes with them, the track's personal lyrics are paired with light guitars and steady beats fitting for a relaxing drive on a deserted road. The band are set to release their debut album in 2021.
The Moore Family Band – "Raining Inside My Head"
Taking influence from the likes of Green Day and Alkaline Trio, the Moore Family Band deliver punk grooves with their second single, "Raining Inside My Head." Inspired by first love, the band mix driving guitars and head-bouncing rhythms, creating a track that's as danceable as it is moshable. The track will be featured on the band's debut album, Missy, which drops Dec. 4 and is available to preorder via Asian Man Records. 
October And The Eyes – "Playing God"
With her third single, October And The Eyes serves up soft psych-grunge in "Playing God." October's vocals blend with the electronic elements that are present in the background. Echoing riffs reverberate back and forth, creating a thrilling sense of vertigo. "Playing God" is featured on her debut EP, Dogs And Gods, available via KRO Records.
POORSTACY – "Nothing Left" (feat. Travis Barker )
POORSTACY called on Travis Barker for his third track featuring the blink-182 drummer in "Nothing Left." With Barker's signature playing, the track is a high-energy anthem packed with engaging riffs, while its accompanying music video leads you on a journey through the rain and mayhem. Barker and the rapper first collabed on "Choose Life," which is featured on the deluxe edition of POORSTACY's latest LP, The Breakfast Club.
RIVALS – "Lavenders"
Their first release since 2019's Supernova EP, RIVALS dropped a moving rock anthem with "Lavenders." Tight riffs surround ear-catching melodies and rhythms that make you want to run from everything keeping you down. Directed by Cody Blue, the track's music video follows vocalist Kalie Wolfe as she attempts to find her way out of limbo, a perfect illustration for a track that speaks on finding your way out of a self-made world. 
Rusted Hearts – "Absent"
Rusted Hearts want to know if you're feeling "Absent" in your relationships with their fast-paced track. Kicking rhythms drive the track through each verse, while sweet harmonies are scattered through every chorus. "Absent" is included on the band's latest EP, Waiting Room, which is the second installment in a trilogy of EP releases. The band are planning to release the third EP in early 2021.
Sly Withers – "Bougainvillea"
Sly Withers share their skills in a talent show by playing through their latest anthem "Bougainvillea" in the group's new music video. Filled with wholesome lyrics about staying positive, the track drips with deep basslines and catchy rock progressions. "Bougainvillea" is the band's third single this year following "Cracks" and "Explode Into View."
Smrtdeath – "Don't Love Me"
Smrtdeath (Mike Skwark) delivers a chill anthem containing dark synths and a surprising buildup in "Don't Love Me." Focusing on what it's like "wanting someone you can't have," Skwark deals out catchy lyrics that are hard-hitting and relatable. The track is featured alongside "She Told Me To Kill Myself" with lil aaron and "Headed To My Funeral" on Skwark's latest album, Somethjngs Wrong, available via Epitaph Records. The record follows Past Slaps, which dropped earlier this year and includes tracks "don't leave me alone" featuring Lil Lotus and "you broke my heart yesterday."
Stasis – "Garden"
Blending elements from melodic post-hardcore and metalcore, Canadian quartet Stasis take you into a "Garden" of roars, soft melodies and spoken word. With emotional lyrics about what happens when we're gone, "Garden" combines thrashing drums with guitars and vocals that will make you sway as much as headbang. The track is featured on the band's latest EP, A Garden For All To See, which is available to stream via No Sleep Records.
TÖME – "I Pray" (Acoustic)
TÖME (Michelle Oluwatomi Akanbi) shares her softer side with listeners in a mellow rendition of "I Pray." Compared to the original, which featured swinging beats and reggae vibes, the acoustic track is all about the singer's voice. Accompanied only by a single guitar and bass, Akanabi's vocals are filled with emotions as she sings out each line with soul and passion.
The Trusted – "Criminals"
Compared to previous releases, the Trusted's "Criminals" is a dreamy exploration of emotion. Delicate synths accent each chorus and crescendo throughout the track until its conclusion. As the last note fades, pleasant feelings of weightlessness stay behind. The single follows their latest EP, Love And Suicide, which dropped earlier this year. 
Vaines – "All In My Head"
With social media, it's easy to get lost in the lives of others, but what if you come across someone and fall in love with their profile? Vaines tackles that very question with his latest single, "All In My Head," released via Hopeless Records. A steady beat drives the track through each rising chorus and gentle break. Inspired by how it's possible to fall in love with the internet version of someone even though you've never met them, "All In My Head" is a slow-moving groove featuring an intense guitar solo.
VRSTY – "Massive"
>
Genre-bending quartet VRSTY prove they shouldn't be underestimated with "Massive." Striking basslines meld seamlessly with powerful gang vocals and screams that thunder in your ears. With blood-warming breakdowns, the track is all about how the band need to be taken seriously. "'Massive' is literally all of my frustrations coming to the surface," singer Joey Varela says. "It's years of doing favors and helping others elevate their careers—only to be told I'm just a copy of 'insert whatever vocalist here' or to be called a background player. Not this time." The track will appear on the band's Cloud City EP out Dec. 4 via Spinefarm Records. Preorders are available here.
VUKOVI – "SLO"
Scottish duo VUKOVI unleash dreamy synth waves that will get you dancing with "SLO." Upbeat and trance-like, the track is led by powerful drums and includes a surprising break heavy in guitar riffs. Co-written alongside Andy Watson and Paul Wilson (The Spice Girls,) singer Janine Shilstone compares her OCD to an abusive relationship and its effects on her. "You forget what it's like living a normal life," she says. "It has this god-like status that makes you believe you wouldn't survive if it was ever to leave you. You have a toxic reliance on it, and in your eyes, that condones reckless behavior." 
War Criminal – "Unforgiving" (feat. Josh Compton)
With Josh Compton of Forced Under, War Criminal shred through heavy breakdowns and prove they are truly "Unforgiving." Singing of betrayal, vocalist Ryan Hill is backed by thunderous drums and piercing progressions. "We made a conscious effort to take influence from both classic and modern-day bands for the song," the band say. "It's a good indicator of the sound we hope to continue with moving forward." The track will be included on the band's upcoming EP, God Failed Me, out Dec. 16. Preorders are available via Bandcamp.
WAVEBOMB – "Facing Waves"
Singapore garage-rock duo WAVEBOMB are making their debut by conjuring the spirit of the White Stripes with single "Facing Waves." Featuring lo-fi vocals and driving beats delivered by drummer Charlotte Yu, the track is meant to provide a break from negativity. "As things are becoming too dark or complicated, you want to come back to better days, which for us is summertime," singer/guitarist Anthony Cauvin says. "That's why we are releasing it in November, which is the beginning of winter for most people and when we usually start feeling down missing the summer fun." 
XIX – "Bratz Doll"
XIX question social norms and self-image in their pop single, "Bratz Doll." Fast paced and filled with synth beats, the duo combine hip-hop rhythms and punk vibes in this energetic track. With animations from TheRealCornelius, the accompanying imagery turns the group into cartoons and watches them as they wreak havoc in a dollhouse. "We wrote this song about feeling confident in your own skin, no matter how hard someone tries to bring your self-esteem down," the band say. "For us, this exact message has really helped us embrace our own femininity, which is why we referenced the Bratz dolls."
year over year – "A Short Swim"
Featured on his latest EP, The Love We Think We Deserve, year over year's (Dorian Pintaric) "A Short Swim" is a heartbreaking love song. Like the other tracks in the collection, "A Short Swim" is a reflection of his own self-awareness. Light synths echo behind each lyric until a sudden tempo change occurs, where Pintaric is joined only by drums to finish out the track. 
Young Medicine – "Winter Soldier"
If you're looking for synth-wave sweetness and a stunning music video featuring out-of-this-world visuals, Young Medicine have you covered. "Winter Soldier" boasts '80s vibes throughout the first half of the track. As it progresses, the band bring in elements of post-hardcore for a buildup that peaks with a moving guitar and keytar duet. The track is the group's second new single since the release of Interlinked (Deluxe Edition) earlier this year.