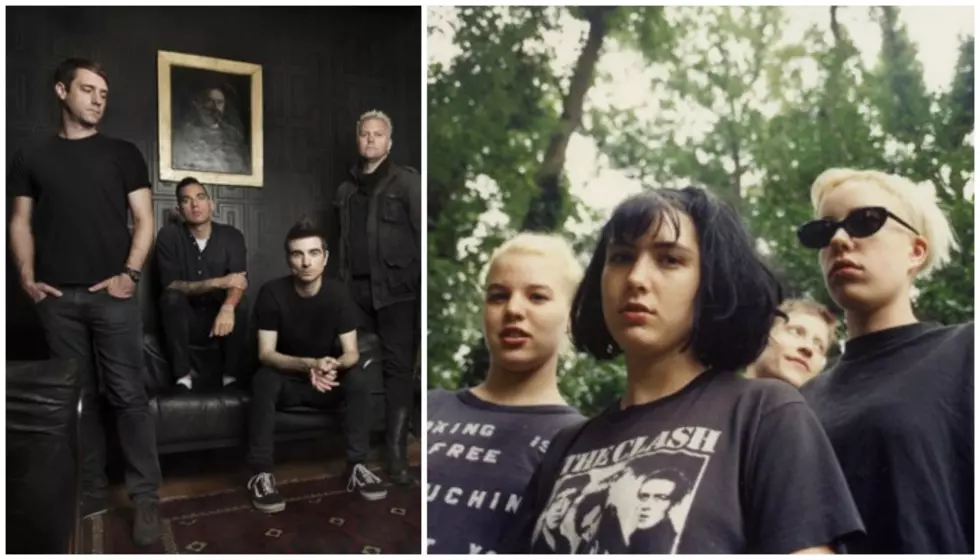 These 15 classic albums made 1996 a crucial year in punk history
[Photos via Spotify]
1996: President Bill Clinton was squaring off against Kansas Sen. Bob Dole in a successful bid for a second term in the White House. On April 3, former math professor Ted Kaczynski was arrested in his remote Montana cabin, suspected (correctly, it turns out) to be American domestic terrorist the Unabomber. Conservative public policy bulwark the Hoover Institution issued a sunny report May 30 theorizing that global warming may reduce mortality in the U.S. and provide its citizens with precious benefits. The Ramones wound down 22 years of service to punk rock on Aug. 6 with a final concert at Hollywood Palace. Among the special guests onstage: founding bassist Dee Dee Ramone, Motörhead's Lemmy, Soundgarden's Chris Cornell and Ben Shepherd...and, most tellingly, Tim Armstrong and Lars Frederiksen of new generation standard-bearers Rancid.
Equally tellingly, the Ramones' English rivals the Sex Pistols roared back to life on June 21 at Finland's Messilä Festival. Just as the New York quartet retired.
No doubt, the '90s commercial punk wave helmed by Green Day and Rancid irked the Pistols, convincing them to do the cash-grab Filthy Lucre reunion tour, with original bassist Glen Matlock back in the fold. They presented a convincing approximation of their vintage roar in huge venues the world over, though John Lydon sang more in his PiL voice than the Johnny Rotten snarl of yore. It was a pleasant dusting-off of the oldies, though about as threatening to the status quo as KISS' original lineup slapping the kabuki makeup and platform boots back on for another wheeze through "Detroit Rock City" the same year. 
Punk had moved on from the Pistols. It finally scaled the American charts via Green Day and such bands as that year's massive breakout act Sublime, and it now owned the world. Which irritated speed-metal royals Slayer to the point of cutting an album's worth of their interpretations of what they deemed "real" punk—mostly hardcore bands, save for the Stooges. Not that punk rock needed the Pistols or Slayer for course correction. It was doing fine, with bands like Bikini Kill and Refused pointing it toward a radical new future.
There was also a new generation of acts—the Humpers, the Hellacopters, Turbonegro—pushing basic, vintage punk into newer, nastier, more vicious directions. Oh, and Descendents were back to show the world where pop punk learned everything.
1996 was quite the classic punk year. Here are the 15 albums that defined it.
Descendents – Everything Sucks
Descendents, the band who invented modern-day pop punk, had reanimated. It had been nine years since All, their last album as Descendents. In the time since, singer Milo Aukerman had gone on to a career in biochemistry, while bandmates Bill Stevenson (drums), Karl Alvarez (bass) and Stephen Egerton (guitar) continued on as ALL with several singers—the latest being Chad Price—for seven albums. Everything Sucks roared with the ferocity of a band sick of seeing acts like Green Day and NOFX becoming huge stars playing music that owed everything to them.
It was easy to hear on such new tracks as "Thank You" and "We" how much Billie Joe Armstrong patterned his phrasing and delivery upon Aukerman's. There wasn't a duff track in the bunch, and the original Descendents lineup—Stevenson, Aukerman, bassist Tony Lombardo and guitarist Frank Navetta—even contributed "Doghouse," their first track together since 1982's Milo Goes To College.
Everything Sucks picked up where they left off in 1987, except better recorded than any of their vintage work, likely due to Andy Wallace's mix. It became their first charting album, hitting No. 132 on the Billboard 200. From this point, Descendents would alternate in activity with ALL.
Bikini Kill – Reject All American
Three years after debut full-length Pussy Whipped, Bikini Kill finally dropped their follow-up. This must have been calculated—Reject All American displayed a tighter, more mature band who hadn't lost punk-rock power or aggression. This, even as producer John Goodmanson applied a layer of what resembles "gloss" compared to past recordings. Opening tracks "Statement Of Vindication" and "Capri Pants" pummeled with such Stooges-esque aggression, you fully expected singer Kathleen Hanna to dive into the third row. An overall garage-ian roar permeates the record, especially on the title track. Sadly, Reject would also be the final Bikini Kill album. Their 2019 reunion shows were a raw, rockin' wonder.
Sublime – Sublime
Long Beach ska-punk trio Sublime toiled since 1988, releasing two independent albums. The single "Date Rape," from 1992's 40oz. To Freedom, picked up considerable Southern California airplay. Now they were on a major label, MCA, sent to Austin, Texas, to record with Butthole Surfers guitarist Paul Leary, partly at Willie Nelson's Pedernales Recording Studio.
According to a recent Austin Chronicle story on the sessions, much of Sublime was cut live: "They were just that good," Leary remarked. "Occasionally, though, their songs would be too long, but at Pedernales, they had a golf course. They'd record a nine-minute song, and I'd send them off to go play a round of golf. When they got back, it was a three-and-a-half minute song, and there'd be a pile of tape on the ground." Out of those piles of tape came one of the most successful albums of the '90s. Except singer/guitarist Brad Nowell's opiate addiction cost him his life two months prior to its release. He never got to see tracks like "Santeria'' become massive hits. The band broke up as their third album went on to sell 5 million copies.
Ash – 1977
Ash formed in Downpatrick, Northern Ireland, following the dissolution of Vietnam, singer/guitarist Tim Wheeler and bassist Mark Hamilton's Iron Maiden tribute band. The chops developed playing high-speed precision metal enabled Ash to thrash on a dime on such 1977 tracks as "Lose Control." By the time of their debut album, Ash had engineered a catchy punk sound that resembled the Buzzcocks had they formed in the wake of "Smells Like Teen Spirit" and bought a few Sonic Youth and Dinosaur Jr. releases. Tracks like "Kung Fu," with its "C'mon Jackie Chan" refrain, oozed enough catchiness to play over the closing credits to 1996's U.S. release of Rumble In The Bronx, martial arts star Chan's breakthrough American film.
Slayer – Undisputed Attitude
Undisputed Attitude featured 14 punk or hardcore classics given a typically brutal Slayer attack, including a few unreleased tunes penned by guitarist Jeff Hanneman for an aborted 1984 hardcore project. Co-guitarist Kerry King's brainchild, in reaction to what he felt was a weak representation of punk in the mainstream by new stars like Green Day, Attitude was almost a thrash-metal cousin of Guns N' Roses' The Spaghetti Incident?. It pulverized tunes by D.I., the Stooges, D.R.I. and Verbal Abuse. Ian MacKaye objected to its Minor Threat covers, especially a version of "Guilty Of Being White" featuring the lyric change "guilty of being right." King countered it was a tongue-in-cheek skewering of racism.
Anti-Flag – Die For The Government
Formed in Pittsburgh in 1988 by singer/guitarist Justin Sane and drummer Pat Thetic, Anti-Flag stumbled through several guitarists and bassists, never really jelling until 1992, after a brief hiatus. With bassist Andy Flag, they released the 17 Songs demo and Kill Kill Kill EP and made a few compilation appearances before inking with UK Subs guitarist Nicky Garratt's New Red Archives for greater distribution. What emerged on Die For The Government resembles the Clash raised on a diet of hardcore and modern pop punk. The 110-dB-chant title track—with its "Die for a country that's shit" chorus—pointed to a future of committed three-chord leftism.
Social Distortion – White Light, White Heat, White Trash
Social Distortion mainman Mike Ness was disappointed in the path music had been taking across the '90s, especially punk rock. He was most disappointed in his band's direction. His remit for fifth album White Light, White Heat, White Trash? No rockabilly, no country, no blues influences. He wanted a return to the bare-knuckled punk of Mommy's Little Monster.
Curious that he would use uncredited session drummer Deen Castronovo, fresh from a stint with Ozzy Osbourne and about to join Journey. Ex-DOA/Black Flag/Circle Jerks/Danzig drummer Chuck Biscuits signed up for the tour and was named on the sleeve instead as having slammed skins on these loud, desolate, highly personal songs. It peaked at No. 27 on the Billboard 200, selling 277,000 copies all-told and becoming Social Distortion's third best-selling LP, thanks to radio burners like "I Was Wrong."
Misfits – Static Age
Recorded in 1978 and intended to be New Jersey cool ghouls the Misfits' debut album, it instead sat on a shelf for 18 years after being rejected by several major labels. Leader Glenn Danzig instead opted to cull its essence for several singles that became signature Misfits releases, including "Bullet," "We Are 138" and "Teenagers From Mars." When it immediately preceded 1997's American Psycho, the debut from bassist Jerry Only's version of the band, it showed how anemic the rejiggered Misfits were.
Static Age was full-blooded, a rethink of the New York Dolls shredded through a Ramones attack. Danzig's material didn't concentrate solely on horror themes this early on. His post-Elvis howl essayed an obsession with current events of the '60s and '70s—"Bullet"'s musing on JFK's assasination, "She"'s focus on kidnapped heiress-cum-terrorist Patty Hearst—and trash culture, a la the title track and "TV Casualty"'s television obsession, and "Hollywood Babylon"'s title deriving from Kenneth Anger's tell-all book. For an 18-year-old album, Static Age sounded remarkably fresh. Still does.
Refused – Songs To Fan The Flames Of Discontent
Refused formed in Umeå, Sweden in 1991, a byproduct of that nation's hardcore scene. Singer Dennis Lyxzén had been in Step Forward, one of Sweden's first straight-edge outfits.
The genealogy of their second album's title should lend a clue to its contents: Songs To Fan The Flames Of Discontent was the subtitle to The Little Red Songbook, published in 1909 by the Spokane, Washington, chapter of the Industrial Workers of the World. It featured several selections penned by Swedish-born IWW activist Joe Hill. Refused clearly performed dangerous rhythms here, full of metallic and jazzy seasoning. A fanzine explaining their leftism out of the record's sleeve. Lyxzén transitioned from shouting to screaming his insurrectionist lyrics. The path to the truly revolutionary The Shape Of Punk To Come two years on was being paved here.
The Hellacopters – Supershitty To The Max!
With debut album Supershitty To The Max!, the Hellacopters served notice that 1969 Detroit had moved from being the musical capital of Australia to the musical capital of Sweden. Singer/guitarist Nicke "Nick Royale" Andersson was drummer for death-metal band Entombed. Co-guitarist Dregen was taking a break from the glam-punk outfit he'd co-founded in his teens, Backyard Babies. Drummer Robert Eriksson roadied for Entombed, alongside Dregen. Bassist Kenny Håkansson and Andersson's friendship went back to childhood. They recorded Supershitty in 26 hours—meters in the red, wah-wah pedals set on stun. This was Detroit punk based in KISS riffs, distorted beyond belief, full of gonzo energy and death-metal ruthlessness. New standards for badass punk were being set.
The Humpers – Live Forever Or Die Trying
Epitaph Records head Brett Gurewitz parlayed his label's success with the Offspring and Rancid into a garage-punk signing spree, inking heroes such as MC5 guitarist Wayne Kramer and New Bomb Turks. But perhaps his most genius signing in this vein was Long Beach old-school pogo'ers the Humpers.
Heading into Los Angeles' famed Sound City Studios with rising producer/engineer Sally Browder, they cut a brace of Humpers oldies from their last two full-lengths—"Space Station Love," "Soul Surgeon"—a cover of the Clash's "Protex Blue," and some new burners like "Wake Up & Lose" and "Anarchy Juice." From inside the cleanest, most full-bodied production they'd enjoyed, their gnarly post-Thunders guitars, slamming rhythm section and Scott "Deluxe" Drake's diamond-cutting snarl flexed three-dimensionally. It equals the Humpers' best release.
Turbonegro – Ass Cobra
With their third studio full-length, rockin' Norwegians Turbonegro moved firmly onto the world's stage. Ass Cobra, with its Pet Sounds parody artwork, would be leader Happy Tom's final record slamming drums—he'd play bass thereafter. The music moved firmly into mid-'70s glam-punk territory, sonically resembling Poison Idea backing Alice Cooper. Accompanying the blitzkrieg glitter approach of hits like "Just Flesh" and "I Got Erection" was their new "Denim Demon" aesthetic—loads of Levis, sailor caps and mustaches, like a Tom Of Finland drawing come to life. Just around the corner: the entrance of guitar genius Euroboy—the Scandanavian Mick Ronson—and Turbonegro masterpiece Apocalypse Dudes.
Oblivians – Popular Favorites
Memphis garage destructionists Oblivians' second album was possibly better recorded than debut Soul Food. But barely so. Popular Favorites was still unlikely to convert any Stevie Nicks fans. Which is OK because the distorto-rockabilly of opener "Christina" likely scared them off, anyway. Which left 15 more tracks for the rest of us to marvel at—average length: 1:50. This ranged from the hilarious garage-core thrash "Guitar Shop Asshole" to the John Lee Hooker-seasoned endless boogie "Do The Milkshake." Oblivians were burning through time, guitar strings, amp tubes and drumsticks at a furious rate, en route to their 1998 breakup.
D Generation – No Lunch
The self-titled 1994 Chrysalis debut LP of Big Apple glam-punks D Generation sounded to many like the second coming of the New York Dolls. In reality, these hardcore and punk vets tapped into the same Dolls-meets-Aerosmith spirit as Guns N' Roses, albeit emphasizing the vintage punk vibe more. Chrysalis never got them, an executive cutting promotion on the record, the band loudly, publicly battling to end their contract early.
Inking with Columbia, they went back to the studio with the Cars' Ric Ocasek, fresh off the huge success of producing Weezer's "Blue Album." They emerged with a superior album, with definitive versions of such first LP highlights as "No Way Out" and "Frankie," adding new burners including "Scorch" and "Capital Offender." Moody, reflective material such as "Waiting For The Next Big Parade" and "Too Loose" pointed to vocalist Jesse Malin's future as a Bruce Springsteen-approved singer-songwriter. But at the moment, he and D Generation were inspiring a new glam-punk underground.
Registrators – Terminal Boredom
Rip Off Records dropped the Registrators' tuneful buzzbomb onto the scene, like a Baby Ruth with glass shards plopped into a punch bowl at a raging party. Singer/guitarist/songwriter Hiroshi, bassist Ren, guitarist Jun and drummer Deira convened at the end of the '80s, essentially an old-school punk jukebox—Damned, Clash, Sex Pistols, etc. But Hiroshi developed a knack for writing originals in that mold. Terminal Boredom was a perfect distillation of the best elements of second string '77 U.K. punk bands like the Lurkers or Slaughter And The Dogs, all cheap-n-nasty production and scratchy, trebly guitars. Its best cuts, such as "I Hate You" and the title track, resemble a worn-out Eater 45 played at 78 RPM.