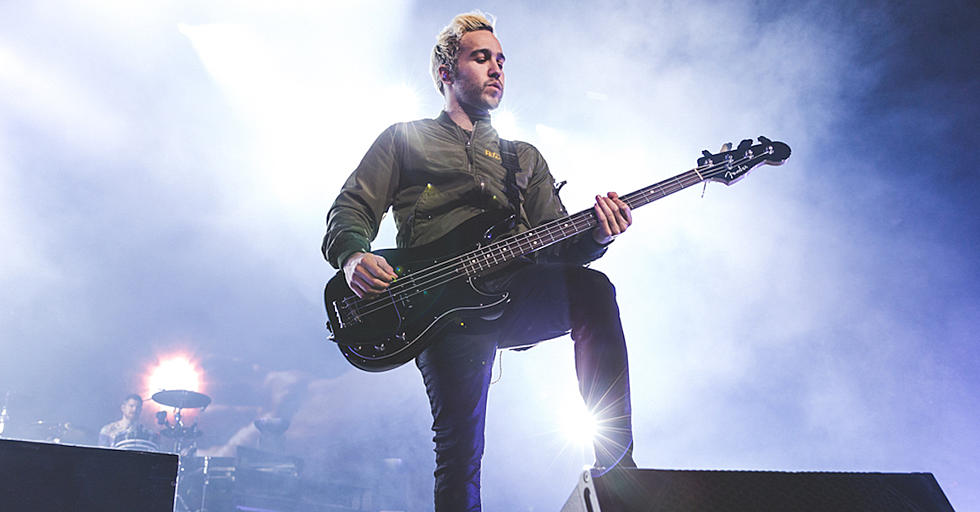 10 great Fall Out Boy songs you've likely never heard
[Photo by Angelica Nicolle Abalos]
With Fall Out Boy's newest album So Much (for) Stardust set to come out on March 24, it's time to take a trip back through their discography to prepare. But with a career spanning more than two decades with seven studio albums and nine EPs, there's a lot of material to go through. Truthfully, even the most dedicated fans probably missed or forgot about some of the best lesser-known tracks. From hidden tracks to rarities, here we rounded up Fall Out Boy's 10 best unreleased tracks.
Read more: Every Dashboard Confessional album ranked
"Austin, We Have A Problem"
This early From Under the Cork Tree demo is defined by an intense loud-soft dynamic. Fall Out Boy vacillates between the band's bombastic emo-pop sound and much softer acoustic sections reminiscent of 1970s pop rock acts like Fleetwood Mac. Although these quiet parts aren't as hard-hitting, they're actually quite energetic. Before writing this, Patrick Stump may have honed his acoustic chops while working on the 2004 EP My Heart Will Always Be the B-Side to My Tongue, which doesn't have any electric guitars.
"Dance, Dance" (demo)
This rough demo shows what From Under the Cork Tree's second-biggest hit sounded like before Fall Out Boy went into the studio to refine it with producer Neal Avron. While the older version of the track is still recognizable, the most notable difference is a discarded pre-chorus with some very self-aware lyrics that predicted the band's upcoming commercial success. "We will own your thoughts, we'll own the song stuck in your head," Stump sings. "We'll leave you kicking and screaming, so you can thank us in the end." The demo also includes a more despondent version of the track's second bridge. In the final recording, it sounds more proud and resonant.
"Guilty as Charged (Tell Hip Hop I'm Literate)" 
With smooth horns, soulful keys, and groovy retro guitar licks, Stump indulges in his R&B influences on this number. It's one of the earliest examples of Fall Out Boy shrugging off their rock roots for the duration of an entire song. The track was released on Fresh Only Bakery, a short EP/video to promote their then-upcoming 2008 album Folie a Deux and was eventually passed on to Gym Class Heroes, which released it on their 2008 album The Quilt. The final version includes a feature from the British R&B singer Estelle. 
"My Song Knows What You Did in the Dark"
Eagle-eyed Fall Out Boy fans might be surprised to find this song listed here, since one with the same name was released on 2013's Save Rock and Roll. But the title is the only thing that track has in common with this From Under the Cork Tree demo. This sultry song has bold octave slides and meaty riffs. It's amore robust take on the sound featured on the band's earliest full-length release Fall Out Boy's Evening Out with Your Girlfriend. The mixes on most of the band's songs are packed to the brim, so it can be refreshing to hear a more spacious spin on Fall Out Boy's old-school emo-pop sound.
"Hand of God"
With lyrics about the misery of touring and writing tracks for teenagers to cry to, this track really captures the essence of Fall Out Boy's early career. The song has a jumpy, unpredictable nature that's almost reminiscent of a 1970s progressive rock song. At some points, the guitars have a reedy, retro flair that recalls Say Anything or Boys Night Out tracks. Stump's complex vocal melodies draw out the track's simple refrain and make it feel larger than life while Wentz's brief bout of rough screams give it a gritty edge.
"Legendary (Blink and You'll Miss It)"
In 2009, Wentz made this "demo of a demo from an old record that no one ever has heard" available as a free download — but only for 10 minutes. He described the track as, "a song you should never hear." The straightforward pop rock composition almost feels like it belongs on an early Beatles record. It's sweet, but touts Fall Out Boy's signature angst. Wentz's lyrics on the track begin with some very artful references to masturbation before going into the anxiety and uncertainty he's feeling about a romantic relationship. Although the production is rough, that actually sort of suits the track's simple nature. Wentz's note brings up an important question. What's this secret album he's talking about?
"Pavlove"
Although this track builds up slowly, it could have become one of the heaviest on Folie a Deux had it been included on the final version of the album. The song was ultimately axed from the tracklist, but was included in the deluxe edition released later on. It begins with crunchy synthetic percussion which gives way to a spinning, mathy lead guitar lick. From there, it has this slow, rolling quality that almost feels like a marching band inching its way across a football field. Although the track has a poppy swagger, its pensive, ominous vibe makes it feel like a throwback.
"Lullabye"
This short, sweet acoustic song penned by Wentz as a lullaby for his son Bronx is an actual hidden track. Although it was released on the official CD version of Folie a Deux, listeners could only access the song by pressing reverse before the beginning of the first track "Disloyal Order of Water Buffaloes." These days, this secret element of the album has been lost on streaming services like Spotify and YouTube Music. Lyrically, the song is a fluffy, soothing piece about a parent comforting a small child frightened by a nightmare. Underneath Wentz's writing, Stump layed out a simple, unpretentious acoustic composition.
"We Don't Take Hits, We Write Them (Live)" 
This very emo track is as powerful as it is whiny. Although it was never properly captured in the studio, it's as catchy as some of the best tracks on Take This to Your Grave and From Under the Cork Tree. At the beginning of a live video, which is really the only record of this song's existence, Wentz can be heard commending the young girls at the front of the crowd for getting in the mix and not just being "coat racks" for their boyfriends. Fall Out Boy's willingness to cater to its young female fanbase was part of what set the band apart in a rock scene that was often hostile to this valuable demographic. 
"Save Your Generation"
Fall Out Boy's rendition of Jawbreaker's 1995 track "Save Your Generation" was included on a tribute record for the group called Bad Scene, Everyone's Fault back in 2003. The cover is a more shimmery, upbeat and slightly faster version of the original, but still equally as enjoyable.