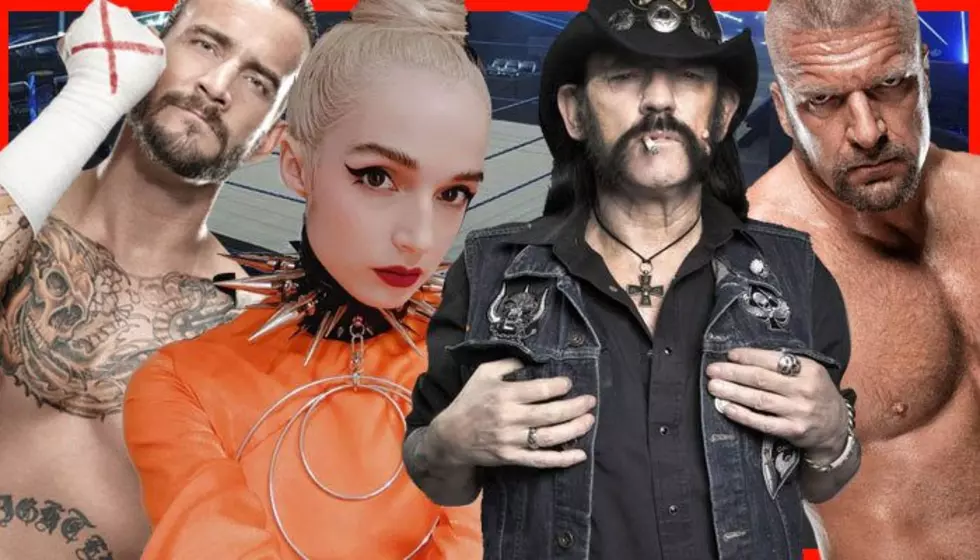 The top 15 alternative WWE entrance songs of all time
In wrestling, music is just as important as the gear a competitor wears to the ring or their finisher that's used to end a match. It's a part of a wrestler's identity and how the fans know who's coming through the curtain at the beginning of a match. For big companies such as WWE and IMPACT Wrestling, many of the themes are made by in-house producers who work with each performer to craft an entrance theme that fits both their style and aura.
For instance, WWE is known for using the likes of Jim Johnston and CFO$ for their entrance themes, while IMPACT Wrestling uses Dale Oliver to craft the music performers come down the ramp to. But what about those themes that come from gracious artists who allow their songs to be used in the squared circle? We wanted to highlight and give thanks to several of them, from the much-beloved Motörhead to the underrated Zebrahead. Here are 15 alternative artists who allowed wrestlers to use their songs as entrance themes.
Maria Kanellis –
"With Legs Like That" by
Zebrahead 
A sunny day, driving down the highway with the windows down and a cold bottle of something fizzy. That's the vibes "With Legs Like That" are giving, which pair well with Maria Kanellis' persona. The moment you hear the opening lyrics, it's hard not to smile. There's also the more cautionary lyrics such as, "She'll tear your heart out." When Kanellis comes out on the stage and does her signature kiss toward the ring, it's like a bit of sweetness before the hurt she intends to inflict on her opponent. Teeth-rotting sweet with a hint of danger, just like her entrance theme. 
Edge –
"Metalingus" by
Alter Bridge
Adam Copeland, aka Edge, is known by many names—The Rated R Superstar, Guns N' Roses of Wrestling (that one is self-given), Sexton Hardcastle. But one of his most infamous nicknames is The Ultimate Opportunist. What better entrance theme than one that boasts lyrics such as, "On this day I see clearly/Everything has come to life." No one sees a clear path toward success like an opportunist. Edge is someone who has a career full of scheming, plotting and strategic alliances all in the name of getting to the top. The song is an amazing hard-rock anthem of leaving behind broken dreams for better pastures. A fitting theme for a wrestler who did all that and then some.
CM Punk –
"Cult Of Personality" by
Living Colour
When something on WWE programming isn't going to the fans' liking, what do they chant? If your answer is the name of retired wrestler CM Punk, you'd be correct. It's a running joke now, but when Punk walked out of the company in 2014, it was devastating to the fans. So, in opposition to the perceived failings of the business, the fans would chant Punk's name as a show of solidarity with the former wrestler and a middle finger to the higher-ups in the company. What a better entrance theme and call to arms than Living Colour's hit song "Cult Of Personality"? It's a song about a leader who gains followers through their persona and a way with words, qualities CM Punk possesses in spades. His skills on the mic have been lauded by fans since the infamous pipe bomb promo. 
The Miz –
"I Came To Play" by
Downstait 
Mike Mizanin, more commonly known as The Miz, is an interesting figure in wrestling. He started as a reality star on The Real World and then made his way to the ring via the Tough Enough TV show in which aspiring wrestlers compete for a WWE developmental contract. All this is to say, he doesn't do things the conventional way. He's a loudmouth by nature and a troublemaker to boot, so what better entrance theme than a song that speaks about getting yours by any means necessary? He'll be the prankster, the instigator, the puppetmaster, anything to reach his goals in the ring. He might even cheat a time or two if he can get away with it—he came to play.
Kane –
"Slow Chemical" by
Finger Eleven
He's the Big Red Monster, and it's best to stay out of his way if you can help it. Kane is an icon in the world of wrestling, and it's no wonder why. The man is huge, can be intimidating without uttering a word and his in-ring skills are admirable. So when in need of a new theme to accompany his new unmasked persona in 2003, Finger Eleven's "Slow Chemical" was chosen, and what a choice it was. The song is slow and methodical with a menacing guitar riff that sticks to your ribs like oatmeal. Kane was on the warpath, and so was his theme. 
Randy Orton –
"Burn In My Light" by
Mercy Drive 
After leaving the power stable Evolution, Randy Orton was stepping out on his own and needed a theme that signified this. So he went to Mercy Drive for their song "Burn In My Light." The song is the right amount of anger while Orton backs up every word in the ring. The lyrics speak of rising from the ashes of betrayal and making something of yourself despite the naysayers. Orton showed his former stablemates what he was made of by shooting to the top of the WWE and sitting there for over a decade. 
The Undertaker – 
"Rollin'" by
Limp Bizkit
It's a shame to see Mark Calaway leave after decades of wrestling and building up a reputation as one of, if not the, most respected men in the business. At least we have his matches to look back on, including the era where he was known as The American Badass. There was his Big Evil entrance theme, but the era is more remembered for him riding down the ramp on his motorcycle to Fred Durst belting out the words to "Rollin'." The Limp Bizkit song is what would happen if you mixed Red Bull and liquor and gave it to an angry biker. It's hard not to get hype when you hear it. 
Triple H –
"The Game" by
Motörhead 
R.I.P. to Lemmy Kilmister. He left behind a hole in the tapestry of rock and music as a whole when he passed away in December 2015. His contributions to wrestling come in the form of three themes: "Line In The Sand," "King Of Kings" and "The Game." "The Game" is a song of warning. Triple H is The Game, and he's not a game you want to play. He's a heavy debt that you can't pay, a pain you can't take. Lemmy's menacing laugh at the beginning sets the tone and lets you know it's time to play the game. 
Io Shirai –
"Scary Mask" by Poppy 
Poppy is a bit of an enigma, and the same can be said for Io Shirai. So it was a pleasant, and frightening, surprise when Poppy sang Io to the ring at NXT for her match against Candice LeRae. The FEVER 333 collab, like many of Poppy's, is an off-putting collection of warnings, speaking of what will happen once the mask comes off. It's a heavy-metal track that doesn't pull its punches. More than perfect for Io and her aesthetic. 
Lita –
"LoveFuryPassionEnergy" by
Boy Hits Car
This song takes the atmosphere of a wrestling show and cranks it up to 1,000. For mainstream audiences, Lita was one of the first woman wrestlers who really went for it in the ring and didn't play it safe. It comes as no surprise that she needed a theme that kicks down the door and screams in your face just like her talent and legacy do. "LoveFuryPassionEnergy" is a song perfect for headbanging and drop-kicking someone off a turnbuckle. 
Batista –
"I Walk Alone" by
Saliva
Dave Bautista is more known as a master thespian now, but he used to make his bread and butter as a wrestler. He was The Animal, and he showed up to wreck shop and leave his opponents destroyed in the ring. His entrance theme carries that same level of barely restrained aggression that was always bubbling beneath the surface, waiting to come out. When you're known as The Animal, there's no need for allies—you walk alone.
The Fiend –
"Let Me In" by
Code Orange
Bray Wyatt has always given the vibe that he's the monster under your bed, waiting for you to let down your guard. He's a master of mind games and a scary menace. He's like if you took all the cheese out of an '80s slasher monster and left a frightening psychological thriller villain in its place. "Let Me In" by Code Orange adds to the nightmare fuel of his character and makes fans want to sleep with their light on. 
Shinsuke Nakamura –
"The Rising Sun" by
Nita Strauss
Shinsuke Nakamura is both loved and respected by many. He's a phenom in the ring with a rock star persona. His theme had already reached icon status by the time he was being accompanied to the ring for his WrestleMania 34 entrance by Nita Strauss. But the presence of the guitarist added that extra bit of oomph to the entrance. The opening guitar solo alone could power an entire city on energy. 
Rhea Ripley –
"Brutality" by
Ash Costello 
Rhea Ripley is not to be taken lightly. She's not opposed to roughing up an opponent, and her theme tells us as such. The song by Ash Costello is a metal/screamo track that has murderous guitar riffs and drums that you feel in your bones. Her entrance theme pulls no punches, and neither does Ripley. Those muscles aren't just for show after all. It's a little (read: a lot) disappointing that she lost to Charlotte Flair at WrestleMania 36, but at least we have this amazing theme to cheer us up.
Christian –
"Just Close Your Eyes" by
Waterproof Blonde 
Most are more familiar with this song in its Story Of The Year incarnation. But we're highlighting this version. It's a song about busting out of preconceived notions and the roles enforced upon us, which is very on brand for Christian after parting ways with his in-story (or kayfabe) brother, Edge. The song depicts a conversation between two phases of being: One shackled by rules and expectations put upon by others and one set free of those binds and striking out on their own. Truly a life lesson in song form.