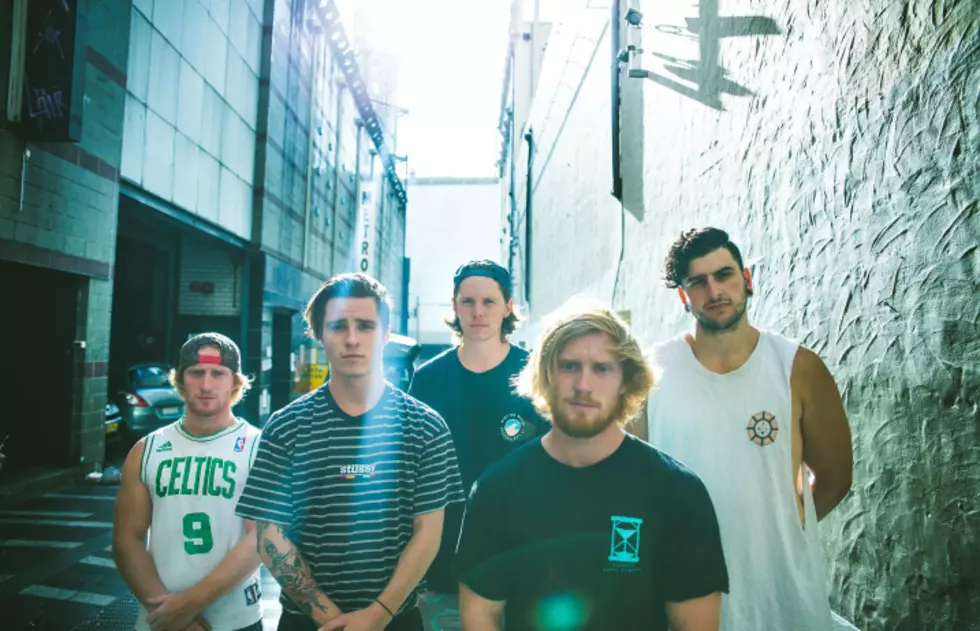 Get to know pop-punk band Between You And Me, recently signed to Hopeless Records
Hopeless Records is home to some of the most successful bands in the scene, and pop-punk newcomers Between You & Me are hoping to make it big as the newest band on the label. Hailing from Melbourne, Australia, Between You & Me are comprised of vocalist Jake Wilson, guitarists Jai Gibson and Chris Bowerman, drummer Jamey Bowerman and bassist James Karagiozis. The band recently put out their first single with Hopeless, and you can check it out below.
We caught up with frontman Jake Wilson to get to know Hopeless' newest band.
How does it feel to join the ranks of all the great bands on Hopeless Records?
It's honestly super humbling to be signed to a label with a roster of bands such as Hopeless—some of our favorite bands, bands that we have grown up listening to and some of our best friends in the industry. To have our band name next to the likes of New Found Glory, Yellowcard and Sum 41… that's surreal.
Who are your favorite bands right now?

There are a bunch of Australian bands doing great things at the moment, but lately I've been listening to Boston Manor, Grayscale and Fossil Youth.
How did you meet?

It's a pretty long story, but it started with Chris and Jamey who saw my covers on YouTube and asked me if I'd be interested to join their band. Not long after that Jamey (drums) suffered a wrist injury and couldn't drum so we continued doing acoustic covers for a little while with our former guitarist. Fast-forward a year and we were looking for a guitarist and bassist to start pursuing our original stuff. Jai and James hit us up after their band (Sidelines) stopped writing music and together, it all felt like a perfect fit. Not quite your typical punk band story, but hey, it's the digital age.
How would you describe your sound?

It's difficult to describe our sound as a collective as each song has different elements, but we'd consider ourselves a pop-punk band. As band members, we all listen to different bands/musicians in which we draw inspiration from—I guess that shapes our overall sound.
In the past year, you've toured with With Confidence, As It Is, Trash Boat and more. What have been the best and worst parts of touring?

Being able to tour means that I don't have to go to my day job, and I get to travel and play music, so there aren't many negatives. Meeting new people and making friends with like-minded people is awesome. Also, meeting fans from the other side of the country and seeing how our music can bring strangers together always amazes me. The only negatives of touring in Australia are the crazy long drives and lack of sleep.
If you could tour with anyone at all, who would it be?

Blink-182.
What's coming up for the band that you're most excited about?

I've always wanted to write a full-length, so that would be near the top of the list. I'm also super excited to do a lot more touring and traveling. I've never actually been outside of Australia so if we get a chance to do that, I'd be stoked!
Is there anything else you want fans to know about you?

After announcing signing with Hopeless and releasing "Overthinking," we received a lot of incredible support from our fans, family and friends. I guess I just wanted to say a big "thank you" as it has blown our minds how kind you've all been to us. I hope to see you at a show soon!
Be sure to catch Between You & Me on their upcoming tour dates with Trash Boat:
08/21 - Sydney, Australia @ Brighton Up Bar

08/22 - Wollongong, Australia @ Rad Bar

08/24 - Canberra, Australia @ Transit Bar

08/28 - Brisbane, Australia @ Black Bear Lodge

08/31 - Melbourne, Australia @ Bang!
What do you think of Hopeless Records' newest band? Let us know in the comments below!