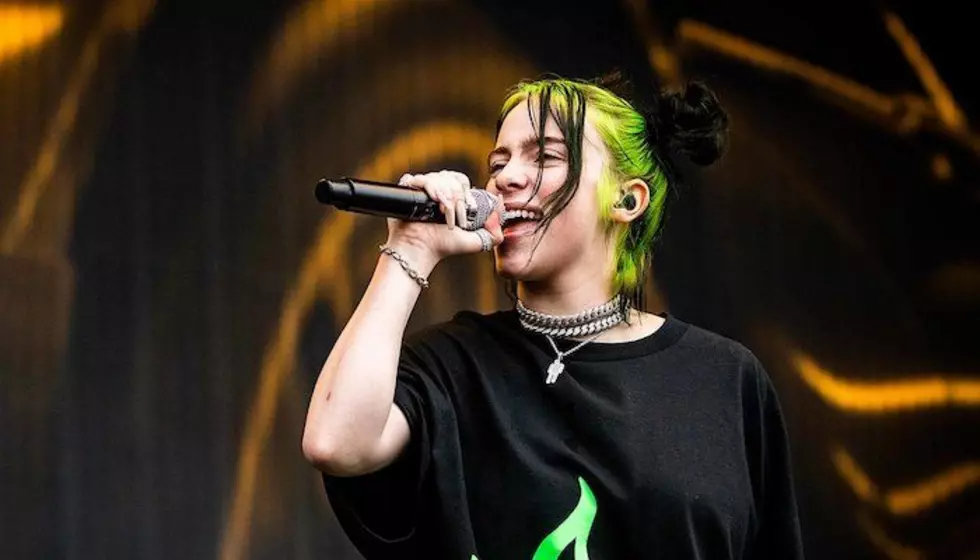 See the eclectic playlists that inspired Billie Eilish's debut album
[Photo via Wikimedia Commons/Lars Crommelinck]
Ever wonder what inspired Billie Eilish's hit album WHEN WE ALL FALL ASLEEP, WHERE DO WE GO? What about what inspired each song on that album? Well, now you can find out. 
On March 25, Billie Eilish took to Instagram to post a poll on her story asking fans if they wanted a list of songs that inspired each song off the album. Of course, we all said yes. 
Billie Eilish went through most of the songs on the album and made little playlists of the songs and artists that inspired them. 
A number of the tracks from Eilish's WHEN WE ALL FALL ASLEEP, WHERE DO WE GO? were inspired by XXXTENTACION. Post Malone and Bon Iver also show up more than once. 
We'll give you a brief summary of the hits and let you check out the rest. 
Billie Eilish "bad guy" was inspired by "Dang!" by Mac Miller, "YuNg BrAtZ" by XXXTENTACION, "Pink" by Juila Micahels and more. 
Another hit, "xanny" saw inspiration by the likes of LCD Soundsystem, Feist, Johnny Mathis and Post Malone. 
"bury a friend" only lists two inspirations. Those are "Black Skinhead" by Kanye West and "Garbage" by Tyler, The Creator. Check out all of the screenshots below.
Billie Eilish even capped one of the pics off with a joke. She laughs at the fact that the last song on her album was inspired by all of the preceding ones.
We think it's safe to say that Billie Eilish has a pretty eclectic taste in music. How many of those songs do you love?
More Billie Eilish
Elton John is doing his part to provide some much-needed entertainment right now with a livestreamed concert featuring Billie Eilish, Green Day frontman Billie Joe Armstrong, Backstreet Boys and more.
The virtual benefit concert is officially titled "iHeart Living Room Concert" and is airing on FOX while encouraging donations to various initiatives supporting medical professionals and first responders.
The virtual concert also features Alicia Keys, Mariah Carey and Tim McGraw.
The hour-long event is airing commercial-free as a replacement to the postponed iHeart Radio Music Awards.
As implied from the concert's title, the performances will be done in these musician's living rooms. Some are being pre-recorded while the performances will be filming using cell phones or cameras.
The broadcast will be encouraging viewers to donate to Feeding America and First Responders Children's Foundation if they aren't sure who to help out.
The event is taking place March 29 at 9 PM ET or 6 PM PT. It can be watched on FOX or listeners can tune in worldwide on iHeartMedia radio stations. You can learn more about the event here.
Elton John is one of the countless artists who has had to cancel or postpone tour dates due to the ongoing pandemic. Billie Eilish and Green Day have also had to postpone tour dates due to the coronavirus outbreak.
What do you think of Billie Eilish's inspirations for WHEN WE ALL FALL ASLEEP, WHERE DO WE GO? Tell us in the comments below.
[envira-gallery id="194356"]