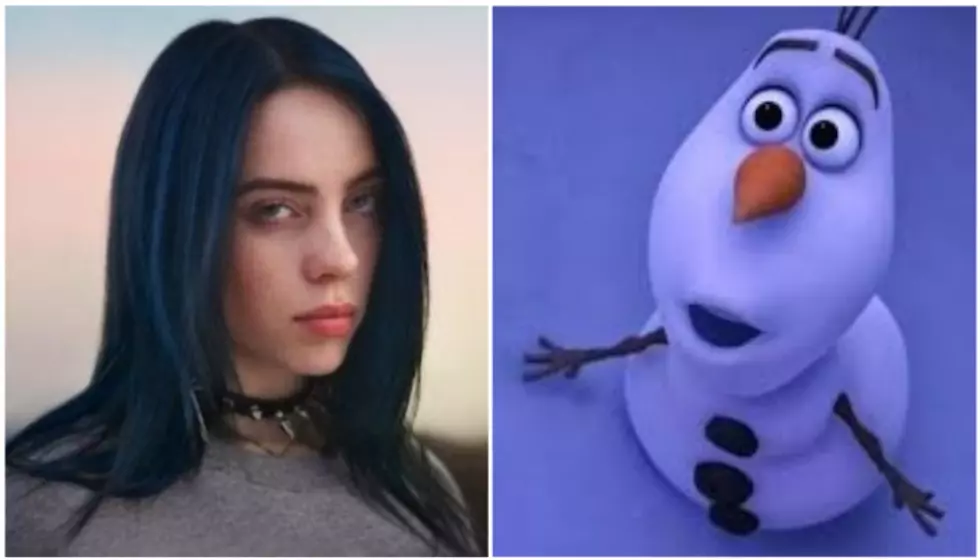 Billie Eilish, 'Frozen' star make list of most dangerous celebs to search online
[Pictured: Billie Eilish, Frozen/YouTube]
Cyber-security firm McAfee has revealed which celebrities are among the most dangerous to search for online. In their latest annual poll, McAfee shares what names are most likely to link you to malicious websites and viruses. This year, it looks like Billie Eilish and Frozen star Josh Gad have made the top 10.
Check out the rest below!
Last year, Kim Kardashian came out on top as the No. 1 most dangerous celebrity to search for online.
This year however, Kim finds herself sliding to the No. 26 spot as Love Island host Caroline Flack takes the top seat.
Coming in second is Game of Thrones star Maisie Williams while Late Late Show host James Corden comes in at No. 3.
Nicki Minaj slides into the fourth spot with Billie Eilish finishing out the top 5.
The rest of the top 10 includes Gad, Mischa Barton, Sam Smith, Dua Lipa and Liam Hemsworth respectively.
"Caroline Flack has cemented herself as one of TV's most sought-after hosts," McAfee's Raj Samani says. "After another year of Love Island dominating headlines in the UK, I'm not surprised she has topped this years' list. People want to keep up to date with the latest pop culture and celebrity news at any time from any device.
"Often consumers put that speed and convenience over security by clicking on suspicious links that promise content featuring our favorite celebrities. Consumers need to think before they click to be sure that they are surfing to safe digital content and protecting themselves from cyber-security threats that may be used to infect their devices or steal their identity."
What do you think of the 2019 McAfee "most dangerous" poll? Will this make you think twice before clicking on links regarding these celebrities? Sound off in the comments below!
[envira-gallery id="194744"]