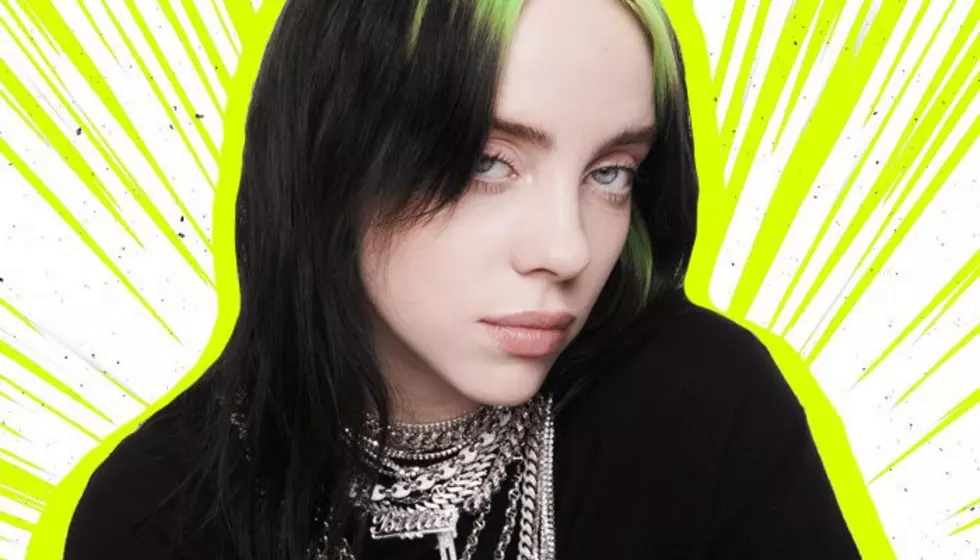 10 times Billie Eilish proved young women can do anything
It's both easy and hard to believe it's already been a year since Billie Eilish dropped her chart-topping, record-breaking debut album, WHEN WE ALL FALL ASLEEP, WHERE DO WE GO? 
For one thing, in the time since she released the record, her career has sky-rocketed—she's broken records, won countless awards and sold out major stadiums. 
However, we're still so obsessed with the album that it seems like it only came out last week. 
In honor of the album's anniversary, and to celebrate Eilish's badass year in general, we found 10 times where she proved that young women can do anything. We could all use some good inspiration now and again, and Eilish is just the person to do it. You can check that out below. 
1. She's a record breaker
Eilish headed to the Grammys with plenty of nominations for her first album, which was expected. However, what no one anticipated was that she would become the first woman ever to win all four major Grammys in one night. 
Prior to that, she became the third female solo artist in history to have multiple No. 1 alternative singles for "bad guy" and "bury a friend." Those are only a few of her seemingly endless notable accomplishments with her debut record. 
2. She's a role model for body positivity
Eilish has had to deal with the entire world scrutinizing her body before she was even 18, with her regular uniform consisting of the baggiest clothes possible. This all culminated in her tour opening sequence, when she played a video of herself dressing down until she's in her bra while a voice-over shares a message of body positivity. After a photo of her wearing a tank top went viral last year, she absolutely reclaimed her body for herself and told everyone they have no right in having opinions about it. 
3. She's a badass music video director 
As if recording a chart-topping album wasn't enough, Eilish has even directed some of her most immersive music videos yet. She made her directorial debut with "xanny" from WWAFAWDWG as well as wowed fans with her video for "everything i wanted." There's probably close to nothing that she couldn't do. 
4. She's not afraid to stand up for what she believes in
Last year, Eilish wasn't shy about her feelings on politics. She condemned male politicians for trying to make decisions on a woman's right to get an abortion. Fans also participated in a fight against climate change thanks to her partnership with Global Citizen. Back in 2018, Eilish also launched a campaign called "Billie's Closet" where she sold her own personal clothing. The proceeds benefited Marley's Mutts and their Pawsitive Change Prison Program, which matches shelter dogs with California prison inmates.
5. She stays true to her creative process 
Since the beginning, Eilish and her brother FINNEAS have been a team, and that didn't change when she made it big. He helped write her groundbreaking debut album and performed those songs with her onstage several times. Eilish recognizes the importance of keeping the people who are important to you close and not selling out for something flashier just because she's a megastar. 
6. She's honest about not being perfect
Even though Eilish seems to have it all, she gets real about her mental health and the price of fame in interviews. She spoke about how 2018 was one of the worst years of her life and how it made her want to help her fans make it through similar rough times in their life. 
7. She claps back when it's appropriate
Eilish isn't somebody who has Twitter drama or all-out wars with people on social media. She's strategic about it and comes in hot with comebacks that would definitely garner no response. 
With everyone always having something to say about her style, and it not all being positive, she posted a photo in a baggy outfit with graffiti print with the caption, "if only i dressed normal id be so much hotter yeah yeah come up with a better comment im tired of that one." She also stood up to a magazine that put a topless photo of her on the cover without consent and did so by dropping some serious facts that couldn't be argued with. 
8. She gives credit where it's due
Even though Eilish is currently one of the top names in music, she never forgets where she came from. She's been open about her love of other artists, from Dave Grohl to Avril Lavigne and shows young people that having good role models is a positive thing.
9. She owns her mistakes 
Last August, Eilish pulled a merch line after she was accused of
plagiarizing fan art from a popular anime series.
Even though Eilish and her team didn't know the artwork was a knockoff, they still removed the line and deleted promotional posts about it, because she wasn't going to make money on something that wasn't truly hers. 
10. She's unapologetically herself
Eilish has never been shy about her likes and dislikes, even if they aren't seen as cool. She's a die-hard superfan of The Office and even sampled the show in a song to prove her love. She has always loved Justin Bieber, who she eventually collabed with on a "bad guy" remix, which was a full-circle moment for her. She shows other people that being a "fangirl" isn't a bad thing—it's cool to have interests and share them with others, even when you're a celebrity. 
[envira-gallery id="186695"]