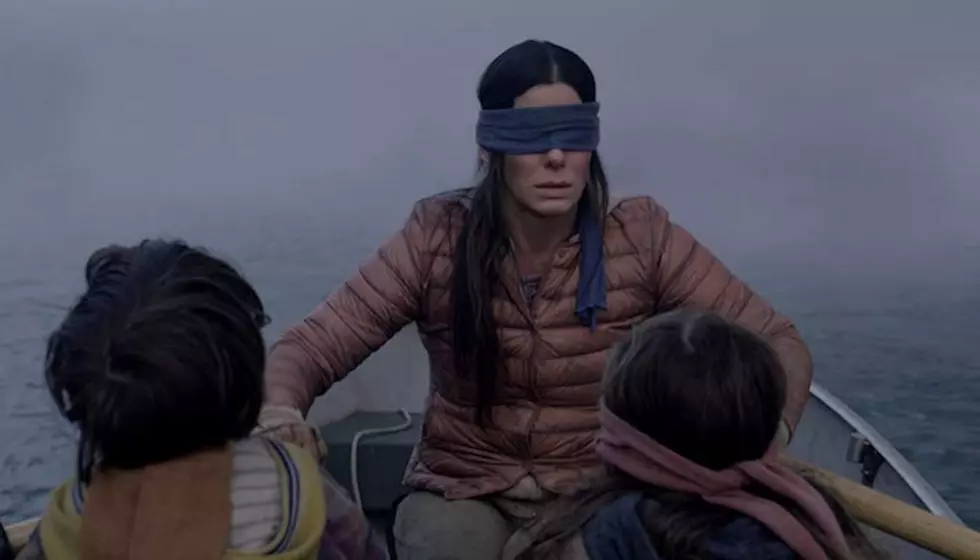 'Bird Box' challenge leads to blindfolded driver crashing car
[Photo via Netflix]
It is easy to see that the highly dangerous Bird Box challenge isn't the safest idea. 
If you didn't think so yet, learn from this one woman who did the challenge while driving which resulted in a crash.
The police in Layton, Utah posted on Twitter about a crash that was sparked by a driver attempting to drive blindfolded. 
Gratefully, no one was injured in the crash.
The#BirdBoxChallenge is based on the Netflix film where fans blindfold themselves and attempt to complete tasks. 
The challenge. 
started somewhat harmlessly.
At first, people were doing activities such as playing drums or putting on makeup blindfolded. Netflix
issued a warning
about the
Bird Box
challenge on Twitter to prevent accidents like this from happening to fans of the film.
Controversial YouTube star Jake Paul also blindfolded himself and got behind the wheel of a car. He help up traffic and hit a few trash cans. These two incidents should be enough reason to make you not attempt the #BirdBoxChallenge, especially if it involves driving.
Fans should just keep sharing the hilarious memes on Twitter instead, because it's definitely more wholesome and way more funny.
Bird Box takes place in a post-apocalyptic environment, with the synopsis reading:
"When a mysterious force decimates the world's population, only one thing is certain: if you see it, you take your life. Facing the unknown, Malorie finds love, hope and a new beginning only for it to unravel. Now she must flee with her two children down a treacherous river to the one place left that may offer sanctuary. But to survive, they'll have to undertake the perilous two-day journey blindfolded. Academy Award® winner Sandra Bullock leads an all-star cast that includes Trevante Rhodes, with Sarah Paulson, and John Malkovich in BIRD BOX, a compelling new thriller from Academy Award® winner Susanne Bier."
Watch a trailer for the Netflix film below.
[envira-gallery id="194728"]