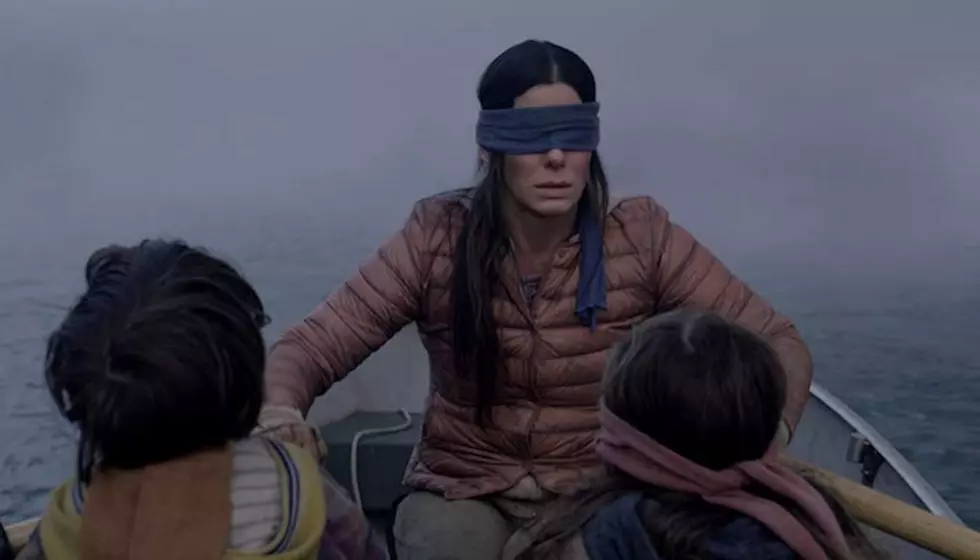 Netflix warns viewers participating in the 'Bird Box' challenge
[Photo via Netflix]
Bird Box seems to be all anyone can talk about lately, and with good reason. The post-apocalyptic thriller broke Netflix's record for most viewers in a single week. As is the case with anything gaining popularity, thousands of memes have appeared.
Whether or not those are the result of some major meme conspiracy theory remains unanswered (and the "can't hear, can't speak, can't see" ones have us cracking up). Earlier today, we shared news of a new challenge that requires blindfolds and a lot of trust, but now Netflix is warning against it.
In a nutshell, Bird Box is described as: "Five years after an ominous unseen presence drives most of society to suicide, a mother and her two children make a desperate bid to reach safety."
However, as Malorie (Sandra Bullock) and the rest of the film's characters traverse the post-apocalyptic world, they must do so with a blindfold as a way to protect themselves from an ominous force.
As if the internet didn't learn anything from the failed Tide pod challenges, we now have the #birdboxchallenge where users attempt to do things blindfolded.
Netflix took to Twitter earlier today to warn viewers against doing potentially unsafe things while obstructing their sight.
"Can't believe I have to say this, but: PLEASE DO NOT HURT YOURSELVES WITH THIS BIRD BOX CHALLENGE. We don't know how this started, and we appreciate the love, but Boy and Girl have just one wish for 2019 and it is that you not end up in the hospital due to memes."
Check out some examples of the challenge below.
Two radio hosts from Ireland agreed to a shaving challenge:
Then there are those who are going all out by attempting to do everything blindfolded for a full 24 hours.
What do you think of the #birdboxchallenge? Sound off in the comments below.
[envira-gallery id="195377"]