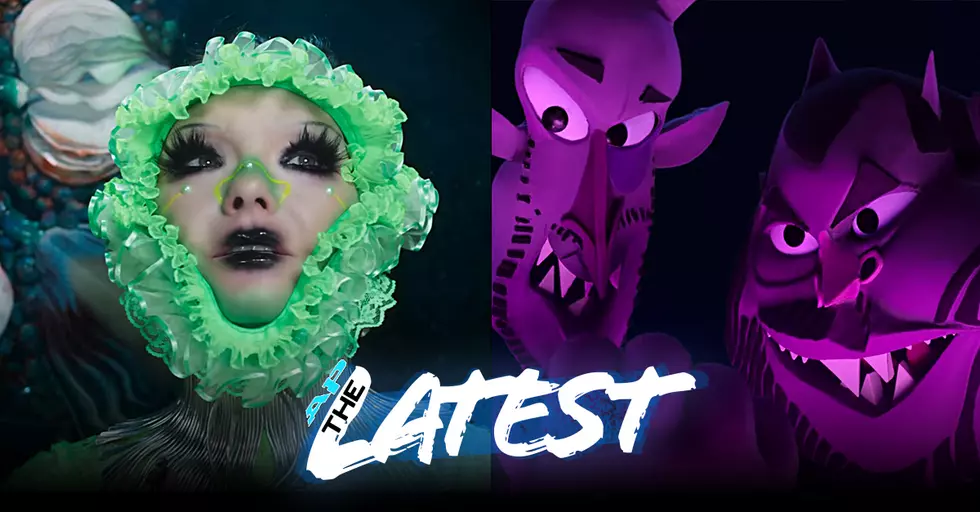 Björk parties with mushrooms in video for "Atopos," Key and Peele join forces in animated horror film Wendell and Wild and more
[Björk/YouTube, Wendell and Wild/YouTube]
Welcome to The Latest, our daily download of the essential news you need to know across music, culture and style. 
Björk drops "Atopos" ahead of her upcoming album Fossora 
On her new album, Fossora, Icelandic experimental artist Björk is diving deep into a fictional world of cordyceps and dark imagery to symbolize the experience of the ongoing COVID-19 pandemic. With first single "Atopos," Björk relies heavily on discordant basslines, industrial drum patterns coupled and an atonal ensemble of clarinets to create an unsettling score that feels beautifully apocalyptic. As always, Björk offers a transcendental vocal performance that's as inimitable as ever, with lyrics that explore relationships and human connection. Its video shows Björk surrounded by a series of mushrooms and various forms of fungus in the depths of a dark, cavernous space. Björk adorns a neon green mushroom mask and several exotic outfits that reflect her enigmatic personality in this stunning visual directed by Viðar Logi. 
Key and Peele will join forces in the upcoming animated film Wendell & Wild
Just before the spooky season wraps, Netflix will release Wendell & Wild, a demonic-themed stop-motion animated film directed by Henry Selick (The Nightmare Before Christmas) Oct. 28. Voicing the titular characters of Wendell and Wild are the beloved comedy duo Keegan-Michael Key and Jordan Peele, the latter of whom produces genre-defining horror and science fiction movies and television series (Get Out, Nope, Twilight Zone). The first trailer centers around two demonic siblings (Key and Peele) who meet a young girl named Kat (Lyric Ross), who helps them emerge from the underworld to the depths of the Earth following the loss of her parents in a tragic car accident. From there, the group embarks on an adventure that touches on themes of mortality and karma.
Jerry Seinfeld channels his inner swag boi in the new Kith Fall 2022 campaign 
True Jerry Seinfeld fans know that the comedian and star of the eponymous television show has always been a sneakerhead at heart. Whether he was rocking Nike Air Challenge Pros or ACG Air Mowabbs with his signature blue jeans and early '90s hipster aesthetic, Seinfeld always had the drip. Today, it has been announced that he's the star of streetwear giant Kith's Fall 2022 line, which features an eclectic mix of apparel with a continued emphasis on footwear. Seinfeld was photographed wearing sneakers ranging from Air Force 1s, Air Max 95s, New Balance and Clarks with a series of garments, including a collaboration with Russel Athletic, an '80s-inspired letterman jacket, Beatles-esque paisley shirts and more. 
Megan Thee Stallion turns up at a funeral in "Ungrateful" video
Dressed in all black, Megan Thee Stallion arrives in style at a funeral in the visually stunning new video for "Ungrateful" (feat. Key Glock). "Ungrateful" comes from Megan Thee Stallion's sophomore release, Traumazine, and the visual component features enticing shots of Megan Thee Stallion before she attends a funeral accompanied by a black-clad entourage. Later, she's confronted face-to-face with an all-white clone of herself. The dreary visual also features a rainstorm that suits the funeral setting and comes just in time for Halloween.