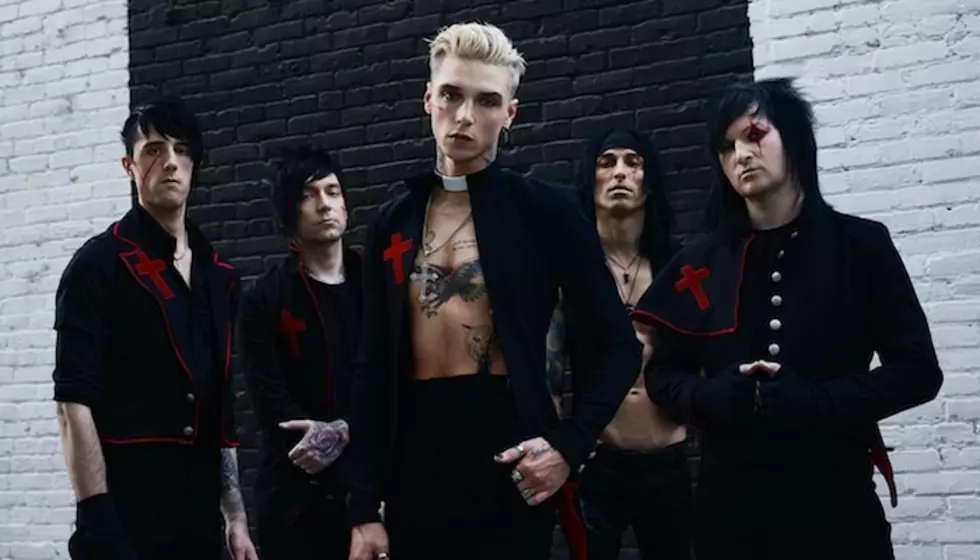 Black Veil Brides are unplugging for free virtual 2021 acoustic tour
[Photo by Jonathan Weiner]
Black Veil Brides fans are in for a special treat starting this week. Because the band are unable to tour right now amid the COVID-19 pandemic, they are bringing their live performances straight into fans' homes.
On Monday, Black Veil Brides officially announced their first-ever virtual acoustic radio tour called Acoustour. For the string of performances, Black Veil Brides are teaming up with local American radio stations for a series of stripped-down and unplugged sets that are completely free to watch.
The Acoustour officially kicks off Tuesday in frontman Andy Biersack's hometown of Cincinnati. The live acoustic performance will be available to stream through rock station WEBN starting at 3:30 p.m. PT/6:30 p.m. ET.
Black Veil Brides will also be teaming up with local radio stations in Columbus, Ohio, Detroit and Phoenix among others before the virtual tour comes to a close April 2 at Kansas City, Missouri's 105.1 The X.
For this virtual tour, each set will be completely different from one another. Along with their latest single "Scarlet Cross," off of their forthcoming LP The Phantom Tomorrow, Black Veil Brides will be playing various fan-favorites from throughout their discography.
here
Along with their virtual radio tour, Black Veil Brides are slated to appear at Aftershock Festival in Sacramento, California this October. My Chemical Romance and Metallica are returning as headliners after the 2020 festival was postponed amid the COVID-19 pandemic.
Metallica
Rise Against
Social Distortion
the Pretty Reckless
Pennywise
Aftershock
here
Next year, Black Veil Brides are scheduled to tour in Australia. Their run of shows kicks off in Albany Creek on May 5, 2022 and ends in Adelaide May 9, 2022. More information on the tour is available here.
Black Veil Brides' full list of scheduled tour dates is below.
Black Veil Brides tour dates
03/23 - Cincinnati, OH @ 102.7 WEBN (3:30 p.m. PT/6:30 p.m. ET)
03/24 - Columbus, OH @ 99.7 The Blitz/WRKZ (7 a.m. PT/10 a.m. ET)
03/25 - Baltimore, MD @ 98 Rock Baltimore/WIYY (4 p.m. PT/7 p.m. ET)
03/26 - Detroit, MI @ 101 WRIF FM (2 p.m. PT/5 p.m. ET)
03/29 - Monmouth Ocean, NJ @ 95.9 The RAT FM/WRAT (4 p.m. PT/7 p.m. ET)
03/30 - Phoenix, AZ @ 98KUPD Official (8 p.m. PT/11 p.m. ET)
03/31 - Madison, WI @ Solid Rock 94.1/WJJO (5 p.m. PT/8 p.m. ET)
04/02 - Kansas City, MO @ 105.1 The X/KCJK FM (6 p.m. PT/9 p.m. ET)
10/10 - Sacramento, CA @ Aftershock Festival 2021
05/05/2022 - Albany Creek, AUS @ Eatons Hill Hotel
05/06/2022 - Sydney, AUS @ UNSW Sydney
05/07/2022 - Melbourne, AUS @ The Croxton Bandroom
05/09/2022 - Adelaide, AUS @ The Gov
 More on Black Veil Brides
Over the past year, Black Veil Brides have revealed various details regarding their forthcoming album The Phantom Tomorrow. Back in May, Biersack finally confirmed the band had started production on their next record. Then, in early August, guitarist Jinxx hinted that the band's next release may actually be another concept record.
"I can't talk too about what we envision for the next album, but we are revisiting the idea of another concept record like we did with Wretched And Divine," he told My Global Mind. "It would be fun to do another concept CD, but we'll see how things pan out."
Shortly after this, Biersack confirmed that a new BVB concept album was in the works. During an interview with Kerrang!, Biersack revealed that guitarist Jake Pitts is producing the new record and it will be the band's most extensive project yet.
"Jake is producing the record, but it is a big, crazy awesome, concept thing we've been working on," Biersack told Kerrang!. "There's art, drawings [and] comic book designs. We want to do a movie and all this shit. It's a big expansive thing and we're really excited about it."
Then, in October, Black Veil Brides began sharing some cryptic clues before finally unveiling their single "Scarlet Cross" in November. Fans were introduced to the world inside The Phantom Tomorrow with the single's cinematic music video that ended on the ultimate cliffhanger.
The "Scarlet Cross" video is available to stream below.
Since the release of "Scarlet Cross," Black Veil Brides hadn't revealed too much about the upcoming album. However, last month, Biersack finally confirmed that the new LP is "almost complete." Currently, the full-length is slated to arrive sometime this year.
In a recent Instagram post, Biersack offered an update about The Phantom Tomorrow. As well, he mentioned  Paradise City, the American Satan spinoff, which premieres on Amazon Prime Video this Thursday, March 25. Biersack also took the time to thank fans who have supported his new memoir They Don't Need To Understand.
"I just wanted to say thank you for all of your support and excitement regarding my most recent projects," he said on Instagram. "The response to the book has been incredible and I can't wait for you guys to see @paradisecity coming to @amazonprimevideo next month! I also wanted to update you that the upcoming @blackveilbrides record The Phantom Tomorrow is almost complete. So be on the lookout for release info and a lot more coming soon!"
 

View this post on Instagram

 
Last year, Biersack exclusively opened up to Alternative Press about the narratives weaved throughout The Phantom Tomorrow. The album follows the antihero The Blackbird and a group of social outcasts known as The Phantom Tomorrow. Both groups are heavily misunderstood in the album's world. As a result, Black Veil Brides' new music tackles ideas regarding people's belief systems and the ways in which society influences individuals' thoughts among other things.
"The idea is that there would have to be a belief system in this world," he told Alternative Press. "There's the idea if we had all of our social ways about us, our ways of separating what we believe in and what we think is real and all the critical thinking that many of us have toward different religions or whatever. But if Jesus were alive at the time, you had to face these crossroads. Do you believe that it's actually real? Or is this guy actually doing magic, or what is it? And instead of it being a story that's completely about a religious figure, it's one of [the] people applying the kind of religious faith and belief system into this story of this guy [the Blackbird] who defends the outcast, the downtrodden."
As for Paradise City, fans are less than a week away from seeing Biersack reprise his role as Johnny Faust in season 1. After Faust's turbulent career and involvement in dark magic, Paradise City follows the Relentless frontman as he tries to move on from the past alongside his girlfriend Gretchen (Olivia Culpo). However, it's soon revealed that Faust is actually the father of another woman's child.
Meanwhile, Simon Ostergaard, played by the late actor Cameron Boyce, is battling ongoing family problems while trying to break into the industry in season 1. Ostergaard is the frontman of the band The Flux and is described as a "young musician, bandleader and aspiring DIY executive in the music business."
In the season's first official trailer, fans also got glimpses of Booboo Stewart and Ben Bruce who are reprising their American Satan roles. As well, fans were introduced to Bella Thorne who is joining the Relentless as Lily Mayweather.
Season 1 of Paradise City also includes appearances from Sleeping With Sirens' Kellin Quinn, Juliet Simms and Asking Alexandria's James Cassells. In August, Biersack revealed to Alternative Press that a lot of these characters' storylines aren't really connected to each other in the series.
"Our storylines don't really cross at all in the show," he said. "I think there's one scene at the end where we end up in the same situation at some point. I don't want to spoil anything. But our storylines are different. Her [Simms] storyline and her band are this whole separate thing in the show that people don't really know. This show is not just American Satan, too. It's a whole different group of people that you're learning about and following. And I know that Ben's character had some scenes with Juliet's band and members of Juliet's band later."
The Paradise City trailer is available to stream below.
What are your reactions to Black Veil Brides' virtual acoustic tour? Let us know in the comments below.