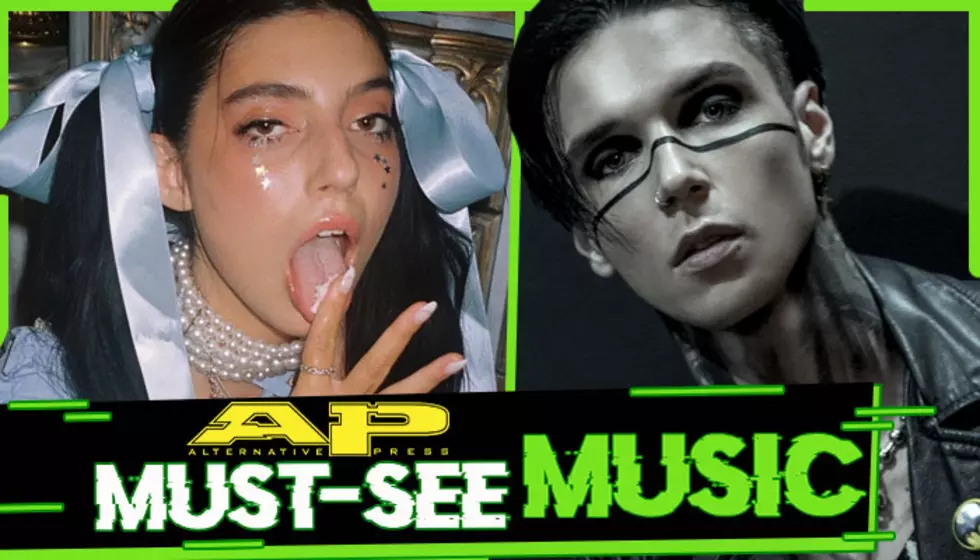 AP Must-See Music: New tracks from BVB, Korn, blink-182 & more
Welcome to AP MUST-SEE MUSIC, our recap of the big video and song releases, as well as all the new exciting premieres brought to you exclusively by Alternative Press. With iconic favorites and contenders, this roundup aims to share the best of things new and rocking.
From superstars to upstarts, this week brought its fair share of great sounds. Legends teamed up with new jacks for some interesting collabs. Bearded pop-punkers went to Mars (or maybe just Michigan), and some determined siblings delivered promising modern rock for safe spaces. This is what arrived this week. Eyes forward and volume up!
Korn with Yelawolf - "The Devil Went Down To Georgia"
Nü-metal high priests Korn enlisted rapper Yelawolf to assist in a cover of the late Charlie Daniels classic. Of course, country purists will clutch their pearls and drop their monocles. It doesn't matter—this version isn't for them. Instead, the artists have earmarked their performance royalties to Awakening Youth. (The charity aids at-risk youth affected by the loss of a parent.) As for the cover, Yelawolf and Jonathan Davis are pretty great in their roles as the hayseed virtuoso Johnny and the devil, respectively. And it might be the lightest thing Korn have ever affixed their name on. That's not a complaint, by the way.

The Haunt - "Brag About"
Vocalist Anastasia Grace and guitarist Max Haunt are the brain trust of Southern Florida pop-rockers the Haunt. We're still not sure if they're a rock band with pop sensibilities or a pop band who look cooler than the rest of the pack. We do know that their new video fills that space on our playlists between VersaEmerge and that Tonight Alive/Lynn Gunn collab "Disappear." They have a great sense of heart, as well. Grace participated in the 320 Changes Direction benefit track, "It's Gonna Be OK" and strives to make their gigs all-inclusive safe spaces. "Brag About" is completely iridescent and promises great things in the band's future. Truly some Must-See Music.
OLIVER TREE with BLINK-182 - "Let Me Down"
Mark Hoppus and Travis Barker must have lost a bet and ended up on this collaboration with meme-master and troll factory Oliver Tree. There is a sense of purpose to this version originally from Tree's Ugly Is Beautiful LP. The song benefits greatly from the bass/drums girth of the blink-182 rhythm team. And blink get into both the faces and ears of people who may have scrolled past them repeatedly in the past. In the end, everybody got well paid, and Tree cements himself as the enfant terrible of 21st-century alt-rock for another month or two.
Wilmette - "Adderall"
All the stans know that the town this band are named after is the home of Fall Out Boy. But even if you didn't know that, it wouldn't stop you from digging Wilmette's out-of-love, pop-punk action. Premiering earlier this week on Alternative Press, the video finds our heroes battling Martians and trying to navigate sand dunes on another planet.  The band's next release, a self-titled six-song EP, comes out September 25 on Mutant League Records. You could see these guys being given a heroes welcome and the keys to Gainesville, Florida, should the coronavirus leave and the Fest would be back in action.
Black Veil Brides - Re-Stitch These Wounds
It was during one Black Veil Brides tour that frontman Andy Biersack and guitarist Jake Pitts had an idea. Given all they had learned about songwriting and recording, wouldn't it be cool if they could revisit We Stitch These Wounds, BVB's debut album? Ten years later, that concept is a reality. Rechristened Re-Stitch These Wounds, the band's magnificent revisit maintains their larger-than-life persona. Everything about the original album is ramped up, from the technical side to the playing to the emotional context. Check out Jinxx's newly-added string prelude to "The Mortician's Daughter." It's also the first BVB release for Sumerian Records and the first to feature bassist/longtime fan Lonny Eagleton. The must-see music metaphor works here, as the physical packaging is beautiful.
GOALKEEPER - "Happy"
There may be more bands in Philadelphia than in Brooklyn, L.A. and London. But there's not a lot that can make us crave the feeling of remorse and resignation with speedy glory. Goalkeeper are so posi, they could cover the Carcass catalog and it would sell better than any mainstage act who appeared on the last four years of Warped Tour. Frontman/bassist Ryan Beebe radiates avuncular charm while his bandmates keep the proceedings tight, focused and genuine. Goalkeeper got a bunch of A-list talents (members of Hit The Lights, Cartel and Neck Deep) to help them with their impending album, Life In Slow Motion.  If you're down with beer, beards and feelings, let Goalkeeper's lyrics inspire your breakup texts.
Knuckle Puck - "What Took You So Long"
 Any list of must-see music should have some kind of pop-punk benchmark on it. Just in time, Knuckle Puck deliver the goods with the lyric vid for "What Took You So Long?" The first taste from their next record 20/20 is inspired, energetic and completely life-affirming. Lead singer Joe Taylor has never sounded so confident and commanding, and the songwriting is top-notch. In a just universe, listeners will be holding this record close to their hearts (and air pods) and Oliver Tree will be their Uber driver. We're even forgiving the band for making some of the lyrics hard to read.
DeathByRomy - "Fiending For A Lover"

DeathByRomy dropped her first new music since 2019's Love u — to Death EP. "Fiending For A Lover" is that rare combination of accessibility and swagger, emphasizing Romy Flores' love of groove and modern songcraft. The breadth of her influences (sonically, culturally) are quite large and seemingly incongruent. But DeathByRomy is perpetually a work in progress who can throw down with pop divas and punk screamers. She can be Beyonce or Brody Dalle, and no one can step to her. Must-see music for life. By Death.
Blaqk Audio - "Hiss"
Blaqk Audio, the electronics-based vehicle for AFI members Davey Havok and Jade Puget, issued their fourth album, Beneath The Black Palms, this week. Sure, AFI remain a leading light in contemporary punk and alt-rock. But the duo know their way around synths and samplers in ways that are contagious and thoughtful. What separates Havok and Puget from the rest of laptop nation is that they know their electro-rock history. They are adept at straight-up pop tracks, dance-club techno bangers and downtempo grooves. Oh, did we mention the depth of their songwriting? We don't have to, really. "Hiss" drives the point home quite succinctly.