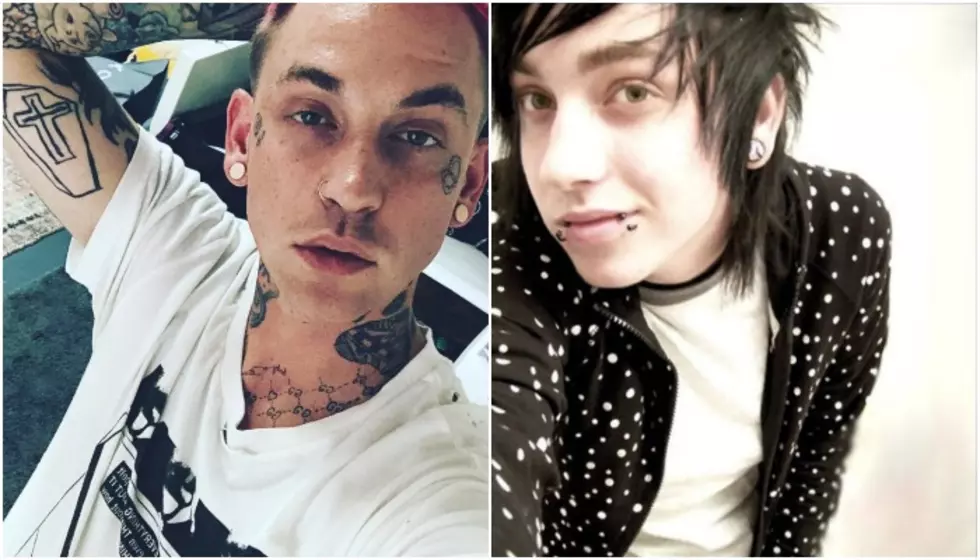 Remember when blackbear used to be in a scene band?
[Photos via Instagram/Last.fm]
blackbear (aka Mat Musto) is hard to put in a genre-defining box, and it appears he likes it that way as he currently toes the line between rap and electro-pop. Musto has a storied history in the music scene, however, having gotten his start as the frontman of Florida-based pop-punk act Polaroid before rising through the pop world by writing and producing tracks for everyone from Justin Bieber to G-Eazy to making a name for himself as blackbear.
Polaroid signed to Buffalo-based Leakmob Records when Musto was a freshman in high school. He dropped out to pursue music full-time, and they released an EP, Inside And Out, and a full-length, Paint The Town, through the label. Some of the tracks are still housed at their Myspace page and scattered across YouTube for a major trip down memory lane.
His start in pop punk is no surprise given Musto was rocking Rancid tees and plaid pants in fourth grade. A self-described fan of blink-182, the rapper's babysitter expanded his horizons to bands such as New Found Glory and Alkaline Trio—even getting a tattoo of the latter's logo (as seen below).
"I was already a fan of blink-182 and [my babysitter's] like, 'If you like blink, you'll love all this,'" Musto tells Noisey. "I fucking just fell in love with Alkaline Trio and just got deeper and deeper into the subculture."
While Polaroid successfully embraced the emo trend of the late 2000s, Musto was destined for something more. The frontman soon launched a solo career under his given name.
"In the midst of my rock 'n' roll endeavors around 2008, I began to find my own story to tell not to mention my own sound of creation," Musto details on his ReverbNation. "I use my own experiences with the influence of everyday inspirations to write the lyrics you will hear in my music."
"I like to think of my art as something that's rented out and shared but will always belong to me," he continues. "I try to keep my lyrics general so everyone can relate in some way. I want to help the world become a place of acceptance and appreciation rooted by love and expression much less status and greed. I want the people to listen to my story and find peace even if it's only peace in one little area of your life."
Musto released Brightness EP under his solo moniker, garnering the attention of R&B artist Ne-Yo and in turn moving to Atlanta to study under him. He followed up the debut with Contrast EP and full-length Exposure.
He furthered his venture into the scene by teaming up with Tyler Carter (who was fronting Woe, Is Me at the time) for a moody holiday song titled "I Hate The Holidays" in 2010. Carter and Musto reunited for blackbear's Sex mixtape in 2012 ("Cars, Clothes, Calories"), a comp that also included appearances by Relient K's Matt Thiessen and Mindy White (formerly of Lydia and States).
Following his initial track with Carter, blackbear contributed vocals to Machine Gun Kelly's "End Of The Road," which appears on MGK's Lace Up mixtape and his debut album of the same name.
Musto's next move took him out of the scene and into the big leagues of the pop world. Having since moved to California and adopted his current moniker, Warped Tour alum Mike Posner heard some of the material Musto was working on. The duo (who would later form Mansionz) teamed up for their first session where they wrote "Boyfriend." The track was recorded by megastar Justin Bieber and eventually hit six-time multi-platinum status at the time of writing this article.
Since then, Musto has worked with Linkin Park ("Sorry For Now" from One More Light), Mike Shinoda, G-Eazy, Mod Sun and Hoodie Allen—just to name a few.
While Musto has spent many years tackling other artists' projects, he didn't let it detract from his own material as blackbear. The rapper released his first EP, Foreplay, under the name in 2012. Several more EPs, mixtapes and singles followed until 2015 with his debut full-length Deadroses and follow-up Help.
Blackbear signed a leasing deal with Interscope and released his third LP, digital druglord, in 2017. The rapper headed out on the road with the new album as an opener for Fall Out Boy's Mania tour, and he was "v excited" according to Twitter.
His latest, cybersex, is packed with guests including MGK, emo rapper Lil Aaron and FRND, the latter of which features Andrew Goldstein. Goldstein first graced our scene as the frontman of the now defunct the Friday Night Boys but has since taken to writing and producing for everyone from All Time Low to 5 Seconds Of Summer. The duo previously worked together on Linkin Park's One More Light and blackbear's own multi-platinum "do re mi."
Don't let Musto's current gig as a SoundCloud rapper extraordinaire fool you—he has plenty of cred in the scene. blackbear's cybersex is available now via Beartrap/Interscope records, and the rapper will be hitting the road for a string of dates in the coming months as seen below.
08/02 – Chicago, IL @ House Of Blues
08/04 – Chicago, IL @ Lollapalooza
09/23 – Las Vegas, NV @ Life Is Beautiful