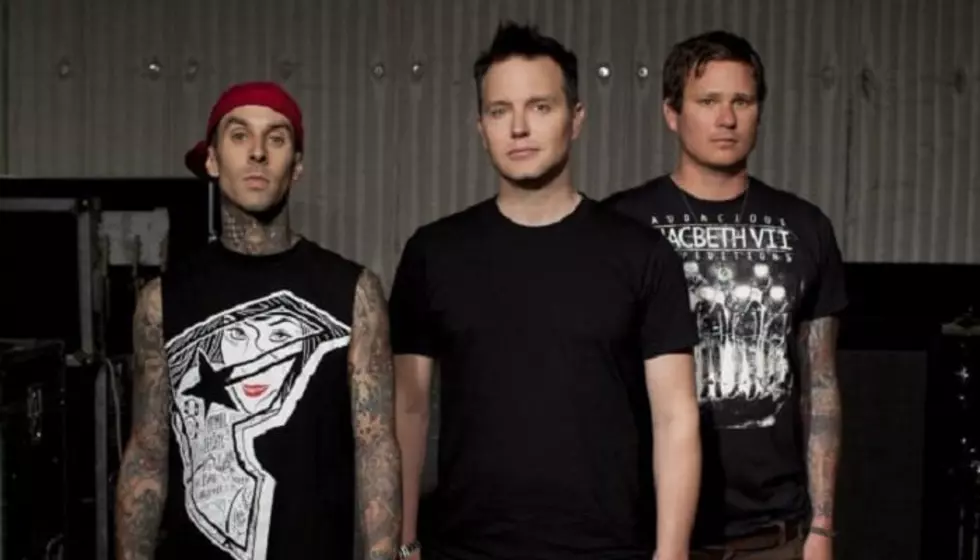 Are Travis Barker and Tom DeLonge teasing a blink-182 reunion?
Stop everything you're doing because we have blink-182 news and they involve Tom DeLonge.
Travis Barker just shared a picture of the guitarist on Twitter with a very cryptic caption... and DeLonge replied.
Ok, let's remain as calm as we can. Here's what is going on: On Wednesday, Oct. 17, Mark Hoppus unboxed his original, handwritten lyrics for the band's untitled album.
It was an emotional journey, especially since the old lyrics for "I Miss You" were among the ones he shared. Obviously, we spent the day listening to the track and trying to wrap our heads around the fact that they could have been different.
Now, we can't take the iconic chorus out of our minds. And you know who can't either?Apparently, blink-182 drummer Travis Barker. He's even sharing them in a tweet today.
"Where are youuuuuuuuuu," Barker writes.
But there's more because he also attached a picture of former blink-182 guitarist/vocalist Tom DeLonge.
Is Barker teasing something? Or is it just the drummer making fun of his old band mate? We never know with blink, and we need answers.
The really long and complicated story of DeLonge's departure of blink-182 is well-documented. After a lot of back and forth, Hoppus and Barker announced Alkaline Trio's Matt Skiba was joining the band. Since then, the band went on a number of tours and released an album, 2016's California.
However, DeLonge kept promising a blink-182 comeback over the years. In December 2017, the musician teased his return to the band, saying Barker contacted him for an interview and clarified that "yes Blinkies, we also talked a bit about other stuff."
Not long after, Barker posted a picture that got people thinking he was in the studio with the guitarist. The image showed Tom DeLonge's signature guitar, an ES-333.
Nothing else was said after and blink-182 are currently working on the successor of California with Skiba.
Where are you? And I'm so sorry...
Some took the opportunity to continuing the lyrics, including DeLonge himself.
So, is DeLonge getting back together with blink or is this all a joke to keep fans on their toes? The question remains unanswered... and we continue to freak out.