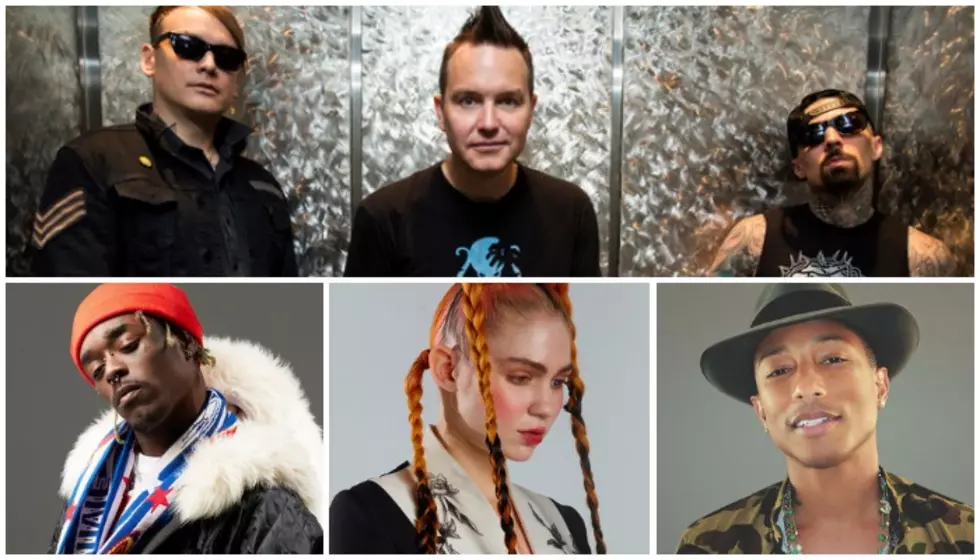 blink-182's next album has collabs with Grimes, Lil Uzi Vert and Pharrell
[Photos via blink-182/Spotify, Lil Uzi Vert/Spotify, Grimes/Spotify, Pharrell/Spotify]
It looks like we are a bit closer to finally hearing blink-182's next album.
This past week, Travis Barker offered an update on just how far away the trio is from finishing their new album. As well, the drummer confirmed their upcoming LP features surprise collabs with Grimes, Lil Uzi Vert and Pharrell Williams.
All the way back in May 2020, Mark Hoppus confirmed that blink-182 had begun working on their NINE follow-up. Then, in July, Barker said that their recent song "Quarantine" is part of an upcoming EP they initially planned to release in 2020.
However, after the debut of "Quarantine" in August, it seemed as though blink-182's upcoming EP was facing delays. Shortly after the pandemic-inspired single's debut, Hoppus confirmed that blink-182 were still working on their new EP with producer John Feldmann.
Then, in November, Hoppus gave another update on the forthcoming EP. During a Twitch stream, he said that new music is expected to arrive sometime in early 2021. As well, he teased that blink-182 may have enough material to turn the EP into a full-length album.
More recently, Travis Barker seemingly confirmed that blink-182's next release is truly a full-length album after all. Now, the drummer has revealed that the trio is close to finishing their next LP.
During a recent interview with the Rock This podcast with Allison Hagendorf, Barker confirmed that the NINE follow-up is "60 percent done." Currently, blink-182 are "slowly finishing up" the release and hope to put it out sometime this year.
Along with the progress update, Barker also explained that the new album features surprise collabs with Grimes, Lil Uzi Vert and Pharrell.
"There's like a song with Grimes right now that's really, really cool that I love," he says. "There's a song with Uzi that's really, really cool that we did with Pharrell."
For the Lil Uzi Vert collab, Barker says that the new song isn't what fans may be expecting.
"I mean, it's not like Blink's making a rap song or anything," Barker continues. "It's like bringing Uzi over to our world. So it's more of a punk kind of like reggae feeling song. I don't think Blink will ever be anything but a pop-punk band. I mean, that's who we are. And I feel like our fans have kind of journeyed with us when we've done songs like 'Miss You' or ballads like 'Adam's Song.' But, like, we're never going to veer too far off from what we are – like, I'm like a punk kid at heart, you know what I mean? Whether it's like pop-punk with Blink or whatever with [Machine Gun Kelly] or whatever with Trippie [Redd], that's where my heart's at. Like, I was raised on rap music and punk rock music. It's kind of all I know."
Currently, the upcoming album's official title and release date are unknown. However, back in October, Matt Skiba dished some exclusive details about blink-182's new music. On social media, Skiba revealed that the band's new material reminds him of the Enema Of The State and Take Off Your Pants and Jacket eras.
As well, it's also unknown if blink-182's unreleased collab with Juice WRLD may appear on this new album. Initially, the collab was going to appear on NINE. However, Barker confirmed last summer that he's unsure which project the track may appear on.
"There's a Blink/Juice collaboration that hasn't come out yet but it's about to. I think it'll come out on a Blink project," Barker said. "We just got in and did that song together. It didn't make the last album, but I think it's going to live on in a couple of other places. It's amazing. I'm just thankful that there's more Juice music coming out."
What are your reactions to blink-182's collabs on their new album? Let us know in the comments below.