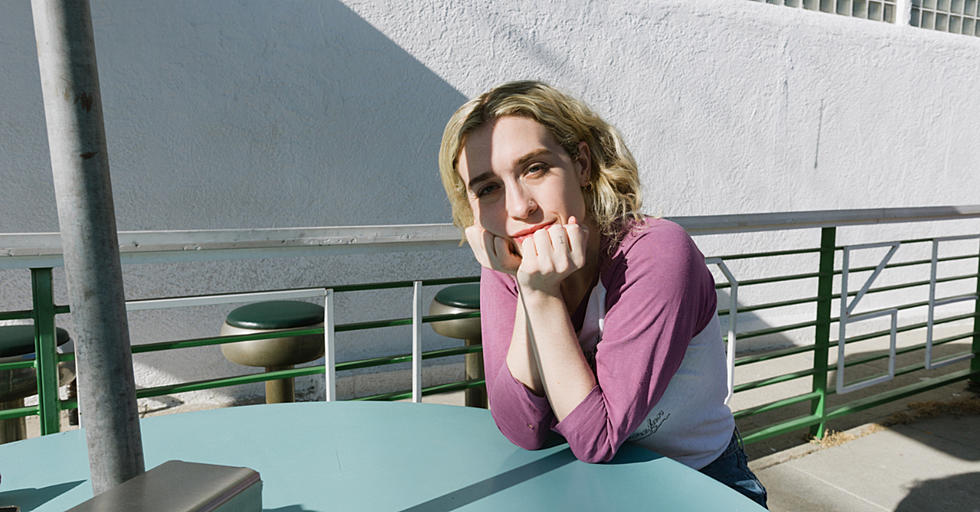 Blondshell brings the thrill and rage of the '90s back to life
[Photo by Daniel Topete]
Sabrina Teitelbaum once thought Cocteau Twins' Heaven or Las Vegas was sung in French.
She was 17 when she untangled the words from the reverb, by that point drifting in and out of record shops across New York City and getting pulled into the world of MTV. When it came to creating her own vulnerable music as Blondshell, she feared that her lyrics — caustic tales of female desire, doomed romance and reckless living that would later turn her toward sobriety — would suffer the same fate, becoming strangled by the enormity of her searing alt-rock. Instead, the instrumentation swells alongside her vocals. The drums throb during the bridge of "Joiner"; the chugging guitars erupt into a squall of noise at the chorus of "Veronica Mars."
Read more: Say hello to Hello Mary, New York's rising alt-rock trio
"For me, the lyrics are always the most important thing. I think I was initially worried that people would just hear a wall of sound and not be able to focus on what I'm saying," she says over the phone from Colorado on the morning of her first show opening for Suki Waterhouse. "But I don't feel that way anymore. I don't have any fears about that [now]."
Through a series of frank and charismatic singles released over the last year, Teitelbaum has made an introduction that's completely spellbinding while evoking a bygone era. Put simply, Blondshell's debut self-titled album (out April 7 via Partisan Records) feels like it should come out on cassette rather than DSPs. It's a record lifted straight from the golden heyday of '90s alt-rock, when explosive guitars, throat-catching lyrics and the desire to be the next Nirvana dominated the culture. But she's not Cobain making hair metal obsolete as much as she's trying to reach catharsis by examining her past with a wry retrospection and finding a better way forward. (Besides, not every burgeoning artist can sing lines with the nonchalance of "Just look me in the eye when I'm about to finish.")
That lyric, from the 2022 single "Kiss City," signals the beginning of a slow burn that explodes into a thrilling showstopper. "I didn't want to put out 'Kiss City' because I didn't want my family to hear me sing about sex," Teitelbaum admits. Her nerves were consuming enough that she considered blocking them on social media entirely, but they heard the song anyway. "It just doesn't really get worse than that. So, I'm not scared for anything else to come out."
Teitelbaum's quiet call for intimacy transforming into a transcendent chorus, one that she belts out at the top of her lungs, is an alluring part of Blondshell's sound. Its strength lies in quiet-loud dynamics, maintaining a hushed verse and then unleashing shards of noise at the hook. While tons of bands have used this shift in sound to add depth to their music (think Led Zeppelin, Wire and Hüsker Dü), none perfected it like Pixies — Teitelbaum's favorite band in high school. Naturally, the dynamic that persists across the album is quite intentional on her part. Because even when you're not creating noise, you're still saying something. Though she was listening to a lot of Pixies, as well as Hole's Live Through This and the Smashing Pumpkins' Siamese Dream, throughout the record's creation, she and producer Yves Rothman (Girlpool, Yves Tumor) referenced the Nirvana cut "You Know You're Right" for the specific quiet-loud dynamic that they were trying to achieve, which spikes in intensity.
And while she sings about dating throughout many of her songs — the toxic lover who sweats out drugs with her in "Olympus," the "dick" she's told her therapist about in "Sepsis" — brewing below the surface is a whole lot of rage. "These songs are about more than [relationships]. That was just a really good channel for that anger because everything got funneled into that," Teitelbaum says. Rothman was her champion, encouraging her to pursue a different path when she brought forward an acoustic song that abandoned the alt-pop of a previous project, as well as urging her to continue writing. "He helped me find the motivation to make a whole album. I feel lucky to work with him," she says.
In all fairness, she didn't know her tracks would become a rock album when she wrote them. In working with Rothman, the pair unfurled ideas that were "right for the songs," like adding guitar solos and live drums. Soon, they were recording them at Sunset Sound in Los Angeles for four or five days; later, they pieced the album together at Rothman's house for about four months toward the end of 2021. "When you are starting out, I think people usually do a couple of EPs, so I was like, 'Why would I possibly put an album out if I haven't put any of these songs out?' And he was like, 'Why not?' I think his confidence in it gave me more confidence."
That sense of self-assuredness is heard in Teitelbaum's songwriting, which echoes the women who built their own legacy by making space for themselves in '90s alternative music: the piercing wit of Fiona Apple, the ferocity of Courtney Love, the radical spunk of Kathleen Hanna. It was important for her to tell those types of undiluted stories without sparing herself or her embarrassment. "When we don't talk about those things, they're a lot more painful," she says. Teitelbaum recalls when she was growing up in the 2000s, diet culture was everywhere (and something she admits buying into). It's only when she attended college years later that she realized she wasn't alone; it's something many people were "pissed about and had the right to be pissed about."
She used that anger to propel her work, remaining fascinated by the messages from those singer-songwriters in the '90s. "I think there was an 'I'm not taking any shit' policy from [the] women in that era," she explains. Undoubtedly, her own songs share DNA with Apple's "A Mistake" or PJ Harvey's "Dry," in the best of ways. "It was a lot of 'I deserve better' kind of messaging, and that's something that comes up in my music a lot."
When asked if she thinks women are more powerful when they're angry, Teitelbaum deploys a considered response. "I just think people, in general, are more powerful when they're being honest with their emotions," she suggests. For her, that was exploring feelings she had never spoken about before throughout the making of the record and coming out the other end beaming confidence, reveling in the euphoric glow of catharsis. "When people are expressing their real emotions, [they] have their power."
Blondshell appears in Alternative Press' spring 2023 issue. Grab a copy here or below.