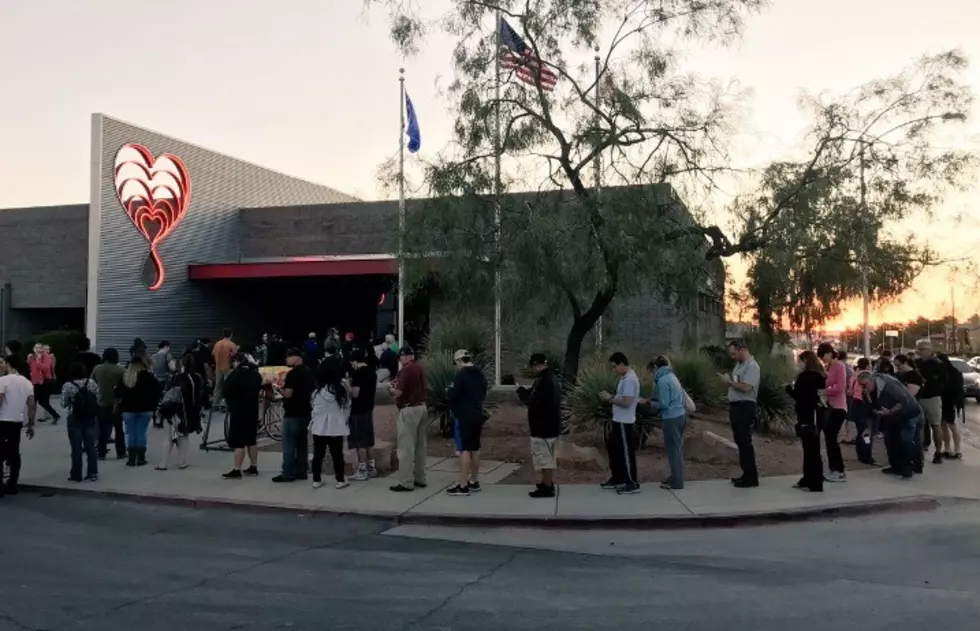 Hundreds of people line up to donate blood following Las Vegas mass shooting
[Photo by: @LasVegas51s/Twitter]
In the wake of the tragic mass shooting that occurred last night, Las Vegas residents are lining up en masse to donate blood for the victims. 
As previously reported, last night a single shooter opened fire from the 32nd floor of Las Vegas' Mandalay Bay Resort and Casino at 10:08 p.m. as country singer Jason Aldean headlined outside at the Route 91 Harvest Festival, reports say. Fifty-eight people were killed and more than 500 injured. During a press conference, Sheriff Joe Lombardo said they believed the suspect, 64-year-old Stephen Paddock, killed himself prior to the police's entry.
As the investigation unfolded, the Las Vegas Metropolitan Police Department tweeted out that the city was in need of blood donations for the victims. 
In their press release, the LVMPD announced that there would be various blood drives through United Blood Services at 6930 W. Charleston in Las Vegas, 601 Whitney Ranch Drive in Henderson and UMC's Delta Point Building located at 901 N. Rancho Lane starting at 7 a.m.
This morning, the people of Las Vegas are coming out in droves to support the victims and donate blood. 
Evidently, lines have been out the door all night as citizens waited for the centers to open. 
It is amazing to see the citizens of Las Vegas coming out in such numbers to help. If you are in the area and would like to donate, below are some more blood drive locations. 
For those not in the area but would still like to support, Clark County Commission Chair Steve Sisolak announced a Gofundme, with funds to be used to provide relief and financial support to the victims and families of the shooting​.
Again, this story is still developing, so check back at our original post for more updates as they become available.