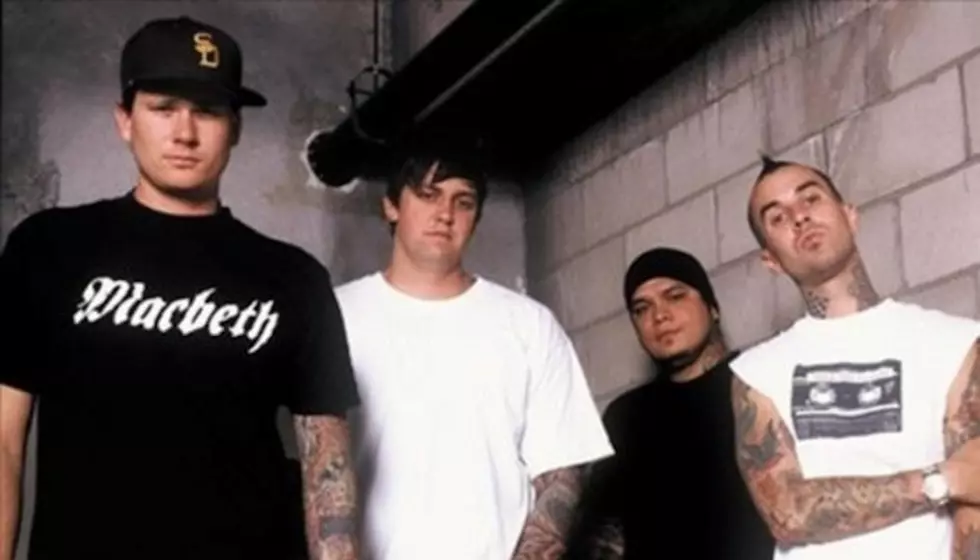 Box Car Racer have an unreleased song, but you may never hear it
[Photo via Spotify]
Travis Barker is spilling a lot of blink-182 and Box Car Racer secrets. Not only did the drummer announce that fans are getting a new blink-182 EP "really soon," but he also shares that not all of Box Car Racer's material has been released.
In a new interview, Barker shares that he and Tom DeLonge's side project Box Car Racer have a song that was never released. However, Barker's not sure anyone will ever hear it.
On Friday, Barker took part in an MTV interview with jxdn. During the interview, he talked all about new blink-182 music, an upcoming Juice WRLD collab and even Box Car Racer.
During the interview, Barker was asked about a possible blink-182 reunion with DeLonge. In May, DeLonge said that a reunion will happen at some point, sparking rumors that it could happen very soon.
Although Barker says he is unsure about a blink-182 reunion with DeLonge, he does spill a massive Box Car Racer secret. The band have an unheard song that was almost released. However, Barker feels like the track's release would just get fans hopes up for even more Box Car Racer music in the future.
"Nothing yet," Barker says on the reunion. "But I talk to Tom all the time. There's actually an unreleased Box Car [Racer] song that we were almost going to release, but it would just be wrong to troll people and put that out in the world. But, it's incredible and probably no one will ever hear it."
Along with the massive Box Car Racer news, Barker also shares that blink-182 have a new EP on the way. Mark Hoppus revealed in May that the band are working on their follow-up to 2019's NINE. Now, it appears that new music is arriving sooner than anticipated.
"We're wrapping up what we think will be an EP that hopefully will be out by the end of summer," Barker says.
Barker also reveals a few details regarding their upcoming song "Quarantine" which was written amid the coronavirus pandemic. Barker says that the song will be a favorite amongst fans.
"That's going to come out really soon which is super awesome," he says. "It will be a blink favorite or a fan favorite. It's incredible."
As well, blink-182 have a Juice WRLD collaboration on the way. The late rapper passed away suddenly in December 2019. Since his passing, various posthumous music has been released in his honor. His latest record Legends Never Die arrived on July 14 and his collab with Halsey "Life's A Mess" was released earlier this month.
Barker says that their collab with the rapper didn't make it on their last album. Despite this, the song will likely be released through a blink-182 project.
"There's a Blink/Juice collaboration that hasn't come out yet but it's about to. I think it'll come out on a Blink project," he says."We just got in and did that song together. It didn't make the last album, but I think it's going to live on in a couple of other places. It's amazing. I'm just thankful that there's more Juice music coming out."
Travis Barker's full interview with MTV is available to watch below.
Do you want to hear more Box Car Racer music? Let us know your thoughts in the comments below.