Breaking Bad Ask Me Anything segment on Reddit
Breaking Bad's Bryan Cranston recently did an AMA [Ask Me Anything] segment on the website Reddit. During AMA, users ask the star, who is listed under a specific username for the segment, anything they want. Here's a photo of Cranston [better known as Walter White in the show] we pulled from his Twitter during the segment: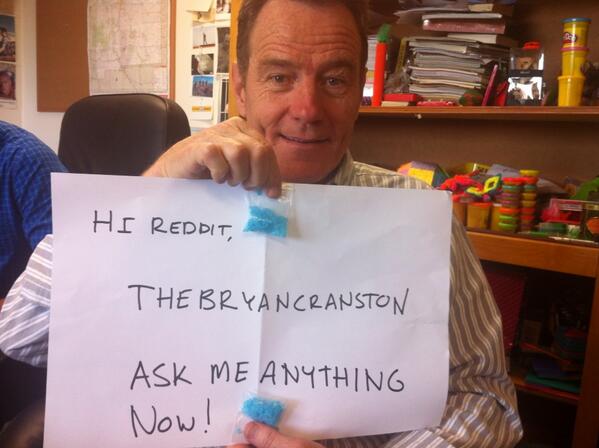 Here are some of the top questions from the hour with Cranston's answers:
What is your all time favorite movie, TV show, and food?
"All-time favorite tv show is Breaking Bad, I don't know if you guys have heard of it before. When you say the Godfather, everybody says "oh the Godfather", but it was really remarkable. I loved the Andy Griffith show for its simplicity and warmth, but I also love Louis for its sardonic humor. My favorite food is typically what I am eating at the time. But if I had to chose one, I'd have to go Italian. How can you not love pasta?"
Have you ever pranked Aaron Paul [Jesse Pinkman] on set? For some reason I think that he'd be super gullible.
"Oh yeah, many times. There was one episode when where someone was giving us a problem and I told him to take care of it and he didn't know specifically what I meant by it. I said "I need you to take care of it" and I reached into my waistband and pulled out a gun and put it on the counter. He understood the message. Then during the scene where I said "I need you to take care of it" I reached into my waistband and pulled out a dildo."
Who would win a bar fight: Frankie Muniz or Aaron Paul?
"Hahaha. The woman who would throw them both out of the bar."
What is the most inspirational thing that has ever happened to you?
Well the first thing that comes to mind is the birth of my child. If nothing inspires you to be a better person than to be a father, I don't know what would. And then I'd kill her with a crane... I'm on a crane kick right now. I like to see things (mostly people) get killed by cranes.
Did working on Breaking Bad inspire you to become a drug kingpin, like it did with me?
"As long as you stay of my territory, well be fine."
Apparently, Cranston liked the AMA experience so much he sent the top five commenters "blue ice," which for all you non-Breaking Bad-ders out there, is fake meth used on the show. He also posted a video about his favorite AMA moments, check it out below:
The final episodes of Breaking Bad will begin on August 11 on AMC.