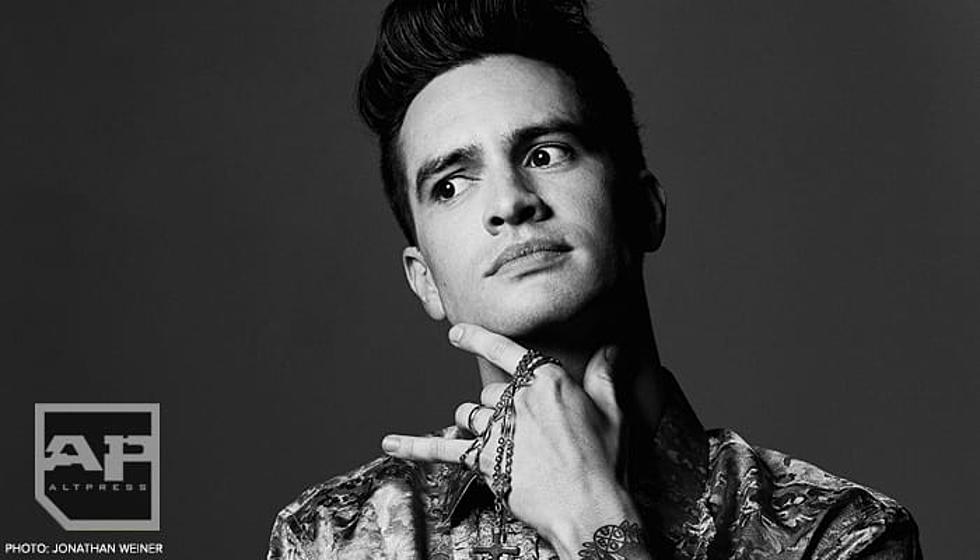 Brendon Urie reveals pick for dream country crossover collab
[Photo by: Jonathan Weiner]
Panic! At The Disco frontman Brendon Urie has revealed who he wants to collaborate next after just releasing his huge song "ME!" with Taylor Swift.
Urie has been in the spotlight after his Swift collab, with some people having some pretty hilarious reactions to the video.
The collab was such a hit, it's not surprise he's got his sights on another huge mashup. This time though, he wants to work with country star Kacey Musgraves.
Urie unveiled the information in a Q&A video with Ask Anything on YouTube.
He was asked who he'd want to team up with on a CMT Crossroads episode. 
"First name that comes to mind is Kacey Musgraves," Urie said. "I'm a huge Kacey Musgraves fan."
"We went to a Clive Davis party a year back or two and sat at the same table — the same table as Kacey and Maren Morris," he said. "But I remember just sitting across from Kacey and me and my wife were losing it, you know?"
"I'm just a huge fan of her voice, her songwriting style," he continued. "I think that would be really fun to do."
Musgraves has had her sights set on one of our favorite artists recently, saying she wants to collab with Billie Eilish. Between Musgraves' recent Album Of The Year Grammy win and Eilish's breakthrough debut album, the two have respectively acquired impressive followings.
In other Musgraves-related news, the country singer recently defended the scene kids yet again. In a tweet, Musgraves shared that she, too, once tried to gauge her ears.  
Musgraves also recently showed
her love for the scene
when she performed with
Paramore
's Hayley Williams to the song "Girls Just Want To Have Fun."
Also, as previously stated, Urie dropped his collab with Swift "ME!" on Friday and it has since been on repeat for us.
To backtrack, prior to the drop, Swifties had been grasping at every and any clue since the singer's iHeartRadio Music Awards speech sparked theories in March. Swift took to the stage to accept for Tour of the Year, thanking her fans and ending with, "I just wanted to let you know that when there's new music, you will be the first to know."
Since the awards show, Swift has maintained a heavy pastel and butterfly-inspired theme, starting with the insect adorning her shoes. She also rocked a new pink-dipped hairstyle, which many began speculating was courtesy of friend Hayley Williams' own Good Dye Young. The new era is a total 180 from the hardcore black-and-white, snake-driven aesthetic of Reputation.
After that, she finally broke her silence with a countdown clock on her website, which ended at midnight EST April 26. She then shared new on her Instagram story that new music was coming.
Then, she headed to the 2019 NFL Draft. Once there, she revealed what fans had been guessing, which is Urie joined her for the new track and video dropping at midnight EST.
In case you haven't seen it, check out the pastel-filled video for "ME!" below.
The two are set to open the Billboard Music Awards with the song, which Panic! At The Disco will also perform at later in the evening. It'll be the first time the band ever performed at the awards show.
The band is also up for four awards that night, including Best Rock Song with "High Hopes." They will also be going against twenty one pilots, Dave Matthews Band, Mumford & Sons and Imagine Dragons for Best Rock Album.
The awards show will be held at MGM Garden Arena in Las Vegas May 1, and it will air live at 8 p.m. ET on NBC.
What do you think of Brendon Urie wanting to collab with country star Kacey Musgraves? Sound off in the comments below!
[envira-gallery id="194483"]