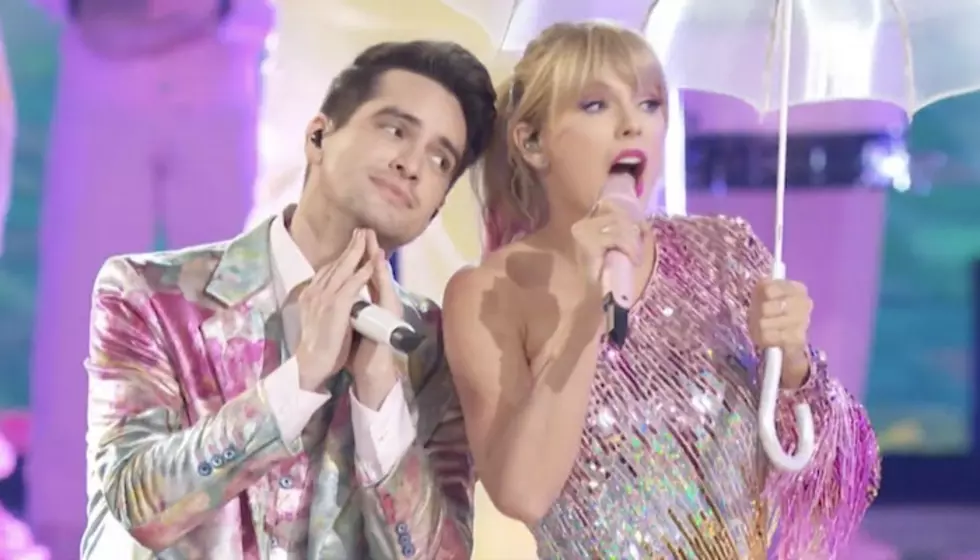 Brendon Urie appears in first trailer for Taylor Swift Netflix documentary
[Photo via YouTube/NBC]
Brendon Urie of Panic! At The Disco will be making an appearance in Taylor Swift's new Netflix documentary Miss Americana.
The musicians previously worked together on their energetic collaboration "ME!"
"'ME!' is a song about embracing your individuality and really celebrating it and owning it," Swift explains. "With a pop song, we have the ability to get a melody stuck in people's heads, and I just want it to be one that makes them feel better about themselves."
Check out the music video below.
Panic! responded to the announcement with a tweet of their own which had the timestamp where Urie makes his appearance.
In the trailer, Urie and Swift are seen together going over the lyrics for "ME!"
Titled Miss Americana, the documentary follows Swift's struggles and joys over the course of several years.
Check out the full trailer to Miss Americana below.
The film drops in select theaters and on the streaming service Jan 31.
More on Brendon Urie
Brendon Urie recently opened Notes For Notes, a new music studio aimed to help young people create music, at the Boys and Girls Club in Henderson, Nevada.
The studio was also made possible with a $500,000 donation from State Farm, who Urie began partnering with in 2018 during the companies Neighborhood Of Good campaign.
The Panic! At The Disco frontman became a mentor at the Boys & Girls Club to influence kids and help them build confidence to follow their dreams.
Now, the singer opened a new studio at the Boys and Girls Club in Henderson to further help students develop their craft.
"I can tell you right now, if I had these tools at your age, the band would have taken off when I was 12." Urie tells Las Vegas KTNV. "You're probably going to get a sped-up version of what I got."
Andy Bischel, CEO of the Boys and Girls Club of Southern Nevada says they're sure the studio will have a positive impact on their students.
"We know if they spend time with us, great outcomes happen," he says. "So that music component is really powerful."
The organization will hopefully have the studio open within the coming month as soon as they hire teachers.
Will you be be seeing Brendon Urie in Taylor Swift's Miss Americana documentary on Netflix? Let us know in the comments below!