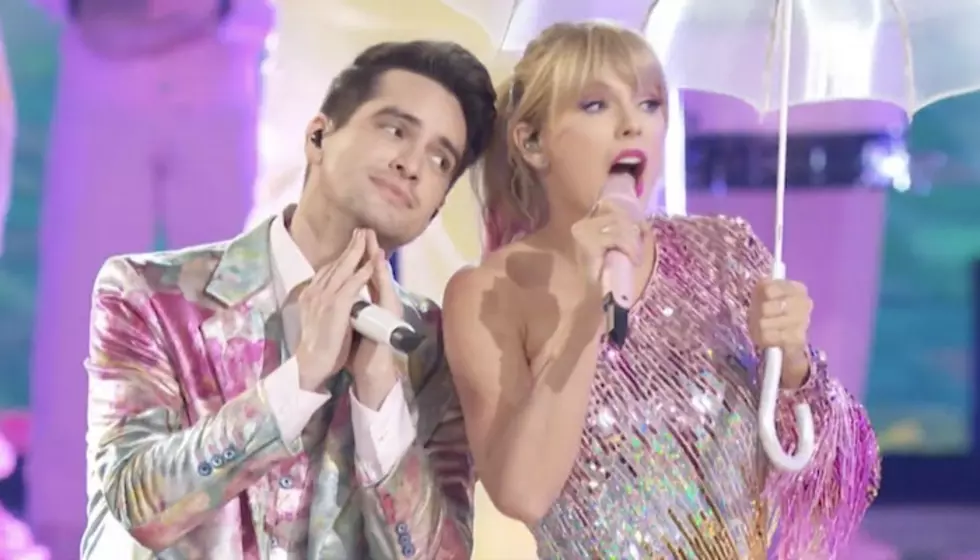 Brendon Urie floats in for Taylor Swift collab live debut at BBMAs
[Photo via YouTube/NBC]
Taylor Swift and Brendon Urie of Panic! At The Disco joined forces on the Billboard Music Awards stage to perform their collab "ME!" for the first time.
Their performance was pastel-filled, much like the music video, was complete with a full marching band on stage.
Urie made his grand entrance on the stage by flying in on an umbrella. He sported a pastel-silk suit and some hot pink boots that matched Swift's sparkly get up perfectly.
They did a bit or coordinated dancing, and it was pretty much everything we ever wanted.
You can see a clip of their performance below.
Earlier today, the pair shared a vertical music video for the song which featured them rehearsing for the big performance.
As far as the first music video for the song, the duo absolutely shattered all records. You can see that video below.
Urie will be performing with P!ATD tonight as well, for the first time ever.
The band is also up for four awards that night, including Best Rock Song with "High Hopes." They will also be going against twenty one pilots, Dave Matthews Band, Mumford & Sons and Imagine Dragons for Best Rock Album.
You can check out the full list of BBMAs winners here.
More on Taylor Swift and Brendon Urie
Urie has been in the spotlight after his Swift collab, with some people having some pretty hilarious reactions to the video.
To backtrack, prior to the drop, Swifties had been grasping at every and any clue since the singer's iHeartRadio Music Awards speech sparked theories in March. Swift took to the stage to accept for Tour of the Year, thanking her fans and ending with, "I just wanted to let you know that when there's new music, you will be the first to know."
Since the awards show, Swift has maintained a heavy pastel and butterfly-inspired theme, starting with the insect adorning her shoes. She also rocked a new pink-dipped hairstyle, which many began speculating was courtesy of friend Hayley Williams' own Good Dye Young. The new era is a total 180 from the hardcore black-and-white, snake-driven aesthetic of Reputation.
After that, she finally broke her silence with a countdown clock on her website, which ended at midnight EST April 26. She then shared new on her Instagram story that new music was coming.
Then, she headed to the 2019 NFL Draft. Once there, she revealed what fans had been guessing, which is Urie joined her for the new track and video dropping at midnight EST.
What did you think of the first "ME!" performance? Sound off in the comments below!
[envira-gallery id="186695"]