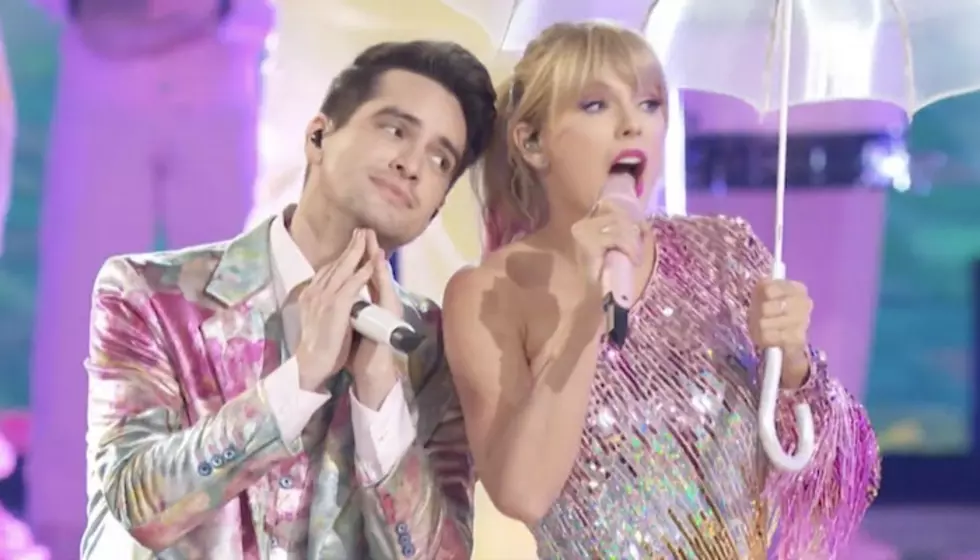 Brendon Urie weighs in on "toxic industry" amid Taylor Swift masters sale
[Photo via YouTube/NBC]
Panic! At The Disco frontman Brendon Urie has come out to support fellow artist and collaborator Taylor Swift about her recent issues involving master recordings. 
Earlier this week, Swift released a statement in regards to Scooter Braun acquiring her Big Machine catalog, sparking a massive #WeStandWithTaylor movement online.
Big Machine Label Group, originally owned by Scott Borchetta, revealed the news that Braun's Ithaca Holdings agreed to acquire the label which included Swift's entire catalog she released through BMLG. The back catalog Braun has now acquired from Swift includes her self-titled album, Fearless, Speak Now, Red, 1989 and Reputation.
Swift released a statement via Tumblr stating she learned about the news along with the rest of the world. However, a source told Billboard that Swift's camp knew about the acquisition since Tuesday when Big Machine had a shareholder meeting to discuss the deal.
The source does not state if the deal had already been finalized when Swift's team was allegedly notified.
Scott Swift, Taylor's father, owns about a 4% stake in Big Machine. However, Braun is reportedly buying out his share as well as other shares from minority shareholders.
Swift's statement discusses the "manipulative bullying" she received at Braun's hand for years, calling his acquisition of her masters her "worst case scenario."
You can read Swift's full statement below.
Following the news, many fans and artists came out in support of Swift, including Halsey. 
"Taylor Swift is a huge reason why I always insisted to write my own music. I believed if she did it (in a way that made my teeth ache like cold water and my heart swell and my eyes leak) [then] I should too. Cause that's how to make someone feel. To drag it from the pits of your heart. To offer it on a platter and say 'take some but take it kindly.'
She deserves to own the painstaking labor of her heart. She has surpassed all expectations of what any artist is even capable of. She catapulted her stardom into the Milky Way. And it turns my guts that no matter how much power or success a woman has in this life, you are still susceptible to someone coming along and making you feel powerless out of spite. It speaks volumes to how far we have to come in the music industry—the way writers are treated—[and] how as an entertainer you are respected but as a writer you're walked all over even when you are both in one single body.
I am standing with her."
Now, Urie has also shown his support on
his Twitch account. 
"It just broke my heart," Urie. "I read Taylor's statement and I was like 'Sounds about right.' You know? Toxic dudes doing toxic bullshit in this toxic industry," Urie said. 
Urie and Swift collaborated earlier this year on the smash hit "ME!" You can listen to that song and see the colorful music video below.
What do you think about Brendon Urie making a statement about Taylor Swift? Sound off in the comments down below!
[envira-gallery id="186695"]