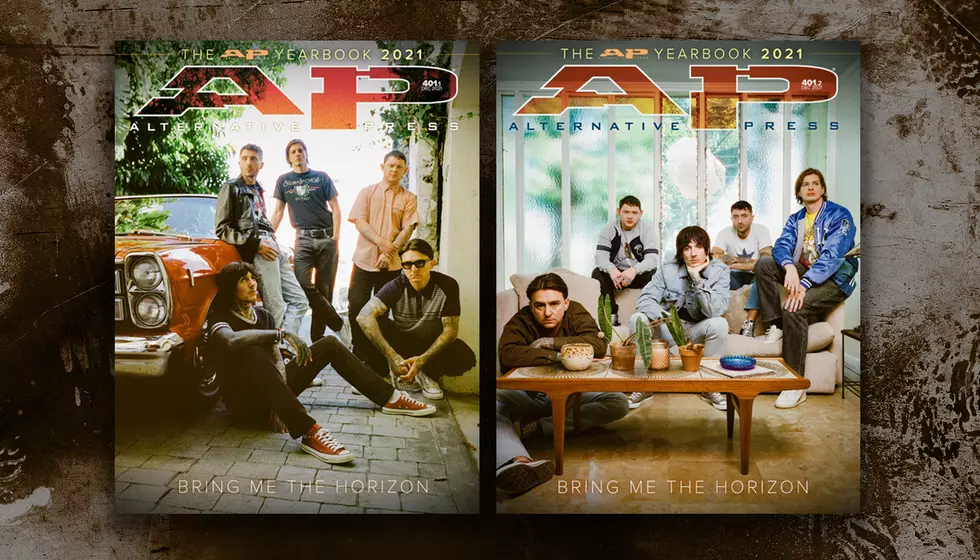 Bring Me The Horizon look back on biggest year ever in AP Yearbook (#401)
[Photo by Pooneh Ghana]
The arrival of December signals that 2021 is quickly coming to an end. Winter looms, and we collectively anticipate a new year, with all of the possibilities offered by the final turning of the calendar page.
Even so, we're still savoring the here and now, and it's not quite time to forget what this year has meant. Alternative Press is thinking back to some of our favorite moments, for ourselves and for the music community at large. In spite of all the hardships, music has remained a powerful source of hope and vitality when we've needed it most.
Enter issue #401, which looks back on the high points and the hardships of 2021. In our issue, we connected with some of the artists who had standout years, both personally and professionally. We asked them to revisit their biggest releases and other accomplishments. In the process, we give a deeper exploration on the triumphs, the setbacks and the personal journeys that made this year a significant moment in music.
Leading off the issue are returning cover stars Bring Me The Horizon. Frontman Oli Sykes and keyboardist Jordan Fish connected with James Hickie to chronicle the year that was 2021. During the conversation, the bandmates offered a sweeping meditation on their accomplishments as well as their vision for the future. Sykes and Fish spoke about everything from building connections with metal legends Slipknot and their genre-transcending sound to how the social conditions of our world are leading them to reframe their goals as artists.
Sykes in particular offered up his own perspectives on why environmental issues, social media obsessions and political uncertainties provide a new perspective for Bring Me To The Horizon.
"People seem to forget that this is the way things are going to be from now on," Sykes says. "England's going to be a subtropical country in the not-too-distant future, and the unbearable heat is going to mean we all need air conditioning units, which will only contribute to the problem. There are going to be flash floods every year. If we didn't laugh, we'd cry.
"It finally felt like I had something bigger to write about," he continues. "It wasn't about me as much as it was about the planet, the world and society. But at the same time, how it's affected us on a personal level."
Fish also zeroed in on changes for the band. He focused on the way BMTH's POST HUMAN: SURVIVAL HORROR represented a fulfillment of their mission to forge their own artistic path.
"We wanted to make a nü-metal-inspired album with a modern twist," he explains of a mission that he believes took the band full circle. "We've been through ups and downs in every sense...We've had albums that were really well received [critically] and didn't do so well [commercially], and we've had albums that weren't so [well] received [critically] and did really well [commercially]. It's just the right time now...We've been through lots of phases. We've almost been ashamed of what we really are [musically], by picking awkward support arts for [touring] bills or choosing artwork that you wouldn't expect to see from rock bands.
"We've always tried to do everything differently, from production styles to song names to lyric choices," he adds. "It's all been to separate ourselves from the world that we've come from, and it's helped us become an entirely different prospect, but now we're comfortable with doing a dumb breakdown if we want to."
Also in this issue:
But that's not all. The issue is jam-packed with interviews from longtime AP faves and rising artists, including Josh Katz of Badflower, Maggie Lindemann, blackbear and Ice Nine Kills. We also feature Dana Dentata, HEALTH, DE'WAYNE, K.Flay, chloe moriondo and many other musicians who turned 2021 into a year to remember.
Check out the whole AP Yearbook (#402) over at our store!