10 times we should've seen Bring Me The Horizon's heavy return coming
Bring Me The Horizon began their career on the dark side of the spectrum. While that section of their story has been put behind them on their last three albums, "Parasite Eve" and teasers from the band suggest that the U.K. metalcore bruisers' heavy roots are back with a vengeance. But shouldn't we have seen this coming by now?
A band founded in ingenuity and originality, their path toward exploring their talents has been an unpredictable one. However, there have been moments along the way that prove their dark side has always been there. From clever album titles to sneaky hints of frontman Oli Sykes' vocal cord-destroying uncleans, the recent chapters of their history are loaded with signs that suggest it was always BMTH's intention to return to their heavy upbringing.
10. Sempiternal's title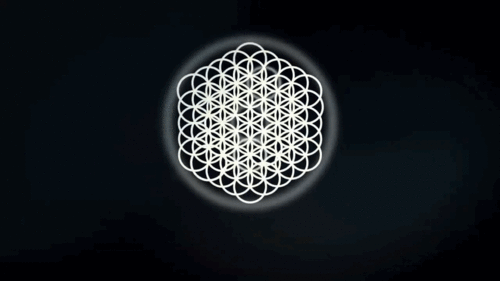 We can dig through their back catalog with a magnifying glass, but there's one very obvious clue that's been staring us in the face the whole time. Sempiternal, the band's fourth album and regarded as their most iconic era, owes its name to the archaic Latin word "sempiternus," meaning "everlasting time" or "unchanging." Were the Bring Me boys trying to hint all along that they'd be heading back to the dark side someday? Were fans supposed to assume the Sempiternal era would last forever? Whichever way you think it was intended, they knew how to make a complex statement in 2013.
9. "Ludens"
A single produced for the Death Stranding: Timefall video game soundtrack, "Ludens" is a perfect storm of every BMTH era combined. It gives off the synth vibes of amo, the singalong lyrics of That's The Spirit, the devastating breakdowns of Sempiternal and occasional fleeting glimpses of the unbridled brutality of There Is A Hell. All-encompassing as if it's a guided tour of the band's colorful history, "Ludens" gave an unexpected flashback to their pre-Sempiternal past while celebrating their evolutions. Was this little-celebrated single a sign of a heavy return? Only time will tell. 
8. "Doomed"
From That's The Spirit's first moment, Bring Me The Horizon were already throwing it back to their heavy heritage. At the heart of opener "Doomed" lies a nostalgic show of Sykes' There Is A Hell-era uncleans, a morose grinding riff and iconic metalcore atmospherics that wouldn't look out of place on Sempiternal. Despite becoming the introduction to a new era for BMTH, "Doomed" stands as a shape-shifter that could fit into any chapter of their varied back catalog. It also serves as a landmark in metalcore history, detailing the exact moment where surreal, immersive soundbites became big business in the scene.
7. "Drown"
BMTH used "Drown" to introduce us to the era of That's The Spirit. Clinging onto a Suicide Season-esque, raw-edged sound and despairing, demoralized lyrics, the huge production surrounding this 2014 icon kept their heaviness center stage throughout their evolution. In its accompanying video, the band are battling physical changes while trying to maintain a professional performance. A commentary on the Spirit stage of their career? A revelation that drummer Mat Nicholls is, in fact, a werewolf? You be the judge.
6. "Antivist"
The organized chaos of "Antivist" captured the raw, vitriolic essence of Suicide Season, using the maturity BMTH had gained by the time Sempiternal made its appearance. Wielding a blistering pace combined with Sykes' unfettered uncleans making a dominant comeback to center stage, there's no ignoring this tribute to their heavy nature. Serving as a no-holds-barred tea spill to their critics, "Antivist" kept the spirit of early Bring Me alive by spitting its constructive venom through some of their most brutal lyrics to date: "Oh, give me a break, you deluded, ill-informed, self-serving prick/If you really believe in the words that you preach/Get off your screens and onto the streets."
5. "Throne"
Just as it seemed like all semblance of heaviness was lost in the throes of the neon That's The Spirit, "Throne" threw a Sempiternal-shaped lifeline. Packed with a classic aggressive vibe and a melody reminiscent of "Crooked Young," the surreal, tech-y edge to this track is the only hint that this song doesn't belong on their fifth album. Its defiance and commanding drum performance outgrows the Spirit generation, and its mind-bending, Game Of Thrones-esque video makes "Throne" another obvious hint that their dark side would return eventually.
4. "Shadow Moses"
"THIS. IS. SEMPITERNAL!" We couldn't discuss BMTH's heavy past without hearing that iconic scream from "Shadow Moses." Sempiternal's rousing show of Sykes' early screaming mastery was a bold statement of heavy intent fused with fresh atmospherics. Characteristic of their fourth album's anthemic showstoppers, "Shadow Moses" stands up and demands to be heard as loud as its predecessors, such as "Visions." Bringing the powerful forward from There Is A Hell… into their new chapter, "Shadow Moses" was an obnoxious reminder that Bring Me could never truly abandon their past.
3. "MANTRA"
The first teaser to the amo era, "MANTRA" mocked the concept of blindly following others and regurgitating belief systems and grapevine rumors with a deliciously heavy riff. While the entire album didn't follow this dark first impression, planting this sinister track at the forefront of their new chapter suggested the heaviness was due for a return. Topping it all off with the strangest video Bring Me have ever brought us (featuring a creepy interpretation of Sykes' funeral), "MANTRA" established their new era on the foundations of Sempiternal's critical tones—this is heavy BMTH with flashes of modern influences.
2. "Crooked Young"
The neck-snapping "Crooked Young" is by far the heaviest show we've seen from BMTH in years. Packed with Sykes' signature lung-busting unclean vocals, this faithless addition to Sempiternal denounces religion in the most brutal way they know how: by spitting venom in every direction. The tight cinematic production on "Crooked Young" defined the 2013 generation of Bring Me while sneaking in the orchestral sounds from 2010's "It Never Ends" to subtly remind fans that they had no intention of burying their heavy past…at least not for long.
1. "wonderful life"
Sporting amo's most unexpected guest slot from Cradle Of Filth's Dani Filth, "wonderful life" gave us the biggest hint that BMTH's heavy-as-hell days were by no means dead and gone. That wonderfully obscure video of Filth going about his daily business in full stage makeup and gear blended Bring Me's fresh synthy vibe with a dark aesthetic, leaving behind an uneasy combination of their past and present. Armed with a chugging riff, a passing reference to Ed Gein and some of the most sarcastic lyrics of their career, BMTH were not so subtly letting us know that they hadn't given up on their roots.