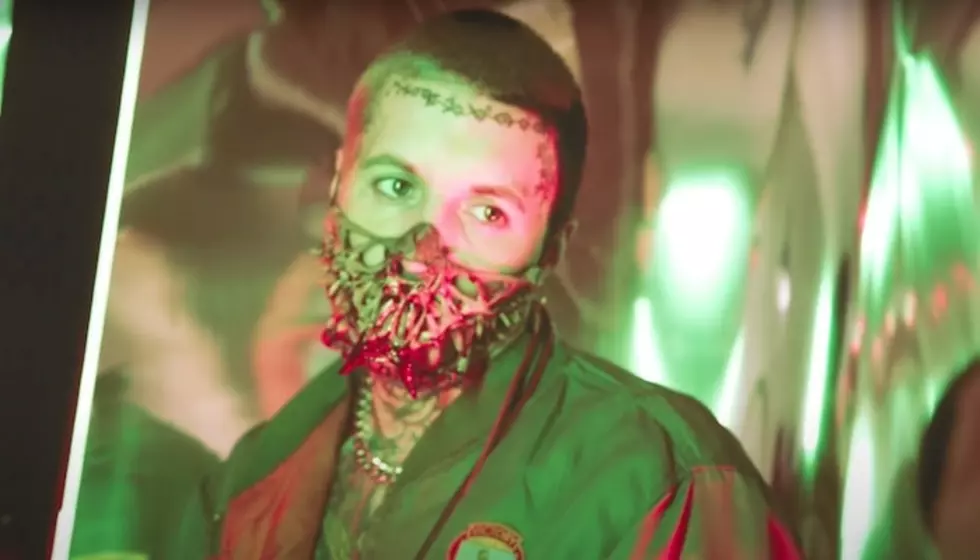 See how an unreleased film inspired BMTH's "Parasite Eve" video
[Photo via YouTube]
On June 25, Bring Me The Horizon finally released their highly-anticipated video for "Parasite Eve." After initially delaying its release and teasing clips of the song, the band unveiled the single's video that they filmed while socially distancing.
Now, Bring Me The Horizon are revealing some behind-the-scenes secrets on how the socially-distant video was filmed. Oli Sykes also shares how video games and a particular unreleased film inspired the visuals and concept for the video.
For those that tuned in early for the "Parasite Eve" premiere on June 25, you saw some behind-the-scenes footage of the band filming the video. Now, Bring Me The Horizon have unveiled the full video showing just how "Parasite Eve" was filmed.
The video was shot in England during the coronavirus pandemic. Due to this, the band had to great creative when it came to the video's content and filming. Matt Kean was in California during the video shoot and had to film his scenes while stateside.
"Obviously because we've all got to keep six-foot distance, that makes a music video hard," Sykes says. "Obviously performance element of us all being together or anything like that's not going to work. Vegan's [Kean] in LA. I don't know how we're going to get him in the music video, but that's what we're trying to figure out right now."
The band used their Drop Dead space to film the "Parasite Eve" video. With limited crew, budgets and equipment, Bring Me The Horizon added their own DIY flare.
"One thing lockdown has proven to us is that we can make shit happen with a lot less resources than we actually need," Sykes shares. "I'm not even going to tell how much our last video for 'Ludens' cost, but it was fucking crazy."
For the video, Sykes took inspiration from some of his favorite video games, comics and films. A friend of his then created concept sketches for each member which can be seen at the beginning of the behind-the-scenes video.
"I'm taking inspiration from some of my favorite comic book characters and anime," Sykes says. "Like Tokyo Ghoul [and] Venom. There's a really sick game called Hellblade."
Sykes also took direct inspiration from an unreleased film called The Inferno Unseen.
"Aesthetically, one of the main inspirations I drew from was actually an unreleased film called The Inferno Unseen by Henri-Georges Clouzot," he says. "Even though the film was never properly released, some of the excerpts from that film are really sick in terms of the colors and the lighting [and] just the effects. It's just so dream-like and haunting. We really want to try and create something in a similar vein to that for this music video."
"Parasite Eve" is part of multiple records Bring Me The Horizon plan to put out this year. The multi-album release plan was first speculated back in November 2019.
In an interview with NME, Sykes reveals that the band are working on four different records that will be unveiled over the next 12 months. Each record will fall under the album name Post Human. Both "Parasite Eve" and 2019's "Ludens" will be on the first release.
"This song is going to be part of a record that has the same feel along with 'Ludens,'" he says. "We've just been winging it and recording from lockdown, and now we're going to make four different records over the next year and they'll all share the name Post Human."
Post Human marks Bring Me The Horizon's return to heavier music. Sykes can be seen recording heavy vocals in a new behind-the-scenes video. The band also recently discussed their return to a heavier sound.
"So for the songs we are working on for this new record, we knew that they were going to be a bit more aggressive in nature," Sykes says. "This first record is very much a protest record. It's trying to capture the anger, sadness, frustration, fear, paranoia and everything I think we are all collectively going through right now."
The behind-the-scenes video for "Parasite Eve" is available to watch below.
What do you think of Bring Me The Horizon's "Parasite Eve" video? Let us know your thoughts in the comments below.