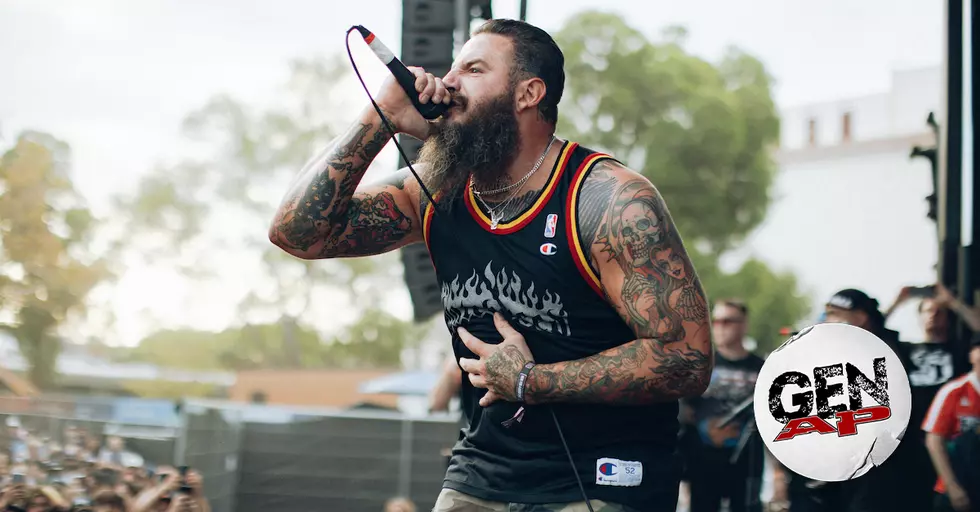 Brody King goes hard on the wrestling mat and on stage with God's Hate
[Photo by Rebecca Lader]
Welcome to Generation AP, a weekly spotlight on emerging actors, writers and creatives who are on the verge of taking over.
To say Brody King is a renaissance man would be an understatement. Not only has he become a top figure in the wrestling industry in just one year after his major debut in the All Elite Wrestling (AEW) promotion, but he is also the frontman for modern hardcore's most beloved and visceral new acts God's Hate whenever he is not at home with his wife and two children. As a young kid from the Antelope Valley of California, King was raised on wrestling and hardcore –– eventually turning both of his passions into full-time careers through hard work and a competitive mindset. Between nationally televised fights across the country and beyond ––  to playing for 6,000 people at this year's Sound and Fury Festival with God's Hate, King is a prime example of doing everything to its fullest extent. 
While King is most certainly a force to be reckoned with in the ring, it's when he steps on stage with his band God's Hate that he takes on an entirely new form as a conductor of chaos and musical brutality where every show feels like a war zone. With endless circle pits, stage diving, and most recently illegal fireworks being set off in the crowd –– King is a can't-miss presence that is bridging the gaps between hardcore and wrestling culture as a whole. 
Read more: Jobber pay tribute to pro wrestling with their empowering debut EP Hell in a Cell
We sat down with Brody King to discuss his influences and journey to both the major leagues and the main stage –– as well as his iconic cameo appearance on Netflix's hit comedy series I Think You Should Leave. 
[Photo by Rebecca Lader]
Growing up as an avid fan of both wrestling and hardcore music, who were you looking up to from both sides of the spectrum? 
Wrestling has been around my life forever — my Dad got me into it as a kid — so my earliest memories were watching wrestling. I was into the Undertaker and more of the darker characters, but got out of wrestling around middle school when it started to not be as cool anymore. [From there], I got into punk music with bands like AFI, The Offspring, and NOFX. This was also the time when nu-metal was popping off as well, with bands like Mudvayne, Slipknot, and Korn. In high school, I started going to local shows. It was bands like Madball, Hatebreed, and Terror that resonated with me; this is what I [eventually] latched onto and have emulated going forward. 
How did you rediscover your passion for wrestling again, and what was the journey like to not only enter the independent circuit, but eventually be propelled to the major leagues with Ring of Honor and later All Elite Wrestling? 
I started re-watching wrestling in my mid-20s when CM Punk was [a part of the straight edge wrestling stable] Straight Edge Society, which is what initially caught my interest. I signed up for wrestling school and it was pretty quickly that I realized this was something I could do at a high level because I obviously had the look and size — but on top of that, I had the business mindset and mental toughness that comes with wrestling. With the traveling, stress, and pain that you put on your body, that stuff didn't bother me as much as some of the other people. With my competitive nature, it was like let's go for broke with this, and I remember telling my wife to give me five years and if I wasn't signed to a major contract then I'd stop. Within three years, I was signed to Ring of Honor. 
January 2023 marks your one-year anniversary since your All Elite Wrestling Debut. What highlights or milestones stick out to you when reflecting on this whirlwind year? 
From one year ago almost to the date, Ring of Honor folded as a company and basically told us we were all released from our contracts. The next day, I was on the phone with [AEW president] Tony Khan, and ever since it has been unbelievable going from the lowest of lows to now incredible success. Wrestling Darby Allin on national TV was a huge full-circle moment, wrestling Jon Moxley for the AEW Heavyweight title was awesome, and even playing Sound and Fury [with God's Hate] to 6,000 people in Los Angeles was incredible. This was one of those years that you would write a book about. 
God's Hate has quickly become one of the most beloved and respected modern hardcore acts. What is it that you want to bring forward with the band's performances and the overall mission statement? 
It's evolved over time. It went from me being in a band that I enjoyed being in to now [when] seeing God's Hate is almost like a spectacle. I don't like the term "gimmick" for hardcore bands, but we [do] kind of have our own gimmick where it's six cavemen up on the stage trying to go as hard as the crowd is. We all use [the band] as an outlet to let loose and give all of ourselves. Some bands set rules for what is allowed at their shows, but for ours, it doesn't matter. If you want to fight each other, then fight each other as long as no one is getting seriously injured. I'm on stage screaming, "Kill them all," or "More violence," so who am I to judge? [Laughs.] 
Even the lyric "Life is hard, be harder" from the song "Be Harder" has become somewhat of the band's motto, and such a big part of your overall story. Now fans even show up to your  wrestling matches with signs that say that. 
That has become the ethos of the band, and when you read that, it sounds macho or hard-headed — but the number of people who have told me that it helped them get through the pandemic or life, that means a lot. We wrote ["Be Harder"] to be our inspirational song for you to dig inside yourself, because only you can push yourself forward. 
What are your goals next for both your wrestling career, as well as musically with God's Hate? 
I feel like every year we set a goal, and just blow past it. This year, I was hoping to be a part of AEW — and now I'm a huge part of it, towards the top end of the roster. Hopefully, we'll be going for some trios titles, or even a singles title, in the future. I would love to go to Japan again with both God's Hate and as a wrestler, and to play Sound and Fury again and see how we could step it up. I don't know how, but maybe someone will bring a tank in the fucking pit this time. [Laughs.] 
I also have to ask, how did you end up doing a cameo appearance on season 2 of the Netflix sketch comedy series I Think You Should Leave? 
My friend Madison [Woodward] (who helps book Sound and Fury, works for [the creative collective] Brain Dead, and plays in a bunch of bands) used to run a wrestling company called Suburban Fight. I have been with him since the beginning. A producer from I Think You Should Leave came out to one of the shows, and right before the pandemic, they sent him an email asking if he knew any wrestlers who would be interested in doing a skit for the new season. [Madison] reached out to me and I was like, "Absolutely," because I already loved the show. I forgot to tell anyone about [the cameo], and then the trailer came out, which I'm in. It became its own thing and now I'm in a sketch with [comedians] Tim Robison and Conner O'Malley, which is incredible.