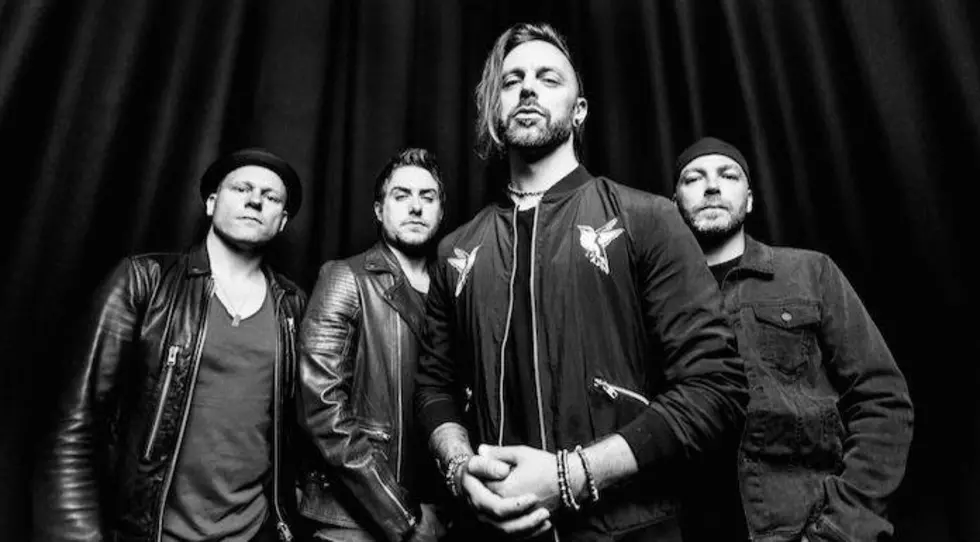 Bullet For My Valentine talk depression: "I didn't even want to be in the band"
"I've done an Adele; I've made a breakup record!"
Matt Tuck is only half-joking when he compares himself to the British pop sensation, famed for her warbling stadium heartbreak ballads. But there is no denying the years after the release of 2015's Venom have been rough for the Bullet For My Valentine frontman, to say the least.
He's suffered two major breakups, the first being the demise of his marriage to wife Charly Beedell, the mother of his only child, Evann.
"Gravity is an album about me," Tuck says. "What I've been through, how I've felt and what it's done to me. I was in a dark, lonely, horrible place because of a breakup I was going though and had a lot of guilt, remorse, fear and anxiety. Trying to keep the band on the road, work my arse off and take on all that pressure constantly.
"All of a sudden, after a massive two-year touring cycle, I ended up in a place by myself with no one around, and it hit hard. Gravity is a way for me to vent about that stuff, and I'm so proud of it."
Consider that within the decade Bullet released their first five albums, they've never really drawn from personal experience to write lyrics. Machine Head frontman Robb Flynn penned Aesthetics Of Hate after reading an article slandering his buddy, the late Pantera guitarist Dimebag Darrell. Avenged Sevenfold guitarist Synyster Gates composed "So Far Away" about his best friend and drummer, Jimmy "The Rev" Sullivan's unexpected passing. Lamb Of God vocalist Randy Blythe wrote "512" after his time behind bars, chillingly referencing the cell number he was held captive in for several consecutive weeks. Fans have never been granted much insight into the inner workings of Bullet For My Valentine, until now, with the release of Gravity.
"It's the only personal record I've ever written," Tuck admits. "A bunch of other stuff in the past has touched on certain things, but as far as wearing my heart on my sleeve as openly and direct as these songs are, it's absolutely the only personal record I've ever made.
"It was very difficult because I didn't want to let people in. I didn't want to air my dirty laundry and show a vulnerable—not a weaker side—but a far more personal side. I'm supposed to be this rock star guy. That's all people see, and it's what they think they get, but there's a lot of behind-the-scenes human stuff that we all have to put up with at the same time."
The other breakup Tuck endured was his decision to part ways with Bullet co-founder/original drummer Michael "Moose" Thomas in December. Since the announcement was made in late 2017, no reason for Moose's departure has ever been provided. Tellingly, his social media handle on Twitter is still @moosebullet.
Moose has been permanently replaced by Jason Bowld who had been filling in for Moose as a session musician since 2015, playing every show with the band and even entering the studio to write and record with them last year. Formerly of Pitchshifter, Bowld is now an official member of Bullet For My Valentine.
"We've been a band for a long time," Tuck says, "and when you lose a band member, it does hurt and it does sting; stings us, stings the fanbase, but ultimately, it's a journey. We're still on that journey, and luckily we've got two guys in that have had an outsider perspective of Bullet, so they know exactly how important this band is and what it means to people.
"To bring that inside and to give me and Padge [Michael Paget, Bullet's lead guitarist] that reflective side of what we are is incredible, because we forget that a lot of the time. To have them bring this energy and passion and creative streak that we've never had before is great. Jase's one in a million, and I'm so proud and happy to have him as part of our band now."
"I'm the new drummer and loving it, quite frankly," Bowld says unabashedly. "I recorded 'Don't Need You,' the single we did two years ago, but this is the first record I'm on with the band. The first song we wrote was called 'Gravity,' and the album was written to enable us to play bigger venues. We wanted to step up a level. We want to be headlining festivals."
Suffering the emotional turmoil of breaking up definitely had a negative effect on Tuck's mental health, which he writes about on Gravity. He endured spells of anxiety and depression and felt so hopeless that even as the band were months into writing the album, he was questioning his future as an artist. Now that's he's been through a particularly dark time and come out the other side with strength, he has immense empathy and compassion for those experiencing any kind of mental health issue, and encourages anyone who is struggling to try to open up to someone.
"Bereavements, breakups, not wanting to get up in the morning," he says, rattling off a list. "It doesn't discriminate who you are and what you do. That's the point. I've been through depression. I didn't even want to be in the band this time last year. But there's ways and means of getting yourself through that, and for most people, it's sharing. I've decided to share it with the world. I always think that a problem shared is a problem halved. That saying is very true."
"We've all been through a bit," Bowld echoes. "There's not one person out there that's not been through a meltdown on whatever scale. If you can't talk about these things, you do end up missing out a lot on life; you can paralyze yourself. It's good for people to talk about it."
"It's just as important as any other health issue," Tuck responses. "If anything, it's more important, because it's not something you can really tell. If people don't say anything, how do you know? The most important thing is to open up and share it. Writing until I felt better again pulled me out of that rut. It's been a shit card to be dealt behind the scenes, but it's actually turned around to a really positive part of my life. It's helped me, so if I can do it, everyone else can."
The artwork for Gravity is a stark contrast to Bullet's back catalog, too. Sinister images are usually quite prominent—moody clouds, bloody hands and poisonous snakes, to reference a few.
"Gravity holds you down—it's this pushing and pulling kind of thing," Tuck explains. "It can mean different things to different people. This album lyrically is very dark, and it's very personal, but I wanted to not take the artwork down that route. Having something super vibrant and colorful for a change; the wings symbolize freedom and being able to escape."
Bullet For My Valentine—Tuck, Paget, Bowld and bassist Jamie Mathias have been working on Gravity since last April, demoing, writing and recording at Metropolis Studios in London. It's their sixth album and the first to be released through Spinefarm Records. Even though they've been in this game for many years now, it wouldn't be unfair to consider Gravity a comeback record, the band stepping back from the brink of collapse. Whatever you think of Bullet, Tuck hopes the rock and metal communities can keep an open mind and give Gravity the spin it deserves.
"We've put so much blood, sweat and tears into this," he resigns, "that for people to not give it a chance or pre-judge it before even listening— that's the downside of what we do. But we're confident in what we've produced, and we've done it from the heart. It's honest.
"It's the album we wanted to make. We haven't relied on the band's history; we've actually totally fucking forgotten about that—if I'm frank—and we're just looking forward to the future. The history's been amazing, but it's not about that. It's been a positive experience all round, and the feedback we've got from everyone all over the planet—that I've been speaking to for the past couple of months—it's all connected with them in a really beautiful way. We've made an album which, in my eyes, is going to be the biggest rock record of the year."
Gravity is out now on Spinefarm Records. Pick up a copy here.