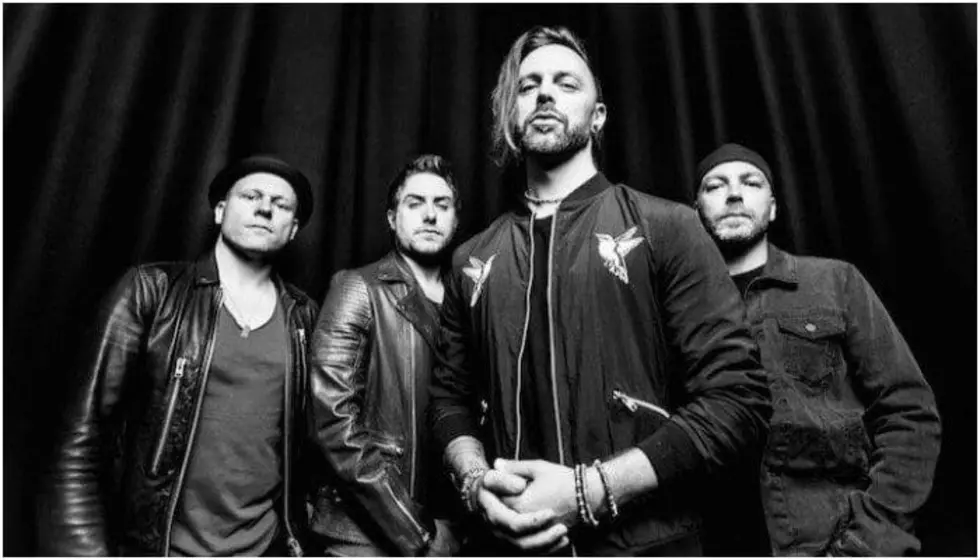 Bullet For My Valentine think new album will "solidify" them as a band
Bullet For My Valentine recently dropped their new album Gravity, and according to the band, it's the album that will solidify them as festival headliners.
Read more: Bullet For My Valentine announce U.S. fall tour support
In a new interview with Scuzz TV, BFMV frontman Matt Tuck and drummer Jason Bowld shared their thoughts on the band's new musical direction and what they hope the band's latest full-length release will do for them.
Of the album, Tuck shared: "It's the most interesting album we've ever written in many ways. It sounds sonically different from anything we've done in the past."
He continued on by saying: "The way we've written the songs and executed them on the production side is very new and contemporary and different for us, but that's made it a very interesting, stand-out record."
Tuck also shared that taking a turn musically was something that did bring its own set of challenges, especially when wanting to keep the band's identity:
"It wasn't more people's reactions, it was more about not losing the identity of the band and trying to incorporate new things we haven't done before. To kind of get a new style of writing and try not to rely on the band's formula and sound from the past was a little bit difficult for some people to get onboard with. It just required a lot of writing, a lot of being creative, letting our barriers down, creativity, musically, just having some fun with it and trying to discover something new. After about two or three months, it all started to come together quite nice."
Additionally, Tuck shared that he hopes the band's new release not only help them grow but will help them further make their mark as festival and arena headliners, saying:
"We just want to write great songs. It's what we're focused on. Thankfully, we've had a very long and successful career so far, but I think there's a lot better to come and a lot of years ahead of us, still. Should those phone calls come from the promoters for headlining these things, we're definitely more than ready."
"We've been playing arenas for a long time, we've headlined some festivals anyway. It just seems that we need to be a little bit more patient. I think Gravity is the record which is going to firmly solidify us as that band."
Watch Bullet For My Valentine's interview below:
Bullet For My Valentine recently announced a tour and joining the band on their 18-date trek across North America is We Came As Romans and Bad Omens.
The fall tour kicks off Sept. 13 in Kansas City, Missouri and it wraps up Oct. 16 in Las Vegas, Nevada.
Tickets for the upcoming tour are on sale now and you can purchase your tickets here. Check out the full list of cities and dates below!
Dates:
09/13 – Kansas City, MO @ Harrah's Voodoo Lounge
09/15 – St. Paul, MN @ The Myth
09/18 – St. Louis, MO @ The Pageant
09/20 – Oklahoma City, OK @ Diamond Ballroom
09/21 – Dallas, TX @ House of Blues
09/22 – Austin, TX @ Emo's
09/24 – Houston, TX @ House of Blues
09/25 – San Antonio, TX @ Aztec Theater
09/27 – Atlanta, GA @ Buckhead Theatre
09/30 – Grand Rapids, MI @ 20 Monroe Live
10/02 –  Cleveland, OH @ House of Blues
10/03 – Syracuse, NY @ SI Hall
10/04 – Boston, MA @ House of Blues
10/07 – Detroit, MI @ Fillmore Detroit
10/09 – Wichita, KS @ Cotillion Ballroom
10/10 – Denver, CO @ Ogden Theatre
10/12 – Los Angeles, CA @ The Wiltern
10/16 – Las Vegas, NV @ House of Blues