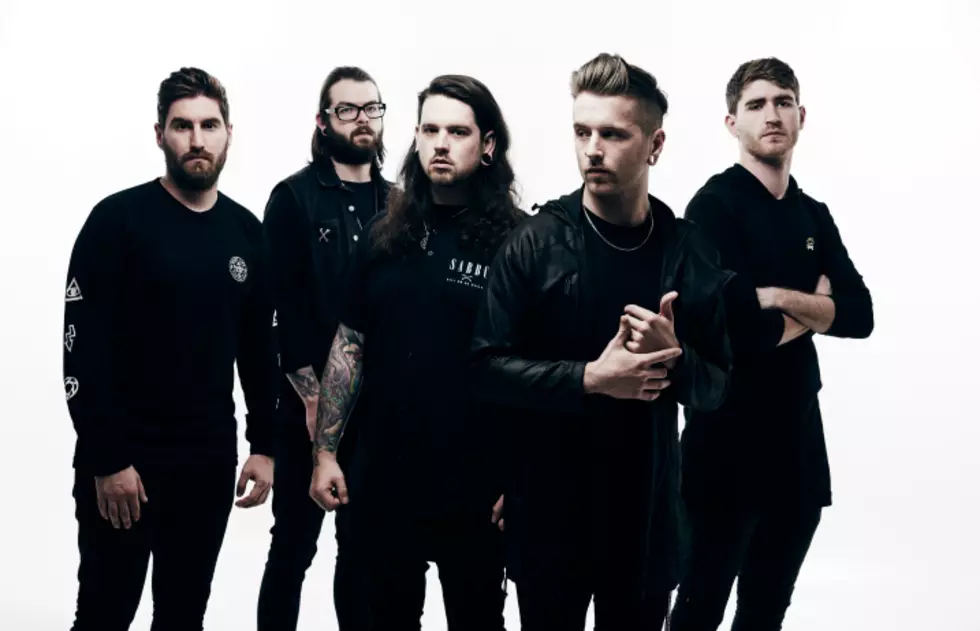 Bury Tomorrow Revealed As 'Secret Special Guests' For UK's Slam Dunk Festival
Now in its 11th year, the U.K.'s Slam Dunk Festival continues to go from strength to strength. It started out as a one-dayer in Leeds, then expanded to Hatfield (just outside of London) in 2010 and subsequently added Birmingham as a third site just last year.
The festival has played host to headliners such as Taking Back Sunday, All Time Low, the All-American Rejects, You Me At Six and Panic! At The Disco. This year, Enter Shikari will fill the coveted slot to celebrate the 10th anniversary of their debut album, Take To The Skies, which they will play in its entirety.
Traveling like a wolf-pack over three consecutive days (May 27, 28 and 29), the likes of Bowling For Soup, Goldfinger and Neck Deep have already generated a tangible buzz for pop-punk punters, but the latest revelation of Bury Tomorrow as "Secret Special Guests" adds a layer of visceral metalcore to an already stellar lineup.
We recently caught up with Bury Tomorrow frontman Dani Winter-Bates during the band's current U.K. tour:
Bury Tomorrow have been announced as the "Secret Special Guests" at Slam Dunk Festival this year. What does that title mean to you?

It's something that you don't take for granted. It's an amazing opportunity to be put on a pedestal like that and be leading the way with bands like Architects and While She Sleeps, for U.K. metal, so that brings more of the heavy side of it onto the main stage this year. We've had the opportunity to play Slam Dunk so much over the years that to Slam Dunk and to ourselves, it almost feels like it's not Slam Dunk without coming along, in some aspect or another. We were asked to do it; it's a great lineup and it's run really well. It's one of the best festivals in the U.K. at the moment.
You've played Slam Dunk before; what's your favourite memory from the festival?

We've played four times now. We headlined in 2014, then we were Special Guests in 2015, gave it a miss last year and now we're back again this year. For us, headlining was a massive deal. It was a punt for Slam Dunk to let us headline. That's the best experience we've had there, because it filled out and it was really cool to play.
What's the difference between playing one day of a three-day major festival and playing a one day festival over three days, traveling with other bands to three different locations?

It mirrors the Warped Tour vibe, but on a smaller scale. The kids are ready for it; they haven't had one or two days to get into it prior to the day that we're playing. Sometimes, on Sundays at these major festivals, it's a bit lacking or the first day's a little bit more hyped than other days. Everybody from these regions knows that's the day they're going to, that's the money that they've spent, so you have the same reaction every day. It's unlike any other festival in the U.K.
Who are you personally looking forward to seeing on this year's bill?

Enter Shikari's going to be a really big one. Take To The Skies was an influential album for me when I was younger. It's my generation of music, growing up, so that will be really fun. Beartooth are upcoming and doing good things in the U.K. Don Broco are friends of ours and it will be an absolute privilege to be able to see those guys again.
What can fans expect from your sets at Slam Dunk Festival this year?

We're always trying to perfect our show, always trying to make them as crazy as possible and we try and give, as cliché as it sounds, 100 percent every time we play. It doesn't matter whether it's to 50 people, 500 people or 5,000 people—it's all about smashing the show to pieces. This being a lot shorter of a set than what we've been playing on this tour, will be a lot more intense. It's bringing that heaviness, the circle pits and all the walls of death to the main stage. It's going to look pretty crazy for anyone who isn't into, say, as brutal music as we play.
Keep up with Slam Dunk Festival on Twitter here, and Bury Tomorrow on Twitter here.