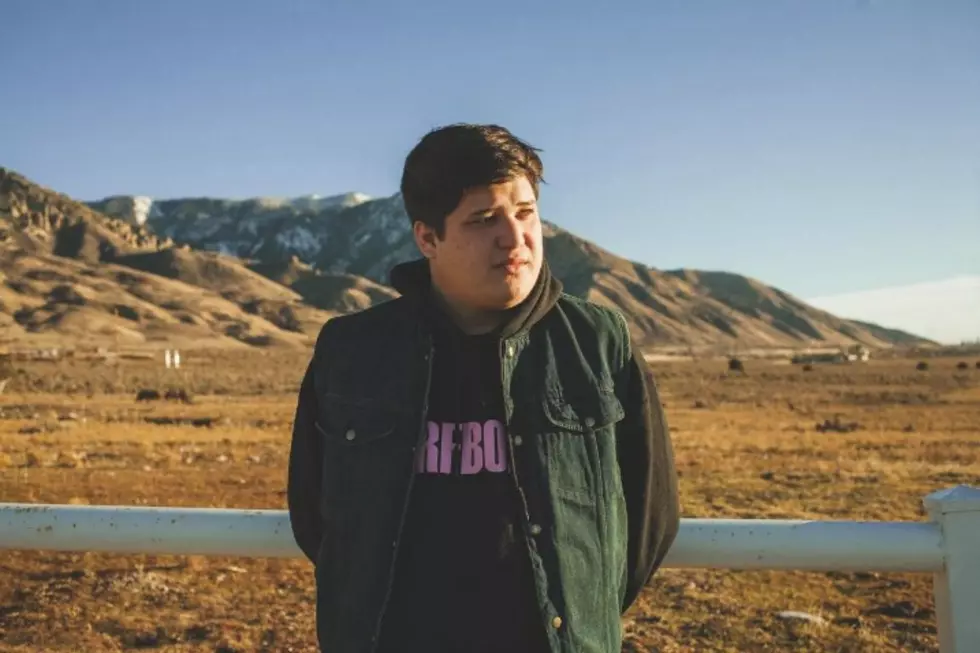 Cam Smith would love Hotel Books to be 'the spoken word Third Eye Blind'
When Alternative Press reaches spoken word poet and Hotel Books frontman Smith at his California home, he is recovering from his fall tour and preparing for the Sept. 30 release of their new record, Van Nuys. The album is named for the San Fernando Valley region of Los Angeles, a place that finds a home in the band's often emotive songs.
Unlike his past records that mostly deal with high school struggles, Smith claims that the new album is about the greatest thing to happen to him—his music. But more than that, it's about Smith's struggles and the uncertainty about whether or not to continue on the journey he's forged in the five years since the band's inception.
Hear the title track, and read what Smith had to say below.
Let's start by talking about some of the musical influences that brought you where you are today.

CAM SMITH: Modest Mouse was the band that made me want to write emotional music. Their first two records made me think, "These songs are sad but there's a lot of hope in them. I'm not sad when I listen to them, I feel validated." And then Pinkerton by Weezer and Spiderland by Slint meant a lot to me starting out.
With Hotel Books, you often use spoken word to accent your music. What first got you into spoken word?

After my punk band broke up, I started a poetry blog. I had a lot of friends in metal bands that encouraged me to memorize my poems and get on stage at their shows, so I guess that's where it came from. There was a poet called Bradley Hathaway that I was a big fan of, and of course, there was mewithoutYou.
We could see you and mewithoutYou doing a tour together.

The three bands I would do a tour with are Norma Jean, mewithoutYou and Cake. Our new music that we're putting out is heavily, heavily influenced by Cake. I had been trying to write about the music industry and show business when I heard that Cake record Motorcade of Generosity and that song "Rock 'n' Roll Lifestyle" and thought, "Hey, they get it."
The new Hotel Books record Van Nuys comes out on Sept. 30. Can we expect a tour to follow?

We just went out with Convictions and had a blast, so we're trying to tour with them more. They're a Christian metalcore band. I'm also trying to put shows together with Third Eye Blind! My buddy just wrote most of the melody for one of their new tracks.
You're a more emotional, spoken word Third Eye Blind, aren't you?

If people started the rumor that we were the spoken word Third Eye Blind, I would love that.
What will be some themes of the new record?

This record is about me and my music, and it's also about my downfall. All of our records are about me in high school and this one is about me right now admitting that I've made so many mistakes through this band; it's a record about the cost of success maybe not being worth it.
Today Alternative Press is premiering your new music video for "Van Nuys." What's the concept behind this song?

Well, it's funny, actually. I wrote it after listening to that Cake album that I love. I have that line that goes, "I promised myself I'd never neglect another grey sky, take another trip to Van Nuys and stop at Best Buy to see if the record I wrote has sold enough to just let me fade out and let time pass by," and I feel like every song, but that one especially, is about how the only way I'm going to continue to sell records is by telling all my secrets on stage and pouring out every emotion I have.
And how did the video come to be?

Me and my writing partner back home came up with it. It was part of a spec script for a TV show we were developing a pilot for. Then we considered using it for a web series, so it's been thrown around quite a bit. I've wanted to share this video forever. We shot it on an iPhone!
Is there anything else you'd like to add?

Earlier this month I released a book called Found Footage: Stuff I Need To Share. Hotel Books is such a small part of my writing and that book is what I'm most proud of. It's a collection of ideas I've pitched to the entertainment industry that slipped through the cracks, and now they've been shared with everyone.